First XI Match Reports: 2017-18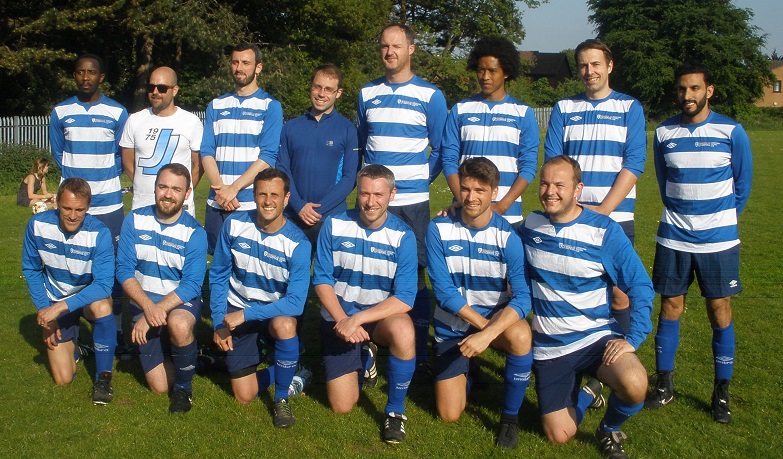 Convocation (v Collegiate O.B., Alan Brown Trophy Final, 23/05/18)
Back Row: Irakiza, Hendry, Welsh J, Farrell (club secretary), McNally (First Team captain), Lewis, Roberts, Ahmed
Front Row: Byatt, Kent, Welsh A, Nawrocki, Parsons, O'Sullivan
Not Pictured: Round, Galy
Wednesday, June 6th 2018
St Margaret's O.B. 6, Convocation 1
Convocation (4-2-3-1): Round; Byatt, Roberts, Welsh A, Galy; Nawrocki, Welsh J; Ahmed, Irakiza, Parsons; McNally; Subs: Kaye, Railton, Prendegast, Kent
---
Saturday, June 2nd 2018
Sacre Couer F.P. 4, Convocation 3
Convocation (4-2-3-1): Morgan; Byatt, Welsh J, Welsh A, Galy; Irakiza, Kent; Nabil, Ahmed, Parsons; Kaye; Subs: McNally, Nawrocki, Prendegast, Roberts
---
Saturday, May 26th 2018
Convocation 1, Collegiate O.B. 5
Ken Jones refereed again, wearing a baseball cap to protect his pate against the hot sun.
Collegiate approached Convocation before kick off and informed them that they knew Adel Ahmed had been sent off last week and if he played they would make a complaint to the league – they're lovely, aren't they?
Convocation (4-5-1): Hendry; Byatt, Welsh A, Roberts, Galy; Irakiza, Bollard, Lewis, Nabil, Parsons; McNally; Subs: Kaye, Farrell, Ahmed (unused)
---
Wednesday, May 23rd 2018
Alan Brown Trophy Final
Collegiate O.B. 2, Convocation 1
(at Holly Lodge School, Queens Drive)
Bobby Mimms reports
Let's call it a beautiful failure – possibly the grandest of all Convocation's many failures. Yes, they lost the biggest game in the club's history – its first ever league affiliated cup final (albeit fifth final in total) – but those that took part did themselves proud in their performances and could take some satisfaction from how they comported themselves in such pre-eminent defeat. Of course, even if they'd played appallingly and been beaten heavily the unconditional backing of their supporters would never have faltered because Convo's ethos has always been that winning isn't the be-all and end-all, no matter how much losing hurts; taking part and being good sports is what's important. And they did get a nice runners-up shield out of the experience, another memento of their rich heritage of near misses and under achievement.
There mustn't be any regrets: after all no one had expected them to get this far, so in a way they're winners irrespective of not winning. In this week of cup finals and this season of cup runs it still felt strange that Convocation had finally reached a divisional final, despite the fact that you only ever have to win three games to get there (and more often enough only two). Usually the closest that they've come to success is that, as the axiom goes, it's the ability to go from one failure to another without any loss of enthusiasm, and after nigh-on forty-five years of regular debacle that makes Convo world beaters.
It was a shame then that on such a momentous occasion they had to play old foes Collegiate, a side with a collective personality that could make flowers wilt, and who would piss in the jelly at a kids' party if the mood took them (and probably even if it didn't). It could have been seen as a grudge match if they weren't such arrogant bastards as to consider opponents like Convocation an irrelevance, although their [Convo lawyers: 'alleged'] racism against Adel Ahmed a few years back – and let's be honest, there was a whiff of it again during this game – did turn an already unpleasant relationship between the clubs into a toxic one. The fact, also, that the final was played at Holly Lodge, where the local team from the Shankly Ground – a couple of hundred yards away – benefitted from a large and partisan support, only made matters more difficult for the underdogs from Wyncote.
It didn't help either that one of the men in black – just as at Saturday's semi-final there were a couple of assistant referees – took a dislike to one of Convo's ilk even before kick-off: Tommy Lee Jones, or it may have been Will Smith (but he had a look of Lee Mason about him), got into a right nark with Darren Ragnauth for no apparent reason, which if nothing else showed that the Chairman's never lost that ability to rub people up the wrong way whenever he's near a football pitch. He was one of a coterie of Convocation-affiliated folk who showed up to cheer on their lads in what turned out to be difficult conditions (for both teams).
The game was contested on a horribly small and bobbly pitch that had terrible markings, while it was also ridiculously warm and sunny, without a breath of air to cool those taking part, although in fairness it was only to be expected that playing at the end of May would be akin to being on tour in southern Germany; on a more cheery note, a half-moon shone down on proceedings from the cloudless evening sky. And the Convo Ultras – President Ian McDermott, Ragnauth, Ray Fosberg, Jack Stopforth, John Topping, Mike Edwards, John Farrell, Sam Prendergast, Ben Prince, Alex Hendry and the contrite Taha Abussnena, as well as other associates – were all in fine voice, even though they were greatly outnumbered by the support of the 'home side'.
But Convocation had nothing to fear but Convocation themselves, and the eleven that had been picked to start was about as strong as was available to them, although there was a curious occurrence just before kick-off that had parallels with the Ronaldo incident at the 1998 World Cup final: initially it appeared that Andy Parsons would begin the match and Jerome Galy was on the bench, but as the enormity of this was dawning on the watching world the two had their roles swapped at the last minute; there was no conspiracy though, it was just that the first-choice Frenchman was late and only staggered out onto the pitch thirty seconds before referee Ken Jones' inaugural whistle. He took his place on the right of the back four, with Liam Byatt on the left, and Jon and the ever-entertaining Andy Welsh in between, while the equally tardy Matt Round kept goal (it looked briefly as though Hendry might have to don the gloves). At the other end of the 4-5-1 line-up Anthony Lewis was the '1' ahead of a central-midfield trio of Divin De Buffalo Irakiza, Kieran O'Sullivan and Mike Nawrocki, with Adel Ahmed and Mike Kent patrolling the flanks, left and right respectively, the former of those two being given the okay to play by the League despite having been sent off in Saturday's semi-final.
And so to the big 'if only' of the final, the closest that anyone involved with Convocation should come to a regret after their heroics: if only they hadn't started so timorously. For the first fifteen minutes they played as though in a state of shock, or as if they'd sleepwalked onto the pitch and were in the middle of a bad dream in which they were out of their depth and had all left one leg and half a brain back in the changies. Whether it was nerves for the occasion, or the partisan atmosphere, or maybe just the result of a long day at work and a few snifters afterwards, the affliction was terribly untimely and consequently the team from Wyncote were most derelict in their defensive duties when they could least afford to be.
Not even two minutes had passed after Collegiate had kicked off when they launched a throw-in into the Convo box and an almighty scramble ensued, with all sorts of woeful attempts at clearing the ball being made before it was finally hoofed clear… and the blueprint for the following quarter of an hour had been unveiled (although not long after that a little wind was taken out of Collegiate's sails when a similar situation arose but the throw-in taker was penalised for overstepping the barely visible sideline). More shoddy defending as well as an inability to keep play in the opposition half of the pitch, meaning that it kept coming straight back at them, showed that Convocation weren't coping well, and it didn't take long before the pressure cost them parity.
They lasted until the tenth minute without conceding, and while in the grand scheme of things that may not sound particularly long it was actually quite an achievement considering that they'd started the game playing the old 'no defence please we're Convo' card. The back line had all pushed up almost to the halfway line when Collegiate won possession in their portion of the centre circle and played a lovely pass out to their left wing that immediately had Galy in all sorts of trouble, to the point that Round felt he had to streak way outside of his area to clear the ball, but when a yellow-shirted forward reached the thing first the 'keeper was caught in no man's land and the subsequent shot past him from about thirty yards out eventually bobbled into the empty net.
The goal didn't seem to change anything in the mentality of either team: the Shankly Grounds side had been convinced that they were going to win at kick off and were in no hurry to finish their opponents off quickly having taken the lead, while the concession just seemed to give a legitimacy to Convocation's jittery start and they saw no reason to change tack after it. It did feel like a second Collegiate goal was in the post though, and sure enough it arrived recorded delivery on the quarter-hour mark when another throw-in was launched into the Convo box and the situation wasn't even half dealt with – once again there were several disastrous attempts to clear the danger until eventually a player in yellow was allowed to swivel onto the ball about eight yards out and, despite there being a hint of hands, fire a shot into the top corner of the helpless Round's net.
After that Convocation finally woke up: it was almost as if they'd had to fall two behind in order to start playing; that the sudden realisation that things could get ugly jolted them out of their early dither. For ten minutes-or-so they put together some good moves and began pinging passes around in the middle of the pitch much more confidently, their growing blue-and-white-hooped élan – traditional Convo colours for the biggest stage – belatedly giving the opposition something to think about. The resultant increase in pressure on the Collegiate goal – the one with the moon behind it – eventually engendered their first decent chance to score, midway through the half, when Ahmed curled a corner into the box and the #1 had to punch the ball clear from underneath his crossbar.
That served as a wake-up call for Collegiate and they took the game back to Convocation. In the twenty-fifth minute the Shankly Grounds side won a free kick in the centre circle and played it out to their left, where Galy was persisting with a special style of defensive inattentiveness just for the final, so the player who received the ball easily ghosted past the defender, slipped into the penalty area and from a tight-ish angle blasted a shot goalward that Round couldn't have got out of the way of if he'd wanted to; nonetheless it was still a good block by the 'keeper.
Suddenly Convo were once again finding it difficult to clear their lines and get out of their final third, and just before the half-hour mark they were lucky not to concede again. Collegiate won a corner and curled it into the goalmouth where Round attempted to punch clear but scuffed his contact towards a lurking ne'er-do-well near the back post who directed a low header against the face of the upright, whereupon Byatt hooked the rebound away; momentarily it looked as if Convocation might catch their opponents on the break as Ahmed and Irakiza both flew up the pitch after the ball, but ultimately their counter-attack fizzled out. Several minutes after that the team from Mather Avenue were caught sleeping again, while defending a throw-in, thus allowing a player in yellow to dribble along the edge of their penalty area and set up a colleague, but he fired wide from twenty-five yards out when he could probably have got closer.
While a third goal wouldn't exactly have been game over it could've seemed ominously conducive to Collegiate picking up the cup. Convo knew only too well the dangers of switching off against these particular opponents, having conceded ten against them in the league already this season, and even though they were by now less disorderly at the back than they had been at the start they were still walking something of a tightrope. But despite their continued trouble keeping hold of the ball in midfield they were, on the plus side, looking more adventurous and, when they did have the thing, dangerous.
Never was that more so than for a brief spell just inside the final quarter-of-an-hour of the first period when the front six kept possession for a good sixty seconds, knocking passes around the Collegiate half with an assurance that hadn't been evident up to that point. Eventually the ball was played to Ahmed, who fended off a challenge with a swivel of the hips that sent an opponent off for a copy of the Echo, and on the sideline Stopforth more-or-less snorted like an old thoroughbred returning to the scene of its greatest triumphs: "Have a shot!" he yelled out; 'Don't mind if I do' the current maestro must have thought, and from about five yards outside his opponents' 'D' he hit a low curler into the bottom corner of the goal that the 'keeper didn't make a move for. Understandably there was a muted response from the majority of the spectators at Holly Lodge, but jubilant celebration from those at the far end of the pitch supporting the University chaps, although at time of writing Jack still hasn't claimed the assist.
Suddenly the underdogs were wagging their tails again, but they very nearly fell foul of the old maxim that you're at your most vulnerable when you've just scored, as straight from the restart a player in yellow streaked down the middle of the pitch and from the edge of the Convocation penalty area whacked an effort just wide of Round's goal. That scare survived, the Wyncote side kept their opponents at a safe distance for the remainder of the half, although for most of that time the game was very stop-start, in no small part due to Ahmed being on the receiving end of a succession of cynical fouls; referee Jones saw no need to flex his muscles even though it did appear that the Convo man was being targeted, but then that shouldn't surprise anyone as Collegiate have shown many times over the years that they're immune to appropriate punishment.
Nonetheless, the last kick of the half was a Convocation free kick about thirty yards out. O'Sullivan took it and… well let's just say 'if he could have his time again' he probably wouldn't put all that power behind it but direct it straight at the Collegiate 'keeper (although the 'keeper still needed two attempts to hold the ball, nearly spilling the first). After that it was time for everyone to powder their noses.
Collegiate had undoubtedly been the better side during the first half but there was no need for Convocation to panic and start making drastic changes for the second as, despite their slow start and poor ball retention, they were obviously only one down. What was important was that they kept their wits about them as most of their problems up to that point had been self-inflicted, with Byatt and particularly Galy getting caught out of position and daydreaming, thus gifting their opponents opportunities they shouldn't have had; the two Welshes had done enough to limit yellow activity in the box and keep them to shots from range, but everyone had to remain alert.
The midfield had grown into the tie during the latter stages of the first half and would go on to enjoy their best period of play in the fifteen minutes immediately after the interval, particularly as the strength-sapping heat finally appeared to stymie Collegiate's high-intensity game (Convo's was obviously more of a we'll-spring-into-action-any-minute-intensity). For a while they looked like the Convocation everyone knew they could be, with O'Sullivan increasingly playing the part of team metronome and the passing in general becoming slicker than a teddy boy's hair.
And it was O'Sullivan who had Convo's first effort of the second period, five minutes after the restart, when a throw-in into their opponents' box was only half cleared and Saturday's match winner fired a shot back on the half volley, but just like immediately before the break it was straight at the #1. Suddenly Collegiate were playing as though the best form of defence was… well, defence, and like Madonna in the early Nineties they'd started getting deeper and deeper, almost inviting Convocation onto them (obviously that last bit wasn't like Madonna). This the Wyncote side were only too happy to do, with Irakiza and Nawrocki taking advantage of more time on the ball in the middle of the park to plot and experiment with increasingly beguiling passes, while Kent and Ahmed continually tried to unpick the yellow-shirted defensive conundrum with a clever run or a delicate dink, the latter of the two also managing to have a punt from about twenty-five yards out but which he couldn't keep down.
Finally though, on the hour mark, Collegiate reminded their opponents who were favourites for the cup when they got their act together long enough to win a corner and then headed just wide at the back post from the resultant ball into the box. Not long after that they went close again when, following a throw-in, one of their forwards was played in but he hooked his shot from the edge of the area wide as Round advanced, while the Convocation 'keeper was involved again a minute-or-two later when the yellow shirts won a free kick in the centre circle and one of their defenders (the one clearly enamoured with the sound of his own booming voice) hoofed the dead ball half the length of the pitch straight at him.
Convo made their first substitution as the midpoint of the half neared, with Parsons belatedly getting onto the pitch, in exchange for Kent. Almost immediately the hooped side nearly fluked an equaliser following a foul on Irakiza inside his own half: from out on the wing Welsh (J) launched the resultant free kick into the Collegiate box, but when everyone there missed connecting with the ball as it landed on the penalty spot it bounced up and over the dawdling #1 (who looked quite ropey, causing speculation amongst learned onlookers as to whether he was "a real 'keeper"), and dropped onto the roof of the net inches behind the crossbar. Not long after that the taker went from (near) saint to sinner when he received a caution for clumping an opponent ten yards-or-so outside the Convocation area, although the yellows' subsequent punt into the box was easy pickings for Round.
With the game heading into its final quarter of an hour Convo's situation began to demand a little more urgency, and spearheading their search for an equaliser was Lewis. It's debatable whether he even got a touch in the first half, but after the interval he was charged with the thankless task of holding up play whenever it reached him while his colleagues got into promising positions, even though it was detrimental to his own chances of finding the net; on numerous occasions during the second period he could be found out on the flanks, pulling defenders all over the place and opening up holes in the Collegiate back line for possible team-mate forays. When the boys from Wyncote went the closest to scoring again (up to that point) though, it was from a good old fashioned route one hoof into the box by O'Sullivan from about forty yards out, and when no one attacked the ball it bounced all the way through and only just past the furthest upright (again, the 'keeper barely moved).
At the other end of the pitch a succession of Collegiate quadrant kicks were all dealt with relatively well, especially considering that any kind of brain-fart from one of the hooped-shirted players defending them would have spelt game over, while Welsh (A) was strong when the opposition launched a long punt over the top of the Convo rearguard – who were understandably pushing higher and higher as time crept on – towards one of the corner flags, so much so that the opponent he was chasing back with had to foul him to win possession; upon being penalised the said opponent volleyed the ball away and received a booking for his tantrum. Not long after that the other Welsh hoofed a free kick into the yellows' box from about fifty yards away, but, after all the scepticism aimed at him from the Convocation sideline the maligned #1 came out and claimed the thing comfortably in amongst a crowd of bodies.
It seemed to be non-stop involvement for the Welshes around that time as with the game entering the final ten minutes Andy was whacked around the head, re-opening the wound he'd received in Saturday's semi-final, and all of a sudden there was blood everywhere again; looking like Sissy Spacek at the end of Carrie he couldn't continue, particularly as his shirt was drenched in gore, so Graham Roberts went on in his place. Sadly, during the time proceedings were stopped there were murmurings that something unpalatable had been said to Lewis, and referee Jones had to consult with one of his linesmen (Dazza's mate) to see if he'd heard anything, but he hadn't. Just as Old Biff had felt in Back to the Future II, there was something very familiar about all this.
The game had only been going again for a minute-or-two when Ahmed – who'd been having trouble with his legs since half time – cramped up badly and was unable to continue. In the end it wasn't Collegiate's rough-housing that did for the guy it was his observance of Ramadan, as he'd been fasting all day and it had messed with the electrolytes in his muscles. His inability to continue necessitated a not-quite-like-for-like substitution, with Captain Chris McNally – who'd missed Saturday's semi-final to watch the royal wedding (allegedly) – going on in his place (and well before his colleague was off) but playing up front, and Lewis dropping back into midfield.
Those late substitutions may have been a final roll of the dice, administering an intravenous injection of carpe diem, but destiny never changes course and despite Convocation nearing the end of the game with an increasing menace they finished it hitting the bar like Irish playwrights. There were less than five minutes remaining when good interplay down the right flank involving Irakiza, Parsons, McNally and Galy ended with the ball being slipped inside for Roberts, who was really pushing up, and from thirty yards out he smashed a shot against the top of the Collegiate horizontal that then continued off into the distance.
The University side kept the pressure on and inside the final two minutes they won a corner that was knocked short to Irakiza, who then put into the goalmouth a lovely in-swinging cross that arced over the 'keeper and could so easily have dropped into the back of the net, but Convo's luck had run out when they deserved it most and again the ball struck the crossbar. On that occasion it stayed in play, but when it was then hoofed away to safety by a Collegiate defender Convocation's last hope of salvation went with it. O'Sullivan collapsed with cramp in the dying seconds and was replaced by the semi-mummified Welsh (A), but there was only enough time after that for a handful of passes amongst the yellows before the final whistle was blown.
There was no despair at the end, or anger, or even regret, just resignation, the calling card that can always be found whenever Convocation's aspirations unravel. The dream didn't come true as, as so often, they weren't quite wily enough to outsmart a more streetwise opponent – they'd come bloody close though, this time. They were the better team in the second half and deserved more, and even though theirs wasn't a case of flying too close to the sun it was the heat that got them in the end; everyone was exhausted by full time, but losing their most creative player to cramp just as they were getting on top wounded Convo fatally, and it was (jokingly) suggested afterwards that, "Ramadan knocked us out."
Welsh (J) looked like he'd just heard his dog had died as he collected the runners-up shield – so that's what all the fines pay for – and in the absence of Sir Bert Millichip it was presented by Alan Brown himself, but while none of the Convocation lads felt like celebrating they will surely look back fondly on their efforts one day. Trophy success may have eluded them but they made a giant leap on Wednesday towards future achievement, as there's a cracking camaraderie within the side, and it's with a blush of love that everyone (both on and off the pitch) should be commended for being a credit to the club. It also speaks volumes that they acquitted themselves superbly in defeat, when we all know that losing would have been the end of world and messy for Collegiate.
Far too late, a pleasant breeze got up after the game as a handful of Convocation supporters sat outside the Jolly Miller chewing the cud over a couple of pints; after a while one of the Collegiate forwards limped out of the pub and went and sat with friends at a nearby bench. Ragnauth observed his tortured gait and mused to his colleagues, "They won't forget that they've been in a battle with Convo." There's surely some solace to be taken from that thought.
Man Of The Match: Team Award. What else could it be?
Convocation (4-5-1): Round; Byatt, Welsh J, Welsh A, Galy; Ahmed, Irakiza, O'Sullivan, Nawrocki, Kent; Lewis; Subs: Parsons, Roberts, McNally
---
Saturday, May 19th 2018
Old Xaverians 0, Convocation 1
Bobby Mimms reports
Church bells rang out and the nation rejoiced; what a glorious day. Convocation have reached their first ever league-affiliated cup final. After forty-four-and-a-half years, and courtesy of a gritty, backs-to-the-wall victory that once again ended with them down to ten men, the team from Mather Avenue have at last managed to overcome their semi-final hoodoo and are now only ninety minutes away from troubling the Old Boys League trophy engraver. Not that they were able to triumph on their own turf, mind you: despite this fixture originally being scheduled for Wyncote there were (relatively) no pitches available – thanks in part to the encroachment of Cardinal Newman – so the game had to be moved to Woolton, where the Firsts played the last time they got so far in a competition.
Obviously Old Xavs had nothing to do with the tie having to be switched to their gaff, but few doubt that they'd been playing some sort of shenanigans with the fixture: it was supposed to have been played on the afternoon of the most recent (and very dreary) Merseyside derby but at the last minute they'd cried off for a reason that was definitely nothing to do with watching that, a transgression for which they were punished by receiving three league points at Convo's expense! It was obvious that they'd thought they could just turn up whenever they wanted and stroll into the final, but they hadn't banked on Convocation performing so well on the day, even without any First Team officials in attendance; Jonny Welsh had been put in charge and on what was a huge, hard pitch and in extremely warm and sunny conditions his boys played their hearts out to reach unchartered territory, albeit abetted by their opponents' arrogance.
Ultimately, the game was decided through two first-half penalties, ten minutes apart, one scored and one saved. The hosts won the first just after the half-hour mark when Kieran O'Sullivan brushed off an attacker a foot-or-two inside the Convo eighteen-yard box and the referee – old pal Antonio Perez – pointed to the spot; it seemed a harsh decision at first, especially as the Old Xavs player appeared to have been looking for the contact, but his assailant later admitted that it was a definite foul. The resultant dead ball wasn't a particularly good one: it went to Matt Round's right and was a good height for the 'keeper, but he still had to stop it, and indeed he did.
The miss didn't seem to faze Old Xavs as they presumably felt that another opportunity would come along soon enough, but the next one actually fell to their guests, and they made no mistake with theirs. In fairness to the home side they did continue to pile the pressure on Convocation, but when one of their players gave away a silly free kick in the centre circle for a push in the back the away side were able to launch a merry hoof forward that reached that arch-sniffer-outer of chances, Mike Kent, down the side of the penalty area, and when he and an opponent both attacked the ball with feet higher than the kids from Fame the one in claret-and-blue booted the one in grey and once again Mr Perez gave it the full Mike Dean. With half-a-whiff of redemption possibly in mind it was O'Sullivan who took control of proceedings from the spot, putting his shot to the right (as he would have looked at it) while the 'keeper side-stepped the other way.
That Old Xavs penalty miss had been the second golden chance for them to take the lead that had been thwarted by the Convocation 'keeper, as, several minutes earlier, they had had the ball in the back of his net but the 'goal' had been disallowed by the man in black. One of their ilk had fired off a rasping, rising effort from mid-distance that, fortunately for the visitors, was straight at the sturdy-enough Round, but within seconds of him slicing a poor clearance up the pitch a claret-and-blue man was back on the attack down his right flank. He easily zipped past Liam Byatt before pulling a low cross back from the by-line towards the front of the box where a colleague scuffed an awful shot, fortuitously, straight to yet another team mate at the back post, and he was able to tap in from about three yards out. However, with the #1 on walkabout (he'd come out to claim the initial cross) there was only one defender on the line, which wasn't enough for the scorer to be onside.
After penalties and the seeming incapability of the home side to take the lead the other leitmotif of the first half concerned Urtica dioica. On the pitch that the semi-final was being played (the one furthest away from the entrance to the grounds) dozens of Old Xavs supporters had congregated on what can only be assumed was their regular sideline, as the other one, the one that Convocation had been left, was bordered with trees and therefore in the shade; it was also bordered from one goal line to the other by waist-high nettles several yards deep, and they were no friends of Convo. Substitute Mohammed Nabil was the first to suffer for his team when he waded into the plants to retrieve a ball, completely oblivious to the fact that in doing so he would spend the next half hour clawing at his knees (he did seem genuinely astonished at the concept of nettles), but it was Mike Nawrocki – who'd been papped carrying a crate of cider along the drinks aisle of Tesco on Friday night (by Round, the snitch) – who kept having to plough into them after clearances and errant passes, and as a consequence got stung to high heaven; needless to say he subsequently donned his usual hangdog look of (itchy) cursed fate.
The opening five minutes of the game had been uneventful as the two teams felt each other out – oh behave – but then Convocation's Adel Ahmed had the afternoon's first shot in anger when he fired well wide and over from a little under thirty yards out. Not long after that he turned provider by putting a cross into the home side's box (from out on the left) that Kent was able to get on the end of, and in an unconventional move the little man almost 'gutted' the ball into the net from close range, but as his effort was a foot-or-so the wrong side of the upright the concomitant 'plop' sound was the only pleasing aspect of the outcome. At the other end of the pitch Old Xavs' first attempt on goal was from a free kick just outside the 'D', but all that got them was three rugby points.
Convocation were holding their own against opponents who had given them a bit of a shoeing a little over a month ago, and who appeared to think they were going to again. The midfield was working as a unit – not always a given – with Ahmed and Divin De Buffalo Irakiza in particular teaming up well, which was all the more impressive for the former of the pair considering that the home side were needling him all game; one particularly unpleasant scrote (the right back?) spent most of the first half proclaiming to the world in an incredibly whiny, scally voice that the Convo man had "lost his head" – a pretty transparent and unsuccessful attempt at psychological emasculation. At times though, the Saudi did play into his antagonists' hands by being a little too dramatic as he went seeking fouls.
Ahmed and Kent swapped wings at the start of the second period (they'd begun the game left and right respectively, with Irakiza, O'Sullivan and Nawrocki in between) but otherwise the line-up remained unchanged; alas, the conditions did as well, and it was Convocation's turn to play into the sun. There was barely a breath of air blowing around south Liverpool and on such a warm afternoon when heat fatigue was a possibility that was an extra concern; of course, both teams had to suffer the same ordeal, but the home side had plenty of substitutes to rotate while Convo had only one, and a consequence of that was that under growing Old Xavs pressure they dropped deeper and deeper as the half progressed, piling up the sandbags in the process.
Having said that the visitors did have the second period's first decent chance to score, after Mr Perez had made the most peculiar decision, awarding them a free kick down the side of the Old Xavs penalty area for… well, answers on a postcard; it had something to do with Ahmed, who then drilled the dead ball low into the box, and when it was only half cleared Kent blasted an effort back from eighteen yards out that was just wide of the upright. A two-goal lead wouldn't have given an accurate reflection of the game though, and when there was a mix-up between Round and one of the Welshes at the other end of the pitch not long after that, and one of the claret-and-blue shirts was able to fire off a shot across the face of the target from well inside the box, it was obvious to everyone that Convo were living dangerously. Their plight wasn't being helped by the fact that, at the time, not a soul in grey had been in their hosts' half for several minutes, something that became an increasingly regular occurrence as the tie progressed.
With (what should have been) twenty minutes remaining Convocation made their first substitution (Old Xavs had already been rotating like an orrery) – O'Sullivan came off for Nabil, who went up front while unsung workhorse Anthony Lewis dropped back into midfield – but within sixty seconds a collision in their penalty area between Welsh (A) and an Old Xavs player resulted in a long stoppage after a number of the latter's teeth were transferred into the former's temple; Dr Percy's not one for gore but according to braver souls there was blood everywhere. Eventually the hardly-refreshed O'Sullivan went back on and Irakiza was redeployed in the heart of defence, while on the sideline the dazed Welsh (A) was informed by the linesman – yes, you know you're in the semis when there are linesmen – that he looked "like an evacuee from Dunkirk", although, his head being bandaged up as it was, there was also a resemblance with England's Terry Butcher.
When the game finally restarted Old Xavs kept up their residency of the Convo half, although as they became increasingly desperate to find an equaliser they left themselves more and more open to a counter attack. Never more was this apparent than when Ahmed was almost sent clear through on the break but was upended on the wing by an opponent who quickly found himself in the referee's notebook; for some reason this sent one of his colleagues into paroxysms of rage, and as a result of his smart mouth (and for his persistently irritating behaviour) he too received a yellow card.
Due to the long stoppage just how long was left had become a difficult call, but, working backwards with hindsight, ten minutes before the final whistle Old Xavs should have got the equaliser that the siege on their opponents' penalty area probably deserved. On a rare venture into their hosts' half Convocation won a free kick that, with poor execution, was quickly turned into a counter attack, and when the claret-and-blues spread play across the pitch several times and then finally put a delicious cross into the Convo box from out on their right wing an unmarked man at the back post (no one in grey had been able to get back as quickly as the break had broken) only had to tap the ball home from about three yards out, but he made a right McNally of the situation and spooned the thing over the crossbar in a manner that would have had Ronny Rosenthal purring with delight.
A few minutes later the home team went close again when one of their men was played through along the inside-left channel and, as Round advanced towards him, he chipped a shot over the 'keeper that was just the wrong side of the furthest post. Moments after that though, Old Xavs did find the back of their guests' net after they launched a long pass forward that should have been bread and butter for the Convo #1, but in taking his time he allowed an opponent to run in and tap the bouncing ball past him on the edge of the area, then roll it into the unguarded goal – alas for the scorer and his side the official had spotted that the 'tap' had been of the Hand of God variety and disallowed the strike, although considering his card-happy nature it was strange that he issued no booking.
There was no doubt that Convocation were hanging on, but you really do have to take your hat off to how well their defence was defending. Even after the incapacitation of Welsh (A) they remained steadfastly marshalled by his brother, his awareness of potential dangers keeping everyone in check and position, while Irakiza's inclusion in the ranks showed him to be just as disciplined as his earlier midfield endeavours had been. Byatt and Jerome Galy in the full back slots were willing to do as they were told, tucking in when need be, flying out wide if necessary, and as a whole the back line was proving to be incredibly unyielding and, you would imagine, irritating to their self-important and increasingly desperate hosts.
But still the half kept dragging on and on, and in such heat that was no laughing matter. In what would turn out to be the final minute the claret-and-blues won a corner and their 'keeper trotted up to take part in the inevitable bun fight, but then the set piece was cleared immediately and suddenly Ahmed was away – at least, he was until, with four defenders around him, he was dragged down in the centre circle. The miscreant responsible for the foul was shown a yellow card, but that left his manhandled opponent raging, adamant that he was in with a goal-scoring chance and it should have been a red (he was wrong); within seconds Old Xavs had to tidy up in their own half again, but as one of their ilk attempted to launch the ball forward for one last sortie Ahmed was on hand to haul him to the ground in what was clearly retaliation. The official did well to play advantage, but when the home side failed to do anything creative with it he returned and cautioned the Convo man – maddeningly, it was his second booking of the afternoon as he'd been given one in between the two penalties for refusing to meet the referee halfway in an argument over the roughhousing he'd been receiving. So he was off.
The game only lasted thirty seconds-or-so after that and everyone on both sides practically collapsed from exhaustion when the final whistle was blown – the second half having lasted for fifty-six minutes – but from somewhere those warriors in grey summoned up enough energy to celebrate their heroics with each other; one Old Xavs player mingled to wish them well for the final, but still couldn't help moaning that they'd been lucky to win the semi. After the tricks his team had tried to pull prior to it, Convocation probably deserved all the good fortune that they got.
So this intriguing season of cup adventures will have one last chapter to it, although it was 'doing a Wigan' – reaching the final but still getting relegated – that a number of players picked up on at full time. When you consider how they defended on Saturday, how they didn't so much park the bus as park the Ark Royal, it is somewhat baffling as to how Convocation find themselves in trouble in the league. But whatever happens on that score this campaign will long be remembered for them reaching their first ever league-affiliated final – where they will play Collegiate – and their superb win in the semis against the cocky Old Xaverians.
Church bells rang out and the nation rejoiced; what a glorious day. (And in other news: apparently there was a royal wedding on as well.)
Man Of The Match: Well it was going to be Ahmed until he got himself sent off by being petulant, which could now threaten Convo's chances in the final. Round deserves a mention for his numerous contributions and well-earned clean sheet, O'Sullivan gets a nod for scoring the goal that won the tie, and Nawrocki is the recipient of a sympathy bottle of calamine lotion for his run-ins with the nettles. Andy Welsh is the MOTM though, as he defended excellently during his time on the pitch, and when things were starting to get a bit sticky he bravely took out one of the opposition's better players at no small pain to himself – he'll have the cup-run scars to show for years to come.
Convocation (4-5-1): Round; Byatt, Welsh J, Welsh A, Galy; Ahmed, Irakiza, O'Sullivan, Nawrocki, Kent; Lewis; Sub: Nabil
---
Saturday, May 12th 2018
Convocation 2, Woodstreet Academy 3
First game ended 3-2. [Farrell] gifted them the lead with a grave misjudgement, allowing the ball to bounce over [him] and the striker to nod home from a yard. Although this followed a fine save from a free kick minutes earlier. Adel equalised, but we went in 2-1 down at HT thanks to a cross that was whipped in, eluding everyone in the box and into the far corner past a stranded Farrell. Adel equalised with a fine free kick int he 2nd half. They were reduced to ten men for the last ten minutes of the game for a scything challenge on Parsons from their LM. Their striker turned Ali inside out in the dying moments of the game, and scuffed a shot in off the post for a 3-2 win for the visitors.
Woodstreet Academy 4, Convocation 2
The second game saw Wood Street take the lead after 20 mins or so, Farrell lobbed with the striker bearing down on goal. Farrell then managed to exceed his gaffe from the first game, allowing a through ball that was shielded by Ali from the on rushing striker to go through his legs, with the striker through to tap into an empty net. The second half began with an early away goal, the winger bearing through on goal and smashing in for a 3 nil lead. A complacent WoodStreet (one of their players bellowing "lets get the goal difference up) allowed us a route back into the game, with our aging (or should that be experienced) front line helping themselves to a goal apiece. But the final word went to the visitors, the sub LM curling a magnificent effort into the top left corner, a shot that Farrell got fingertips to but only managed to push it further into the top corner, making it actually look an even better goal. 4-2 Wood Street at the final whistle.
MOTM? A lot of the lads hustled well, as we had to with a bare XI, but Adel gets the vote for the first game with his brace, and Round for his whole contribution in the second game.
Convocation (4-4-2): Farrell; Byatt, Welsh J, 'Ali', Parsons; Ahmed, Irakiza, Nawrocki, Kent; McNally, Round
---
Tuesday, May 8th 2018
Convocation 2, St Margaret's O.B. 4
Convocation (4-5-1): Morgan; Byatt, Roberts, Welsh J, Railton; Galy, Kent, Irakiza, O'Sullivan, Parsons; Lewis; Subs: Ahmed, Nabil, McNally
---
Saturday, May 5th 2018
Convocation 4, Mexoc 1
Came from 1-0 down to win.
Mexoc 1, Convocation 0
Convocation (4-5-1): Welsh J; Byatt, Welsh A, Roberts G, Railton; Ahmed, Lewis, Nawrocki, O'Sullivan, Kent; McNally; Sub: Nabil
---
Saturday, April 28th 2018
Knowsley C.C.O.B. 1, Convocation 2
Convocation 0, Knowsley C.C.O.B. 2
Bobby Mimms reports
As club secretary John Farrell put it: "Isn't it just like Convocation to win a game, yet their goal difference gets worse?" Yes, due to the backlog that this season's inclement weather has helped to build up Convo found themselves with eleven fixtures (at least) still to fulfil prior to Saturday, the day the league initially expected everything to be done and dusted, but with a month's extension having already been agreed they embarked on their first double header since before this website was a twinkle in Phil Holt's eye (with two more to follow): in winning the initial tie, a pleasant enough affair, 2-1 (with 'Taha ref', Andy Pownall, in charge), but then failing to capitalise and allowing their opponents, Knowsley Community College, to snatch the next, they managed the seemingly mathematical impossible.
By the time that second match got underway the two sides were in the mood to be a little more fractious with each other than they had been, so weren't they lucky then that new official, Jez Clein, was on hand to be… precious. For Convocation the game was an immediate anti-climax after their earlier hard-earned three points but the referee made sure that it was nonetheless not dull, and by the end of fifty minutes on Wyncote's old tennis court pitch he'd issued four yellow cards, two of them condemning the home side to finishing proceedings with only ten men.
They'd only had eleven to start with, the bare bones, and while four twenty-five minute halves is only a little longer in total than what the players should be used to, it was rather a warm afternoon and by the end combatants on both sides were out on their feet. Convo began the second match with the same line-up and formation as they'd finished their earlier victory: Alex Hendry was in goal, behind a back four comprising of Liam Byatt, Andy Welsh, Graham Roberts and Farrell, and while Captain Chris McNally led the line up front on his own the five-man midfield behind him comprised of Anthony Lewis, Mabon Huws and Jon Welsh flanked by Mohamed Nabil (left) and Jerome Galy (right).
The first few minutes were uneventful other than when one of the Knowsley players told a colleague to play deeper with the instruction "Iggy drop", which left those in the blue-and-white hoops of Convo hoping that they wouldn't turn into The Passenger… Anyway, shortly after that the visitors manufactured a promising opportunity to score when their right back hoofed a pass up the flank for a team mate who appeared to handle the ball when Welsh (A) came across to challenge him, and having got past the defender due to the unseen foul he ran on and blasted a shot at the near post that Hendry did well to push out for a corner, which came to nothing.
Knowsley, wearing a kit of Dorito orange (with a diagonal black sash), had another half chance moments later when they were gifted possession in the middle of the pitch and then attacked along their inside right but dragged a shot wide from fifteen yards out – after that though, their hosts took control of the game for a while. Convo were slick in midfield, Huws, Welsh (J) and Lewis playing not just triangles around their opponents but also all sorts of other polygons when colleagues came to join in, and eventually this excellent team work led to them winning a succession of corners, the last of which when pinged into the visitors box by Nabil caused a defender to slice a clearance across the face of his own goal, the ball just going wide of the furthest upright.
By the time the quarter-hour mark was nearing Knowsley had got themselves back into the game and should have scored when, following a throw-in, one of their ilk put a lovely cross into the Convocation box and an accomplice ran in from the other side of the pitch to get on the end of it, but his subsequent low effort was also wide of the far post. It was poor miss, but minutes later it was irrelevant as the visitors did notch their first of the mini-match: they won a free kick in the middle of their opponents' half and punted it into the penalty area, where one of their players was in the right place to win possession when the hooped shirts didn't deal with the danger particularly well; about twelve yards out, with his back to goal and a thicket of bodies between himself and the target, things nevertheless didn't look promising, but then he swivelled on a sixpence and (unlike Phil Holt back in the day) let go at the right time, finding a fleeting gap through which to fire his shot into the bottom corner.
Convo suffered another blow a couple of minutes later when Hendry attempted to intercept a ball into the box (from a free kick more-or-less on the goal line) but fumbled his catch under excessive pressure (which was penalised), and although his resultant all-too-familiar theatrics prompted certain unsympathetic onlookers to scribble 'drama queen' in their match notes it quickly became clear that the 'keeper really was in some discomfort – he'd dislocated a finger but with no substitutes available would have to play on. You could argue that the home side then received a further raw deal when one of their opponents was only booked for what at first seemed to be nothing, but which the official revealed (upon the baffled enquiry of a Convo player) was because "he told me to fuck off".
Like a genie in a bottle, once that yellow card was out of the referee's pocket there was no putting it back and ominously, moments later, Welsh (A) was cautioned for jumping up and deliberately fouling an opponent from behind seconds after having been body-checked off the ball by the same player (in fairness to the man in black, he didn't see the initial offence while the follow-up was right under his nose). It wasn't all blatant retaliation from the inhabitants of Convo's back line though, and in the final minute of the half Byatt attacked down the flank before slipping a pass to Nabil – the two scorers from the first match combining – and despite the midfielder having been relatively quiet up to that point, possibly shocked by the difference in his side's performance compared with that of the first match – he was new – he was able to swivel on the corner of the penalty area and then fire off a shot that was not too far wide.
After an initial lull in which both sides looked tired it was the visitors who had the best of the third quarter of the game. The closest they went to scoring a second during that time though, was when they won a free kick just outside the Convocation area (out towards the flank) and dinked it into the box where one of their men made a rather good attempt at an acrobatic connection but had the misfortune to direct his effort straight at the handicapped 'keeper; several minutes after that they also blasted a shot over the crossbar.
In between those two chances they were almost gifted another when a tame strike was blocked by Byatt and Hendry attempted to prevent the rebound from going out for a Knowsley corner, but only succeeded in keeping the ball in play for a loitering opponent. Somehow the #1 managed to wangle a free kick out of the ensuing grappling match but in an attempt to save his blushes he continued to protest too much about his supposed mistreatment, long after the award and despite his undeniable lucky escape – eventually McNally intervened and ordered him to shut his yap before he irked the easily-irked referee.
Convo weren't really doing enough to justify a potential equaliser and their midfield, which had seemed so lively earlier on, appeared to be fading. Nabil wasn't too bad out on the left, but Galy was hardly in the game on the other side of the pitch, while in between and directly facing fairly fresh-faced foes Welsh (J) and Lewis were leaving increasing amounts of the spade work for the more youthful legs of Huws. And so it was, with about ten minutes remaining, the hooped shirts won a throw-in on the left and the ball was eventually played to the feet of the Welshman, and from about thirty yards out he had his side's best chance of the game, although his dipping shot was probably always drifting wide.
It had become increasingly clear over the course of the two games that the majority of the Knowsley squad would have argued with Our Lord's Donkey if they'd thought it would gain them a yard or two, but they went through a particularly irritating spell towards the end of the afternoon when they got a real bee in their bonnets about high feet and dangerous play, none of which the official took the slightest bit seriously. Unfortunately the same couldn't be said of him when he sent Welsh (A) for a premature appointment with the shower gel (or at least he would have if the First Team hadn't always been perturbed by the thought of post-match ablutions) after the Convo man disagreed with the lack of an offside call at one point by exclaiming exasperatedly (and more to himself than anyone) "oh, fuck off ref" – the Real Wild Child received a second yellow card, and though it was undoubtedly harsh he couldn't complain after the earlier (lenient) Knowsley booking for execration. Within moments of that another breach of club etiquette resulted in more paperwork being created for the Convocation secretary to deal with over the next few days when one of the hooped shirts informed the whistler that he was "having a shocker", the slightly-on-the-wrong-side-of-right opinion earning the miscreant a caution. And the name of that miscreant? Mr J. Farrell, Convocation secretary.
Already on top and then also with a man advantage it was little surprise that the side from Halewood finished the match the strongest, and with five minutes remaining a shot of theirs from just inside the corner of the Convo penalty area crashed against the outside of the nearest upright, although it's possible that a slight touch from either Roberts or Hendry helped it do so. But like anti-Semitism in the Labour party Knowsley pressure just kept coming from everywhere, so when McNally conceded a free kick out near one of his own corner flags and it was punted into the box but only half cleared it wasn't too surprising that it was a shirt with a radioactive glow that was first to react to the loose ball, and the subsequent blast found its way into the roof of the Convocation net via the 'keeper's already knackered paw.
Considering how easy it had seemed to be to get under the referee's skin (what do you expect from a man named Jez?) it was difficult to comprehend how recidivistic heckler Hendry hadn't also been booked, but after the battering his hand had taken it wasn't so hard to work out why he didn't finish the game in the nets. With a Lust for Life he played the final few minutes at right back while Farrell donned the gloves, and in the only thing he had to do during his brief spell between the sticks the new 'keeper shinned an incredibly tame pea-roller out for a corner when he tried to control the ball with his feet rather than pick it up with his hands – from that quadrant kick the visitors smashed an effort against the face of the Convo crossbar from the edge of the penalty area.
And that was that. Proceedings finished with the gap between the two sides in the league unchanged, although Convocation did pull clear of last-placed Sacre Coeur, and of the bottom four teams they have the most games in hand (of course, potty-mouth Welsh (A) will be missing for at least one of those). They also have two more double headers in which to play their Jekyll and Hyde card again, just as on Saturday when they were impressive in the first contest only to be average and very second best in the other, a state of affairs that left the Secretary scratching his head at the capriciousness of the club. But while they were only too happy to joke about their own shortcomings when the dust had settled, would the hooped shirts have taken three points but with a worse goal difference before things got going? You'd have to assume they would.
Man Of The Match: What a question; you might as well ask which is the best religion as there was pretty much nothing to split any of the Convo players. For fortitude alone though, the nod goes to the goalkeeper as no one would have held it against him if he'd quit as soon as he dislocated his finger, and in continuing despite the pain he was able to debut an interesting variation on the Hendry Limp, which is always worth the entrance fee.
Convocation (4-5-1): Hendry; Byatt, Welsh A, Roberts G, Farrell; Nabil, Lewis, Huws, Welsh J, Galy; McNally
---
Wednesday, April 25th 2018
Convocation 1, Collegiate O.B. 3
Convocation (4-5-1): Morgan; Sawle, Welsh A, Welsh J, Galy; Huws, Kent, Long, Schofield R, Parsons; Round; Poole G
---
Saturday, April 14th 2018
Convocation 2, South Mersey 5
Bobby Mimms reports
Finally – as Action Man might put it – this Senior Shield second round fixture has been played (at the fourth time of asking), although as most would have suspected it proved to be too much of an ask for Convocation. Their participation in the competition well into April was thanks to the combination of receiving a bye and then continual postponements due to continual bad weather, but once they and their opponents, South Mersey, at last got it on at Wyncote (even though the tie was originally scheduled to be played at Gateacre School) the Division One side was too strong for their lesser ranked hosts and eased into the quarter-finals without much trouble.
Ever since the draw was made (it was shown on Pathe News at picture houses) everyone had had Convo down as underdogs, and even in this peculiar season when they have struggled in the league but shone in the cups (well, 'cup' before Saturday) they would still have been given similar odds on progressing at South Mersey's expense as the bookies were offering for any of the three-legged nags in that evening's Grand National. There was no shame that they didn't as they did their best against a good team, and this wasn't the ordure they'd played against Old Xavs in their last game two-and-a-half weeks ago (there have been four more fixtures called off in the meantime); they actually staged a mini-come back during the second half but ultimately individual mistakes cost them, which although exasperating is much more palatable than the apathy of that previous outing.
But of course it's much easier to summon up enthusiasm for a game when it's warm and bright than when it's overcast and drizzling like at that Old Xavs defeat (that's not an excuse for that performance). Saturday was a lovely day that almost made you wonder whether the winter washout had been worth it, but unfortunately the disorientation caused by actually seeing some sunshine seemed to have confused the Convocation defence – from left to right: Liam Byatt, Andy and Jon Welsh, Jerome Galy – because, having clearly gotten the wrong interpretation of the pre-match suggestion that 'an early goal would be nice', they allowed a red-and-black striped opponent – South Mersey actually appeared to be wearing Bayer Leverkusen kits – to coast through their ranks not long after kick-off and then chip the ball over goalkeeper Jack Morgan from the edge of the penalty area.
You can hardly describe a fifth-ish minute concession as being against the run of play, but it was definitely anomalous in the opening quarter-of-an-hour of the game as otherwise South Mersey did little in their hosts' half while at the other end of the 4G pitch they were slightly under the cosh. Mike Kent tried to replicate the visitors' goal with an equally delicate little dink, although his effort was just too high to equalise, while a low shot from lone striker Simon Williams – making his first appearance in… let's say ages – forced the opposition #1 into deflecting the ball over his horizontal with an outstretched leg before Byatt sent it similarly off-target with a bullet header at the resulting quadrant kick. It was Mabon Huws though, who went closest to scoring for the blue-and-white-hoops in that period, when he was good enough to save the Wyncote ground staff the trouble of clearing any cobwebs off the woodwork by launching a rising curler from the corner of the penalty area that crashed against the angle of the crossbar and upright.
Chris McNally joined the action in the twentieth minute (he went up top, replacing Williams, who when asked if he was injured explained to your correspondent: "I'm just fucked") but contributed pretty much nothing to the game for the remainder of the half, yet Convo did have more opportunities to score during that time, although again they were all unsuccessful. Huws squandered a great chance when, completely unmarked and about fifteen yards out, he received a quickly taken free kick but side-footed wide despite having much more time to compose himself than he used; the dead ball had been awarded for one of many fouls on Adel Ahmed during the first period, and somewhat understandably before long he started getting a little feisty in response to the hoofing he was receiving from the opposition.
Of course, the best way to silence the kickers is always to hit them where it hurts and Ahmed almost did just that when he was sent clear down the inside-left channel, just after the half-hour mark, and drilled a rasping low effort towards the bottom left corner of the South Mersey goal that their 'keeper did very well to get down and block – the #1 must have been aghast when the rebound fell perfectly for the Convo man again, but his immediate second shot, from a much tighter angle, was then cleared off the goal line by the only defender to have managed to get back and cover it. The home side's impressive play continued and after one particularly good spell Kent fired over from the edge of the penalty area, while in the final few minutes of the first forty-five Craig Kaye got on the end of a deep corner but smashed the ball into the visitors' side netting from about ten yards beyond the back post.
Alas for Convo, South Mersey hadn't been so profligate. They'd ended their hosts' earlier period of (relative) domination by scoring a second goal in the seventeenth minute, when one of their midfielders had picked up possession near the centre circle and ran at his opponents' back line before exchanging a Zorro swish of passes with a colleague just outside the penalty area that saw him float into it far too easily, whereupon he slotted a low shot past the advancing Morgan (who was nonetheless quick off his line throughout the game). The defending was hardly stellar, although it's possible that the sun shining into the Convocation players' faces might have been a handicap for the bamboozled Welshes.
The home side's midfield – from left to right: Ahmed, Huws, Lewy Bollard (who was apparently Andy Parsons' cousin), Kent and Kaye – played reasonably well throughout the match, but at critical moments they were shown up to be inattentive by their equivalents, such as in the build-up to that goal; they were also outsmarted at times and it wasn't difficult to see why they (and their colleagues) were outsiders for the tie, but nonetheless they did their best against better opponents than they're used to this season, and at least they kept it realistic and didn't try anything over the top. The same couldn't be said for one impressionable South Mersey player who attempted to get on the end of a free kick into the Convo box with a ridiculous overhead kick at the point where the six-yard box meets the goal line – everyone under thirty thinks they're Ronaldo these days – but the visitors had been much more sensible moments before that when one of their ilk attacked down their left, barged past Welsh (J) almost to the byline, and then pulled the ball back for a team mate who smashed a shot against the crossbar from where it bounced down onto or near the line and then out.
Just like Cambridge Analytica the South Mersey crew seemed to have all the answers (quite a few of them were also right pains in the harris) and a little over ten minutes before the break they further demonstrated as much by scoring again. Bollard, who otherwise had a fine game, lost the ball on the edge of the centre circle and the black-and-red stripes then dinked it around for a while, gradually getting closer to their opponents' goal, before eventually one of their players was slipped through the Convo back line – Welsh (A) playing him onside – whereupon he ran on and blasted a shot past Morgan. (Straight from the restart Ahmed had his double chance down the other end of the pitch.)
They had the ball in their hosts' net again just before half time, although on that occasion there was never a chance of them reaping any reward: one of their midfielders was sent clear through on goal but when independent adjudicator, Ray McLaughlin, blew up for offside and called him back the guy in question ran on and finished instead. It was mildly amusing in its exaggerated pointlessness, but also a little galling as the situation was dealt with so sensibly whereas Convocation's recent troubles involving Taha Abussnena had escalated from much less – a little bit of refereeing consistency across the league wouldn't go a miss (that's not to say that the 'scorer' should have been cautioned, just that, once again, Convo seem to have been given the rough end of the stick). After that it was time for some orange sucking.
The second period began with the introduction of the first of Convocation's two debutants, Baby Convo's Alex McLean, in a straight swap with Huws, while Ahmed and Kaye agreed to exchange flanks, meaning that the latter would once again be winging along the same snake pit of a South Mersey sideline that he'd patrolled before the interval. None of the changes had an immediate impact on the game and for a short period just after the restart it was about as lively as the Salisbury spies, although the general consensus amongst the home ranks was that if they could pull a goal back early in the half then they were still in with a chance.
That stalemate wouldn't last too long and unfortunately for Convocation it wasn't them that ended it: following a brief period of pressure on the edge of their hosts' penalty area South Mersey put a head-high ball into the goalmouth from out on the right and one of their players butted it past Morgan without any resistance. It was quite awful defending from the hoops, and matters were almost made worse ninety seconds later when a similar move resulted in a striped runner getting on the end of another knock into the box, although on that occasion while his low first-time shot beat the Convo #1's dive it couldn't get the better of the foot of the post.
On the hour Kaye was relieved of his duties (which had mainly consisted of running fruitlessly back and forth in front of a pack of baying dickheads) and was replaced by the second new boy, Matt Williams, who must have had some sort of talismanic aura as his introduction was followed almost immediately by a Convocation goal. Welsh (A) gained possession in the middle of his own half and launched a long ball forward for the previously anonymous McNally to run onto, and under mild pressure from an opponent the Captain flicked a shot past the advancing 'keeper with the outside of his foot for what was rather a good finish. The visitors weren't so impressed with the official's eyesight though, and in amongst all of their confrontational complaints about offside one player received a yellow card for dissent and was promptly substituted before he could snarl himself into another.
McNally's goal engendered a brief spell of dynamism in him during which he twice went close to scoring another. Ahmed sent him clear through on the South Mersey goal again, although on that occasion he took far too much time collecting his thoughts and eventually poked a weak effort at the #1, while sixty seconds after that the two almost combined once more when the Captain flung himself at a lovely cross into the box (it was more an attempt at a 'toppling' header than a diving one) but at the last split second had the ball taken off his bonce by a vital defensive tuft of hair, just as he'd called 'Timber!'. In exasperation he subbed himself moments later, with Williams (S) returning in his place.
The incomer had a great chance to grab a second for Convo within a couple of minutes of going back on when he had the ball squared into his path by Ahmed (who was really starting to enjoy himself in the middle of the pitch, which was just as well as at times it was only the nimbleness of his feet that was saving him from getting hurt), but his first touch on the edge of the area would have put a pneumatic drill to shame and he gifted possession straight to the South Mersey 'keeper. It wasn't long though, before another opportunity arose for the lad and on that occasion he reasoned, probably correctly, that anything McNally could do, he could do better: once again Ahmed was the provider, having picked up possession on the right flank and danced through a succession of naughty challenges, and his through ball was a thing of beauty, giving Williams (S) time to compose himself before blasting a shot into the back of the net.
There was a little under a quarter-of-an-hour left for the home side to go on and rescue the tie, and there did seem to be a genuine belief amongst their ranks that they could. In reality though, they'd given themselves too much to do, although that didn't really sink in until after Parsons flashed a shot just over the South Mersey crossbar from twenty-five yards out, the consensus on the sideline at the time being that it had been worth a go. Within a minute-or-so, at the other end of the pitch, Welsh (J) and McLean conspired to produce a terrible pass along the edge of their own penalty area, an opponent ran onto it, squared the ball to a colleague, and he knocked it past Morgan to effectively put the game to bed.
Huws returned for the final five-or-so minutes in place of Kent (who many had forgotten was playing) and had the last chance of the afternoon when he got on the end of an Ahmed cross but headed just over the bar from roughly ten yards out, while at about the same time Williams (S) took the knock again and had to be re-replaced by Kaye. The closing stages of the game though, were most memorable for Welsh (A) getting a telling-off from the official for complaining about the lack of a free kick, moments after he'd channelled his inner Julian Clary when getting kicked from behind and appealing: "Referee, there's two nibbles". Needless to say he did not respond to his lecture with 'I thank you'.
The final whistle brought to a culmination this footballing equivalent of the Chilcot Inquiry, two months after it was originally scheduled to be played, and it was, as pretty much everyone had predicted, South Mersey who lived to fight another day. That though, could have been an almost literal reference at times during this game as they frequently clashed amongst themselves and regularly tried to intimidate their hosts with arrogant bellicosity as well – in short, they were bellends. Unfortunately they were also the better team and deserved winners, although that's not to say that Convocation didn't play well, because they did. They've still got one last chance for cup glory this season, with a semi-final showdown against Old Xavs to look forward to, but it's anyone's guess as to when that will be played. On the basis of this fixture, you wouldn't bet against Action Man being off the tele by the time it is.
Man Of The Match: Bollard played alright in the middle (one little mishap aside) and would be a welcome addition to the Firsts should he wish to stick around, but not for the first time this season it was Ahmed who was Convo's best player on the day. He was targeted almost from the off for the worst of South Mersey's roughhousing – always a good sign that you're doing something right – was integral to most of Convo's best moves and can claim two assists for the goals.
Convocation (4-5-1): Morgan; Byatt, Welsh A, Welsh J, Galy; Ahmed, Huws, Bollard, Kent, Kaye; Williams S; Subs: McNally, McLean, Williams M
---
Tuesday, March 27th 2018
Convocation 0, Old Xaverians 7
Bobby Mimms reports
Well, this was one hell of a case of going from the sublime to the ridiculous. Three days after Convocation's excellent win against the unbeatable St Margaret's and the launch of Taha Abussnena's Disrespect campaign they hosted Old Xaverians for the second time this season and unfortunately appeared to be back on the Night Nurse again. The visitors had been a little lucky to leave with all three points back when these sides last met at Wyncote on the first day of the campaign (a return fixture at their place was called off several weeks ago due to the elements – something some people only found out when they, yet again, turned up at an empty ground), but this thumping was fully deserved.
The conditions matched Convocations performance: it was a miserable, overcast evening, having rained on and off all day, while a bluster blew diagonally across the pitch throughout the match – it makes you wonder why Second Team Captain Andy McLaren would have wanted to come along and watch. As usual the blue-and-white-hooped hosts lined-up in a 4-5-1 formation, although making his first competitive start for the Firsts in goal was Jack Morgan. Ahead of him the back line comprised of Liam Byatt, Andy Welsh, Jay Railton and Ollie Sawle, while the five-man midfield saw Divin De Buffalo Irakiza, Graham Roberts and Jon Welsh bookended by Gerome Galy (left) and Andy Parsons (right). Chris McNally began as the lone forward, and waiting their turn on the benchless bench were John Farrell, Anthony Lewis and Ben Prince.
Due to, ahem, travel complications – Hic! – your correspondent didn't reach Wyncote until twenty minutes after kick off, and by then the home side were already in big trouble. The claret-and-blue liveried Old Xavs had taken the lead when a long throw into the Convo box was only half cleared and a follow-up volley from eighteen yards out flew into one of Morgan's bottom corners.
Before long the lead was doubled when one of the visitors slipped through the Convocation back line and into the box, Railton went across to challenge him for the ball, needlessly apparently, and young referee Sam Worrall subsequently awarded a penalty on the basis that you're not really allowed to snap opponents in half. The spot kick was then duly converted.
A third Old Xavs goal was netted before the midpoint of the half was reached when one of their scamps chased a loose ball down the middle of the pitch and, taking advantage of some classic non-defending from his opponents, fired past Morgan again from just inside the home side's area. The well-padded Roberts tried his luck from about thirty yards out not long after that, his effort sailing easily over the visitors' crossbar, but even so Convo were never really at the races and their guests were in the enviable position of being able to pick them off whenever they felt like it.
It looked momentarily as if they had scored a fourth, about ten minutes before the break, when one of their players fired low from the corner of the penalty area past a despairing Morgan dive and from certain vantage points the shot appeared to hit the back of the net, although it actually rebounded off the foot of the furthest upright and fortuitously into the arms of the prostrate 'keeper. The reprieve didn't last long for Convocation though, as their guests did indeed grab another, with the last kick of the half, when a strike from just outside the eighteen-yard box seemed to have been blocked by the #1 down to his right until the ball somehow span up and over him and into the centre of the goal.
The third quarter of the game was as good as it got for the home side, as, with the wind behind them, they didn't concede and even managed to go close to pulling one back as well, although Welsh (J) still failed to get his drive from the edge of the area on target. There were a couple of substitutions during that time that may have helped their cause – Lewis replaced Roberts as Convo switched to two up front, and Prince went on in a straight swap with McNally – but their brief respite may just as well have been something to do with the Churchillian rhetoric of the Captain during the break; his Second Team equivalent was not so sure and accused him of talking "a load of bollocks", while Farrell's contribution to motivational speech – "I know it's a cliché, but let's try and win the second half" – will be perfectly logical when the double headers come into play in a few weeks' time.
There was more to the club secretary than just run-of-the-mill common sense though, as he spent the fifteen minutes that he shared the sideline with McNally doing his best to wind him up, which was much more enjoyable than the rubbish going on on the 4G pitch even if it did seem to be going over the Mancunian's head. The floodlights flickered on about fifteen minutes into the second half to further cheer the spectators (there was actually a slight huzzah), but by then the Old Xavs #9 had given warning of things to come by leaving Sawle (who's no slouch) in his slipstream and going on to hit a shot against one of Convo's posts.
The home side had struggled to keep their opponents under control in the first period when they were playing with five in midfield, so having switched to four they were sitting ducks to quick counter attacks, something that Old Xavs were set up to exploit once they had a guy on their left flank who could probably outrun pyroclastic flow. In the twentieth minute of the half he was at it again, leaving Parsons and Sawle for dead and then drilling a low cross-cum-shot into the Convo six-yard box that Morgan got down to and palmed away, but despite the defence's close proximity to the player in claret-and-blue that the loose ball fell to – not as close as they should have been, of course – no one was able to prevent him from swivelling on the spot and smashing a shot into the net.
If it hadn't been beforehand it was obvious after that goal that the remainder of the game was going to be a case of damage limitation for the lamentable home side. In fairness, Galy and Parsons did make some efforts to get back and help out their respective full backs, Byatt and Farrell (the latter having returned in place of Sawle), but the little fight shown by those in hoops only contributed to a losing battle, as Irakiza and Welsh were thoroughly outplayed in the middle of the park, while Prince and Lewis might as well have not been on the pitch such was the way they were completely frozen out of play. So it was no surprise when, with a quarter-of-an-hour remaining, the visitors scored a sixth, having knocked the ball around the edge of the Convo penalty area for a while until eventually one of their number was slipped through the back line and dinked it over Morgan as he'd advanced.
The visitors were clearly enjoying themselves and an (easily pleased) centre half kept referring to anything his team mate's did as "Class!" (so that it rhymed with 'arse'), something that McLaren started parroting in an ever-so-slightly irritating manner. They had every right to be pleased with themselves though, as, even without taking into account the poor performances of their hosts, Old Xavs were playing rather well and their alacritous #9 continued to terrorise from the left flank. One particular sortie ended with a shot over the crossbar from about ten yards out after he'd sent over a pass ('a clarse parse') to a colleague in the middle, but then, with about three-or-four minutes remaining, he helped to apply the coup de grace to Convo's wretched evening when his low pull-back into the box from more-or-less on the byline was intercepted by Welsh (A), but with a spot of footwork at the near post that Fred Astaire would have been proud of the defender back-heeled the ball past Morgan and into his own net – it wasn't too dissimilar to Djimi Traore's moment of magic against Burnley back in the day.
This was possibly the worst that the First Team have played since McNally became captain; they were unfathomably abject (well, unfathomable apart from the fact that they're Convo) and as a result all their guests had to do to run up a mini-rout was keep reloading and shooting like at fish in a barrel. Hopefully it was just a pretty bad day at the office so it's probably best to put it down to experience and never mention it again (and hope that the players weren't missing Abussnena), because these two teams meet in the Alan Brown Trophy semi-finals in a couple of weeks' time and if Convocation have got any chance of reaching their first ever league-affiliated final they can't be brooding over this debacle.
Man Of The Match: Like the performances of the team in the last two games, this award has gone from one extreme to the other and is withheld.
Convocation (4-5-1): Morgan; Byatt, Welsh A, Railton, Sawle; Galy, Irakiza, Roberts G, Welsh J, Parsons; McNally; Subs: Lewis, Prince, Farrell
---
Saturday, March 24th 2018
St Margaret's O.B. 0, Convocation 1
Bobby Mimms reports
The talk after this match should have been all about a fantastic Convocation performance on the back foot, leading to an unexpected victory against a top side who hadn't been beaten (in the league) all season. Instead, years from now, it will be remembered for the foolishness, petulance, and lack of restraint of one individual.
Convo made the short journey south to Aigburth Road for their first game in four weeks, the weather having once again wreaked havoc on this cursed season; having said that, it did mean that they were unbeaten in a couple of months and on a winning streak of two (one in the league, one in the cup). Still, few would have expected them to get anything from this meeting with arguably the best team in the division, especially when they turned up to find the home side's changing room door adorned with a banner wishing one of their players (it would turn out to be their goalkeeper) a happy eighteenth birthday – suffice to say, everyone associated with the visitors felt old upon seeing it.
Even when Convo took the lead inside the first quarter of an hour common sense dictated that it would be short lived: a free kick out on the left wing of the unkempt pitch was swung into the St Margaret's box and Liam Byatt of all people was on hand to bundle the ball into the net at the back post. That would prove to be the only real chance the visitors had to score and for the rest of the game their goalkeeper, Matt Round, was in the thick of the action, making a number of saves and blocks to preserve his side's lead, albeit saves and blocks you would expect him to make.
Convo had started in their familiar 4-5-1 formation with a back line comprising of (from left to right) Andy Welsh, Byatt, Jon Welsh and Second Team vice-captain Ben Prince, and a midfield quintet of John Farrell (on the left wing!), Jerome Galy (on the right), Anthony Lewis, Taha Abussnena, and one of the latter's friends, whose name went unrecorded but whose utter enervation at the interval, having been substituted, was unmistakable. Mike Nawrocki took over from him in centre-mid for the second half, but only lasted a little over five minutes before his hamstring blew up (it didn't stop him returning to the APH after the match, though); having played up front on his own for the first hour of the game Captain Chris McNally was relieved by one of two other guest players (again they were friends of the soon-to-be-disgraced Abussnena but their names went unrecorded) – Farrell being replaced by the other – who seemed willing but rather clueless.
It was shortly after the last of those Convocation substitutions had been made that a couple of misdemeanours lay the groundwork for a bigger confrontation that was to follow. Galy flew into a rage at the referee, Mr Andy Pownall, about something and was rightly cautioned for dissent, while minutes later one of the St Margaret's players followed him into the book when he quite deliberately hacked Welsh (A)'s ankles in the middle of the visitors' half, and it was only the quick intervention of the Convo man's team mates that prevented him from also seeing yellow when he sprang up like a jack-in-the-box ready to dust the perpetrator's jowls.
There then followed the main event, between the official and Abussnena – and there was only ever going to be one winner in that battle of wills; apparently there was history between the two of them, and while the player didn't go looking for trouble on Saturday, he didn't try and avoid it either. His danse macabre started when he was, again quite rightly, booked for hurling abuse at the whistler after being penalised for straying offside, so when minutes later he was adjudged to have made another run too early and pulled back it was not the wisest of moves to kick the ball away. He didn't boot it into the next county; it barely rolled ten yards; and when was the last time anyone in the Old Boys League was dealt the full letter of the law for such a minor misdeed?
But why would you take the chance?
He knew immediately he was in trouble, the sight of the referee rummaging around in his arse pocket again (for his yellow) would have made sure of that, and just as he had for his first booking the Convo man went to great lengths to act aloof in the face of his comeuppance, thus winding his nemesis up more. And with Abussnena refusing to acknowledge the official he had no clue as to his whereabouts and the two of them collided. It was accidental, and the miscreant's split second reaction, to push the other away, did seem to be impulse rather than anything nefarious (not that it matters, but it was hardly Paulo Di Canio and the late Paul Alcock; the ref had 20 lbs on the player and barely took a step backwards), but if he hadn't been acting the giddy goat he wouldn't have been in a position to have his intentions misinterpreted. He received a straight red card instead of the second yellow he would have got anyway, while worse was to follow as McNally returned from the changing rooms to read him the riot act as well. Ouch!
The remaining quarter-of-an-hour was the footballing equivalent of Rourke's Drift, as St Margaret's pretty much set up camp twenty-five yards from their guests' goal and rained in shots at it at a regularity that can't have been far off one a minute. Continually retrieving wayward strikes from the hinterland behind his nets, Round was warned by Mr Pownall on numerous occasions to get a move on but played the game of brinkmanship perfectly – bearing in mind what had gone before it was a wonder how he didn't follow the others into the referee's notebook. You could argue though, that the home side's players were the biggest timewasters as their efforts were almost all too high or too wide, while no matter how many times Convo tried to clear their lines the ball constantly kept coming back at them as it took a remarkably long time for someone to figure out that, with no one playing up front (where Abussnena had been), there was no one to put a foot on it – eventually Lewis was sent to the halfway line to try and do so.
Almost as regular as St Margaret's' shots on goal were their sometimes manic appeals for a penalty every time the ball entered the visitors' area, but despite a number of you've-seen-em-givens the man in black was never impressed enough to award one. They almost got the equaliser their pressure deserved, if nothing else, when one of their ilk swivelled far too easily past Prince's Sgt Wilson-esque defending at a throw-in but blasted into the side netting, while deep into injury time they smashed an effort against the outside of one of the uprights from a tight six-yards. Eventually though, the referee brought the fifty-one minute second half and the game to a conclusion, and Convocation had secured one of their most impressive victories of recent times.
As previously suggested though, it will be remembered in the future for the wrong reasons, and it seems likely that Abussnena's next Convo appearance will be a long time in the future because the League is probably going to throw the book at him. He was a little unfortunate so he shouldn't be hung out to dry by the club, but it cannot condone his behaviour and he does have to be disciplined. Sadly, on Saturday it wasn't St Margaret's' eighteen year old goalkeeper who could have done with growing up.
Man Of The Match: Team award, with the obvious exception of Abussnena, who almost spoilt it for everyone – he is the Andy Willis de nos jours.
Convocation (4-5-1): Round; Welsh A, Byatt, Welsh J, Prince; Farrell, Lewis, Abussnena, Unknown, Galy; McNally; Subs: Nawrocki, Unknown x2
---
Saturday, February 24th 2018
Convocation 4, Woodstreet Academy 2
Convocation (4-5-1): Round; Byatt, Railton, Welsh A, Farrell; Abussnena, Chadwick, Welsh J, Ahmed, Galy; McNally; Subs: Nawrocki, O'Sullivan, Chivers
---
Saturday, February 17th 2018
Mexoc 1, Convocation 3
First 20mins were pretty tight with them maybe controlling the ball slightly more. We picked them off on the counter twice from Anthony and Taha, two really good goals. We stayed resolute at the back. The 2nd half was even, they tried to go more direct but we stayed strong and worked the ball well up the pitch. Last 20 they got a bit more joy and had a couple of chances. One saved on the line then they got a goal from a bit of a scramble. They put on more pressure but we got a goal on the break from Taha and killed the game.
Convocation (4-5-1): Welsh J; Byatt, Roberts G, Welsh A, Galy; Kent, Nawrocki, Irakiza, Chadwick, Lewis; Abussnena; Sub: McNally
---
Saturday, February 3rd 2018
Convocation 2, Norris Green Baptist Church 2
Norris Green Baptist Church win 5-4 on penalties
Bobby Mimms reports
"Poor Lad".
Half a century on from Eddie Waring (sort of) uttering his famous commiseration for a dejected Don Fox after the guy had fluffed what would have been a last-minute winning conversion in rugby league's Challenge Cup Final, a similar sentiment was universally offered to Anthony Lewis following Convocation's Intermediate Cup quarter-final loss on Saturday when he failed to find the net in the penalty shoot-out while everybody else scored. At the culmination of a contest played in occasional drizzle (it was hardly Watersplash at Wembley, 1968), in which Convo had come back from two down to take the tie to spot kicks, he cut a dejected figure both immediately after his miss, and again a minute-or-so later when it became clear that it was crucial, and was rightly consoled by his team mates, his plight once again demonstrating that footballing fortune is never more vicious than when it is decided from twelve yards out.
One of the few slivers of comfort that Convocation can take from losing while within sniffing distance of the semis is that their opponents weren't a shower of arseholes; defeat can be bearable when it's to good winners. However, when the draw for the quarter-finals was made and they were paired with a side (supposedly) from Norris Green it wasn't just the snobs in the club who'd feared the worst – a nice game against nice opposition couldn't be found in any of the brochures on the Wyncote coffee table – but despite the visitors rolling up at Mather Avenue with that archetypal symbol of footballing hoodlummery, the yellow loon kit (albeit one with blue shorts and mucky-grey socks that looked like they may have been white before a bad wash), they were near perfect guests and their style of play contributed greatly to a frequently anarchic and incompetent match that was very much to Convo's palate. Rumours that the visitors usually participate in the Christian League – surely that doesn't exist – also helped to alleviate pre-match worries that the contest might be a little feisty.
Although those (understandable, considering the status of the fixture) concerns that Norris Green were a brutally efficient and effective football machine and would inflict a bit of a hiding on their hosts would quickly be assuaged, it still took a bit of time for the penny to drop in the Convocation mind-set that they were actually nothing particularly special. The visitors played the first half with an icy wind blowing the length of the pitch from behind them, and whether by accident or with intent route one became a favoured tactic – and it was in using such Big Sam shenanigans that they took the lead, around about the ten-minute mark, when one such long ball sailed over the combined midfields, the Convo centre halves and full backs had differing opinions on whether to play offside or not (Stop the press!), and a player in yellow ran on and slotted past Alex Hendry in the nets.
That uncoordinated rearguard comprised of Liam Byatt and Graham Roberts, who'd tried to trigger the offside trap from their position in the middle, and Ollie Sawle and John Farrell on the flanks, who (probably correctly) hadn't. The two full backs had differing afternoons, with the former 'enjoying' some quiet time, which at least meant he did nothing wrong, whilst the club secretary regularly livened up proceedings with gaffes that would usually drop his colleagues in it. The two centre backs, on the other hand, recovered from their uncharacteristically disorganised start and, offside qualms out of the system, spent the latter three-quarters of the game with their opponents under control (although not their own teammates).
Further up the pitch the five-man midfield was split into two tiers, with the pairing of Mike Nawrocki and Jon Welsh supposedly sitting just in front of the defence (and therefore probably just as culpable for the inability of the defence to prevent the visitors from scoring the opening goal), and Lewis, Divin De Buffalo Irakiza and Adel Ahmed in a more attacking role just behind the lone forward, Mabon Huws. All of the 'front four' managed to fire off some sort of tame effort at the Norris Green goal during the opening half, while both 'keepers were in the right position on numerous occasions for shots struck straight at them during the same time; both 'keepers were also wearing tights – the state of the modern game, eh?
Both Lewis and Huws had opportunities to equalise for the home side in the ten minutes after Norris Green took the lead, and indeed the former of the two actually got the ball in the opposition net but his effort was disallowed for offside (when it probably wasn't); the young Welshman's chance was a wayward shot from just outside the penalty area, and all-in-all he struggled to get into the game as much as he had on his debut a few weeks ago. The visitors, in stark contrast, were still enjoying the upper hand that Convo's languorous start had afforded them, and even though one of their players was booked and told to pipe down by the referee after a spot of back chat – a fairly incongruous incident overall, but one for which he will presumably have to serve some sort of penance – they doubled their lead just before the half-hour mark when they swung a corner kick their hosts' six-yard box and a grey stockinged leg bundled the old pigskin over the goal line at the back post – the old ones are still the best.
Due to Convocation's less-than-stellar start to the game that concession seemed rather ominous and the worry was that the visitors might start running away with the tie. Or at least it was until the blue-and-white hoops restarted again and the ball was quickly shifted to Irakiza, who thought he might try his luck from the middle of the Norris Green half of the pitch, whereupon his 'shot' was deflected by one of their rather podgy defenders (half of the yellow-shirted side were little more than glints in their fathers' eyes, although the back line looked as though they'd been around long enough to have formed good friendships over the counter of Sayers) and looped up over the 'keeper and into his net. There can't have been twenty seconds playing time between the two goals.
Although he scored Irakiza was otherwise the least influential of the trio of attacking midfielders during the first period, as both Lewis and Ahmed caused the visitors regular problems from the flanks and it was only good yellow-shirted defending and a lack of insight from hooped colleagues that prevented the pair from adding to or assisting with goals. The latter of them in particular frequently looked like he was traumatising the visitors, even if only in donning a pair of the most nauseating yellow boots you are ever likely to see; he just cleared the Norris Green crossbar with a shot from about twenty-five yards out midway through the half, and then shortly before the interval he went on a lovely jinking run down the right wing that would have left numerous opponents chasing their own shadows had the sun been out, before putting an excellent cross into the box that would surely have been redirected into the net had the rest of the Convo troops not been attacking in whatever the opposite of droves is.
With half time came Convocation's first changes, and Lewis and Byatt were hooked in favour for Taha Abussnena and Andy Welsh respectively, a decision that was described as "ludicrous" and "preposterous" (admittedly, by Byatt); a little over five minutes after the visitors got the game going again Farrell was also replaced (by Andy Parsons), and after a bit of a stinker he'll be lucky if, for a long time to come, he's not passing to Charlie Church-types in his sleep whenever he has cheese before bedtime. They were undoubtedly proactive substitutions though, especially as Convo now had the wind behind them and Norris Green looked as though their only plan for the second period was to try and defend their lead.
It became clear pretty quickly that that wasn't going to be as easy as they would've liked as their hosts had realised that, with a bit of effort and concentration, victory wasn't beyond their grasp. Convo did of course equalise during the second half, while they also had a handful of other chances to add to their tally during that time, but the first of their efforts, just before the Farrell substitution, was a 'shot' from Nawrocki that only just made it to the 'keeper and was so lacking in belief it's a wonder the #1 didn't try and convert the ball when he finally received it.
Huws was put out of his (relative) misery just after the hour mark when Chris McNally replaced him up front, and over the following five minutes there was all sorts of fun at both ends of the pitch. Parsons got the ball in the Norris Green net although, with his eyebrows having possibly been beyond the last defender, the referee – who, according to pitchside photographer Ben Prince, appeared to be sporting "the start of a Bobby Charlton comb-over" – had long since blown for offside by the time he did so. Moments later it was the visitors' turn to go close when Welsh (A) conceded a corner (necessarily), which was played short and pulled back towards the penalty spot from where another of their players rattled a shot against Hendry's crossbar; ninety seconds later they headed just over from close range.
It was just after that though, with the game entering its final quarter, that the home side got the equaliser that their overall performance deserved. A player in yellow challenged Irakiza for the ball, several yards inside the Norris Green area, and actually cleared the thing into touch, although for reasons only known to himself he seemed to feel that he'd get away with going through the back of the Convo man to do so – penalty. And in a sign of things to come there would be more than one, because when Ahmed converted with ease at the first time of asking McNally, usually the footballing equivalent of a traffic cone, had encroached so much he was almost level with him, and the referee wasn't going to allow that; cool as you like, Ahmed Panenka-ed the retake down the middle as the opposition 'keeper dived out of the way.
If Convo had grabbed the bull by the horns at that point then they would probably have won the match, as to say that their guests were wobbling after the equaliser wouldn't be a disservice to efforts of jelly. Seldom can a team in the quarter-finals of a cup competition have looked so terrified of having the ball and not having it at the same time, and they were there for the taking, but having clawed their way back into the tie Convocation suddenly took their foot off the pedal. Whether or not nerves kicked in, well, we'll never know, but what is undeniable is that for nearly a quarter-of-an-hour the game itself became very jittery and was in something of a lull.
It was snapped back into life though, with perhaps ten minutes remaining, when Ahmed was sent clear through on goal by a deep pass from his own half and it seemed inconceivable that he wouldn't put his side in the lead. With the Norris Green back four totally suckered by their opponents' well-timed move, having been camped out on the halfway line for some reason, there wasn't another outfield player within twenty yards of the Convo man as he approached the 'D' of the penalty area, but then… Well it's possible that he was startled by Nawrocki's bellowed advice of "score" from way back down the pitch – a call that earned its proclaimer sixes across the board from the 'stating the bloody obvious' judges – but what we do know for sure is that as he went to shoot he just crumpled into a heap on the ground (it's possible he may have kicked the floor instead of the ball); rumours that a split second later the barrel of a gun appeared to be pulled in from a nearby book depository window remain unfounded.
It would be the last clear-cut chance for either side in the ninety minutes, although the visitors finished the game (there would be no extra time) with much more conviction that they'd played the majority of the second period, and even earned themselves a second yellow card for a foul on either Welsh (A) or Roberts (your correspondent was too busy trying to find out why there was what appeared to be a vat of racehorse piss on the Convo side line to be paying attention) on the corner of the hosts' area. There'll have been some prayers for forgiveness said in Norris Green on Saturday night…
The closing stages of the game were spent mainly in preparation for the penalty shoot-out that everyone seemed to have settled for. Farrell, in charge of manoeuvres on the Convocation bench, enquired of the referee whether takers had to be on the pitch at full time: "Of course" he replied with the sort of incredulity someone might use if asked about whether the LCFA frowned upon genocide, although his demeanour surrendered most of its disdain a couple of minutes later when he trotted back over and re-informed the hosts that there would be no extra time and the tie was about to go straight to spot kicks. With that in mind, again, the club secretary made an executive decision as the final whistle loomed and subbed Nawrocki (who might well have thrown his shirt him if it was in his nature), sending Lewis on in his place – somewhere the bell of destiny started tolling ominously.
Norris Green also made a late substitution, swapping goalkeepers with Dutch abandon, but aside from Sawle getting involved in a silly squabble concerning throw-ins in the last seconds that's all normal time had to offer. Penalties it was.
Most of them were quite Teutonic in their ruthlessness, although sadly for those in hoops one of them was more English in luck than anything else. They were taken at the end that the hosts had defended in the second half, the one with the chill wind blowing from behind the goal, and were in the old-fashioned order rather than the more contemporary ABBA one – the winner would still take it all though. Ahmed (managing not to boot the ground whilst scoring in the bottom right corner), Welsh and Abussnena (both netting in the bottom left) all did what was necessary with Convocation's first three kicks (with the latter of the trio also managing to dupe the opposition 'keeper so much that he did nothing more to try and stop the respective shot than just plop down onto his arse), although each time they were followed by equally successful efforts from Norris Green that kept the shoot-out level.
But then came Lewis' turn. It would be easy to say with hindsight that he didn't look confident on his walk up to the spot from the centre circle where both sets of players were congregated in team huddles, but in fairness none of the other takers did either. His kick rebounded away to safety off the higher region of the left-hand upright (as he would have looked at it) with a cruel sounding 'ping' that seemed to exaggerate just how close he'd been to having taken an exemplary penalty – look at what you could have won – and when the visitors scored with their next one…
Irakiza delayed what felt like the inevitable when he smashed his kick into the right side of the nets, but when the visitors then did likewise (although to the left) despite Hendry once again guessing the correct way to dive it was they who progressed to the next round, leaving Convocation glancing enviously at the Bullseye caravan, further involvement in the competition limited to pressing their noses up against the glass window of the semi-final draw.
So, Jesus wins again. It may be of little comfort to Lewis but it has to be reiterated that the Norris Green lads were a nice bunch and not what most of their hosts were expecting, which possibly was to Convocation's advantage by allowing them to (eventually) play so well and go so close to winning. And it can't be emphasised enough just how well everybody did play, not just in this match but in the tournament as a whole, even if it's difficult to deny that they must have had the luck of the draw along the way. Sadly now that they're out their run in the competition is in danger of becoming a 'what if' albatross around their necks, just as Italia '90 and Euro '96 still are for England, because it's likely to be a long time before they get such a good chance to reach the semis again.
Poor Convo.
Man Of The Match: Sawle did alright at left back and was probably the most effective of the defenders, but Ahmed was the best player in hoops on Saturday, was (eventually) the driving force behind Convo's comeback, and converted all three of his penalties under great pressure.
Convocation (4-2-3-1): Hendry; Sawle, Byatt, Roberts G, Farrell; Welsh J, Nawrocki; Lewis, Irakiza, Ahmed; Huws; Subs: Abussnena, Welsh A, Parsons, McNally
---
Saturday, January 27th 2018
Convocation 3, Knowsley C.C.O.B. 5
Convocation (4-5-1): McNally; Parsons, Roberts G, Byatt, Galy; Ahmed, Kent, Irakiza, Lewis, Welsh A; Abussnena; Subs: Huws, Chadwick
---
Saturday, January 13th 2018
Convocation 1, Collegiate O.B. 7
Bobby Mimms reports
The road to hell can't be the only thoroughfare paved with good intentions because wherever it is that Convocation's First Team is going it's far too wet to be anywhere near Hades. It's beginning to look like their offer to take a double promotion during the summer was a big mistake as, no matter how many brownie points their sucking up to the powers that be may have earned them, out on the pitch they are not holding their own against much tougher opponents than they were used to last season, and this one is beginning to look ominous. In the league at any rate: in the Intermediate Cup they can't be faulted, but once again on Saturday their split personality was plain for all to see and they were outclassed when it came to football's so called bread and butter. Their plight isn't helped by the fact that the dreary weather of recent months matches the mood of their Division Two campaign; that this long damp winter shows no signs of ever ending.
That, of course, has a lot to do with them averaging a (competitive) game only every four weeks at the moment – they may as well be hibernating – the incessant rain wiping out huge chunks of the league calendar in recent times and building up a hell of a backlog that's going to take some sorting out come the spring. Last weekend's scheduled fixture in deepest darkest Halewood was another to fall foul of the elements so this one against Collegiate at Wyncote was Convo's first of the new year, but unfortunately they turned out to be as generous as all good hosts should be and served up plenty of belated goodwill and gifts to the visitors. Playing as though they were suffering from some sort of footballing Seasonal Affective Disorder they were quite abject for the most part, but particularly immediately either side of the interval, when they were especially miserable.
Convo did threaten to make a contest of it for a while, creating a handful of chances to score – some shots were even on target – but they were exceptions to the overall rule. They'd started proceedings with Alex Hendry in the nets, behind a back four of (from left to right) Andy Welsh, Liam Byatt and Johns Welsh and Farrell, while the midfield quintet saw Lawrence Chadwick, Mike Nawrocki and Mike Kent flanked by Divine De Buffalo Irakiza and Andy Parsons; Taha Abussnena was fated to plough a lonely furrow up front. The game was once again played on Wyncote's 4G pitch, the young referee was a humourless-looking fellow by the name of Luke Davies, and for those of you reading in black and white the home side were decked out in their new blue-and-white-hooped kit (like QPR's but with a darker hue), while Collegiate's livery was yellow.
And it was Abussnena who had the first of those aforementioned chances when, about ten minutes into the game, he gained possession just outside the Collegiate area and advanced into it, but having been pushed wide by strong defending he could only shoot low, straight at the opposition 'keeper from a tight angle (although it was nowhere near as tight as the shorts he was wearing, which looked as though they'd been painted onto him). Later on in the half Kent was particularly guilty of adding to Convo's 'shot' tally without ever looking like scoring when, firstly, he had an effort from about eighteen yards out that disappeared off to wherever it is that pitiful half volleys go to die, and then shortly after that when he received a cross from Welsh (A) but simply scuffed a tame lentil-roller from the edge of the 'D', again, straight at the advancing #1; both attempts were under mild pressure from one of the visitors' centre backs who looked like a cross between Leo Sayer and Carlos Puyol, or "Payet" as the flat-cap-wearing Big Sam Prendergast (to give him his full name) kept referring to him as from the Convocation sideline.
Despite his side's overall dominance the Collegiate 'keeper looked a little dodgy throughout the game and wasn't averse to a bit of flapping whenever the hosts had one of their occasional corners. And when Convo forced the visitors all the way back to the #1 from having to defend a quadrant kick themselves he put his side in all sorts of trouble with a poor pass back out to a defender that was intercepted by Abussnena – when he then squared the ball to Chadwick, running in from the other side of the penalty area, it should've been a great opportunity to net but instead of cushioning the pass the midfielder displayed the delicate touch of Ted Bundy and the chance went begging.
No fault could be laid at the goal custodian's door though, when Convocation went their closest to scoring in the first period, a little over five minutes before the interval and just after the pitch had been invaded by a Collegiate supporter's mad dog. Irakiza won a free kick when he was crunched a yard or two prior to the edge of the opposition 'D' and Abussnena, in no mood to stand idle and let the chilly breeze blowing across Wyncote whistle about his hot pants, curled the dead ball over the defensive wall but against the face of the crossbar, whereupon it rebounded out wide to where Welsh (A) was running in, but he could only fire a low shot into the side netting. It wasn't really a turning point as Convo had already been well outplayed, but had either of the hooped shirts managed to find the back of the net their side's subsequent quick collapse might have been prevented.
As it was, already two down before that free kick, the home side then conceded three times in the following several minutes of play (either side of the interval) and any hope that they may somehow fluke a decent result despite their clear shortcomings were scuppered. Collegiate had taken the lead before Abussnena's earliest attempt (the one from the tight angle) when they had attacked down their left and completely bamboozled Farrell before a cross into the area was met by an unmarked tap-in past Hendry, Convo's defensive tattiness in the matter going on to become a leitmotif of their afternoon.
The Convocation goalkeeper would have one of those afternoons that all Convocation goalkeepers have now and again, wherein he couldn't do anything without making it look cack-handed and ungainly, including at one point tipping a deflection that was going well wide of the target out for a corner, and indulging in a succession of hoofs into the air (from back passes) towards the end of the half that suggested that he was really channelling his inner Simon Mignolet. Nonetheless, he'd been faultless when the visitors had doubled their lead just before the quarter-hour mark, although the same couldn't be said for his right back: if he could have his time again then Farrell would surely think twice before playing the blind pass into the middle of the Convo half of the pitch that was easily intercepted by an opponent, who then ran on and under mild pressure from one of the centre backs slotted past Hendry. Mind you, if he could have his time again Farrell might well choose to sit the entire game out.
In fairness to the home side, from thereon they did hold out until just before the break before imploding. But then, whilst on the attack themselves, they lost the ball on the edge of the opposition penalty area and their dispossessor was allowed to streak without molestation all the way down the middle of the pitch before netting past Hendry from about fifteen yards out.
Even then it wouldn't have been the end of the world if Convo had got to the break just the three goals behind, as stranger things have happened after a half-time breather than a resigned second-period stalemate, but it wasn't to be. Irakiza received a goal kick on the edge of the centre circle, but in dilly-dallying while he attempted to work out how to proceed he was promptly relieved of possession and the yellow-shirted player who did so noticed Hendry, for some reason, off his line and promptly lobbed him – oh, Alex…
That was the last kick of the half, but the interval was only a temporary reprieve for the home side as things continued to go downhill once the game recommenced, particularly for their 'keeper. Within thirty seconds of proceedings getting under way again Collegiate had been allowed to get a shot off into the Convo side netting; about two minutes later they went one better and found the back of it. Once again Convocation were actually on the advance, but when one of the visitors hoofed a clearance up the pitch from the corner of his own box it sailed over the hooped shirts defending on the halfway line, forcing Hendry to fly out of his area to try and intervene, although almost immediately he passed the point of no return and it was obvious that he wouldn't – thirty-five yards out, an opponent knocked the ball past him, ran on and placed it between the sticks.
Having had a first half to forget Farrell had been replaced at the interval by the lesser-spotted Jay Railton (although during his recent absence the incomer's attendance at post-match drinks remained unchanged), but while the club secretary had been the poster boy for the blundering of the opening forty-five minutes his withdrawal exposed the indifference of the rest of the team, who'd been hiding in his shadow. Convo did have a couple of 'chances' before the visitors scored their sixth – a Kent free kick that was straight at the 'keeper; an Irakiza shot from twenty-five yards out that flew high, wide and not so handsome – but then with annoying echoes of their fifth Collegiate netted once more when a long ball forward (from their left back) cleared the home side's rearguard and one of their forwards tapped it past another doomed Hendry challenge (albeit, one that had been more likely to succeed than the previous), ran on and rolled it into the yet-again-empty net.
Although no one had suggested otherwise the Collegiate associate armed with the assistant referee's flag, who'd crossed diagonally over to the Convo side of the pitch at half time so that he could continue to keep tabs on their attack (why he couldn't do it from his own line is anybody's guess), was sure that the scorer had been onside, despite being nowhere near the action: "you'd know better if you were where you should be" he was informed. Somewhat sheepishly he took the hint and retreated back to where he'd been in the first period.
Collegiate would go on and grab their seventh, twenty minutes into the half, when a cross played low through the Convo box from near one of the corner flags was met with more Terracotta Army defending and a man at the back post stunned a shot under a desperate Hendry dive. By then though, the home side had received an injection of carpe diem through the introduction of debutant Mabon Huws (for the ineffectual Nawrocki), who almost netted within seconds of going on when he picked up possession about thirty yards out and forced the opposition 'keeper into tipping his dipping shot over the crossbar. Several minutes later though, the young Welshman went one better and scored with a low drive from a little nearer after the ball had been pinging around the edge of the penalty area for longer than is recommended for a supposedly competent defence.
Once the prospect of a clean sheet was gone Collegiate seemed to lose interest in proceedings, and although Convo had the slight motivation of not conceding double figures they knew that there was no chance of them getting anything productive from the game, so its last quarter became something of a non-event. That was probably just what the doctor ordered for the centre-back pairing of Byatt and Welsh, who may have left the blatant Grade A goofs to others but had hardly covered themselves in glory through their anonymity either, and they must have been grateful that they were no longer required to do much defending, or non-defending. Elsewhere on the pitch there was a non-foul on Railton, who was guilty of a terrible dive near the sideline that could well have been choreographed by erstwhile player Chris Lamb, and a non-chance for Abussnena who hit a shot from the edge of the visitors' eighteen-yard box that nearly went out for a throw-in. Out on the right flank Parsons was just 'non'.
The game was fizzling out and needed someone to inject a little sparkle into it – apropos of everything, Chris McNally entered the arena with a little under twenty minutes to go, replacing Irakiza in the middle of the park. Stripping off on the side line before his introduction to reveal that he'd been wearing a gilet under his hoodie you may have thought that the Captain had already done enough to stoke the passions of those around him, but then he went on wearing black mittens and those passions were raised a notch-or-ten further in the form of mockery directed at him from his own charges. He wasn't finished there though, oh no, because when the ball squirmed through to him six yards out from goal, a couple of minutes later, he somehow managed to hit the Collegiate 'keeper who was already spread-eagled on the floor having anticipated a shot several seconds earlier when it seemed impossible not to score. Drink! To make matters worse for poor Chris the ground then absolutely refused to open up and swallow him.
One person in hoops who didn't have to worry about such ignominies was Huws, who continued to ridicule any notion that the Convo shirt can be too heavy and smashed another great effort against the top of the Collegiate crossbar after the ball had been slipped through to him on the edge of the area by the momentarily animate Parsons. Nobody seemed to have pointed out to the newcomer that the white flag had long since been raised, and thus he was like a breath of fresh air in amongst the miasma of indifference around him. He looked to have that rarest of commodities on Saturday, a clue, and was a menace for the opposition back line from the moment he went onto the pitch; its' fair to say that he caused them more problems in thirty minutes than the rest of his team mates did together in ninety.
There was too much ground to make up for anyone to do it all on their own though, and at the other end of the pitch the visitors had a late flurry of chances to add to their score, although it was probably only fair and reflective of the overall game that they never took any of them. There was a succession of long-range shots straight into Hendry's midriff that would have required the 'keeper to be chased from Wyncote with pitchforks and burning torches had he let any of them in (admittedly, not altogether an impossibility on Saturday), while another twenty-five yard effort just cleared the Convo crossbar and had the spectating Jerome Galy purring, for some reason. The final move of note almost ended the contest on a high, when a low cross into the hosts' penalty area was deflected onto the roof of the net by Railton – mere inches sparing him from an own goal. Sixty seconds later Mr Davies' full-time whistle brought the game to its conclusion, to (genuinely unironic) cheers from the Convocation sideline.
So let's talk about the hoops – what do they do if it's stripes that are supposed to make you look slimmer, or faster? They certainly don't seem to make you play well if Saturday's game was anything to go by, although you could argue that even if the vast majority of the Convo players hadn't phoned in their performances they would still have lost as Collegiate were rather good. As previously mentioned Convocation are looking a little out of their depth, so as their bipolar season continues apace perhaps they should concentrate on the cups; in the meantime these two face each other again next week in the reciprocal fixture: on the evidence of this one it's difficult to envisage anything other than a similar hellish result.
(Still, at least McNally went back to the APH after the match for a pint with the lads – silver linings and all that.)
[Editor's Note: The return fixture against Collegiate was subsequently (and unsurprisingly) cancelled due to the weather.]
Man Of The Match: You could argue that it was Simon Crockett, who's been on a phenomenal scoring streak since rupturing his ligaments a couple of years ago, but in all seriousness it can only be Huws. Making his debut at the fourth time of asking, he was the only person who really looked interested in the game once it was beyond recovery – or, to put it another way, he was the only person who wasn't suffering from Convo fatigue – and he could easily have netted a hat trick. MOTM.
Convocation (4-5-1): Hendry; Welsh A, Byatt, Welsh J, Farrell; Irakiza, Chadwick, Nawrocki, Kent, Parsons; Abussnena; Subs: Railton, Huws, McNally
---
Saturday, December 30th 2017
Ramblers 1, Convocation 5
[A] friendly against Ramblers... at the JMO Sports Park in Skem (Ramblers home pitch was waterlogged, so it was moved to a 3G astro).
[A] really good performance from ourselves. McNally started in goal, Ben donned the gloves in the second half with Chris taking up his role of "tallest right back in Merseyside" in the second half.
Convocation (4-5-1): McNally; Sawle, Railton, Farrell, Prince; Ross, Kent, Madeloso, Schofield R, Holder; Kaye; Sub: Abussnena
---
Saturday, December 2nd 2017
Earlestown 7, Convocation 1
[JF] A 7-1 win, and we're into the quarters. I'm not sure if we've ever been this far to be honest!
Convocation (4-5-1): Hendal; Parsons, Welsh A, Welsh J, Galy; Nawrocki, Ahmed, Salgado, O'Sullivan, Lewis; Abussnena; Sub: McNally
---
Saturday, November 18th 2017
Sacre Coeur F.P. 4, Convocation 0
Truth be told, we never really got started.
Sacre Coeur took the lead after a few minutes, and we never really looked like getting back into the game, despite a few chances created. Most notable of these chances was a penalty, but Taha was the latest to suffer from "I cant find the net from 12 yards" syndrome, a condition that seems to affect most who pull on the famous silver jersey.
2 nil at half time became 4 nil at full time. Welsh was booked for a late challenge, Byatt for a handball. They scored their third from the resulting free kick.
MOTM was hard to choose as everyone was so dreadful. Jonny Welsh and Anthony deserve it for coming down to watch the atrocity that unfolded before their eyes, especially as we were away in Crosby. Anthony got some great action shots that can be seen on Facebook if anybody wants to relive the memories, but who would want to. In terms of on the field, Hendry got my vote for a fine point blank save, and for probably being the only one who didnt do something abject at least 5 times in the game.
Convocation (4-5-1): Hendry; Parsons, Roberts G, Byatt, Farrell; Abussnena, Welsh A, Salgado, Nawrocki, Galy; McNally; Subs: MacDonald, Kent
---
Saturday, November 11th 2017
Parklands 2, Convocation 3
Tremendous victory in a mud bath.
Convocation (4-5-1): Hendry; Sawle, Byatt, Roberts G, Farrell; Parsons, Chadwick, Irakiza, Welsh A, Galy; Abussnena; Subs: Salgado, McNally
---
Saturday, November 4th 2017
Convocation 2, Sacre Coeur F.P. 3
Breno missed a penalty, Al gave one away which they duly slotted for the win. We went full Convo. And you should never go full Convo. We were terrible.
Convocation (4-5-1): Hendry; Galy, Byatt, Welsh J, Farrell; Abussnena, Ahmed, Lewis, Nawrocki, Irakiza; Salgado; Subs: McNally, Chadwick, Parsons
---
Saturday, October 14th 2017
Convocation 6, Woolston Rovers 0
Convocation (4-5-1): Hendry; Griffiths, Railton, Byatt, Farrell; Abussnena, Nawrocki, Kent, Parsons, Galy; McNally; Sub: Welsh J
---
Saturday, October 7th 2017
Liobians 4, Convocation 6
Went 2 nil down through some standard poor defending. Lawrence made it 2-1 from the spot, before Jay equalised with a header. I think Taha then put us 3-2 before some more suspect defending and keeping made it 3-3. Galy had us 4-3 up at the interval.
A raft of changes at and just after half time saw McNally and Salagdo enter the fray, and they put us 6-3 up, before Liobians got a 4th. Despite our best efforts, this turned out to merely be a consolation for them.
Oh, and it lashed down.
Convocation (4-5-1): Hendal; Farrell, Railton, Byatt, MacDonald; Galy, Chadwick, Nawrocki, Ahmed, Parsons; Abussnena; Subs: McNally, Welsh A, Irakiza, Roberts G, Salgado
---
Saturday, September 16th 2017
Convocation 4, Liobians 4
Bobby Mimms reports
Well, if nothing else at least it's another point nearer to safety. Quite how it wasn't three is more-or-less the story of Convocation's (almost) forty-four years of existence, and whether the lost two will come back to haunt them at the end of a season when they have to worry about relegation again will be part of the narrative to come, so for the time being we'll just have to remain intrigued by this first campaign back in Division Two. It's still unclear where they fit into its pecking order, although it seems that no matter what level you're playing at Liobians will always be part of the cannon fodder, and if you can't beat them, as Convo couldn't on Saturday, then it's not unreasonable to suspect that you won't be troubling the Old Boys League trophy engraver any time soon.
It's early days of course, but already there's a worry that missed chances and rued mistakes may be scuppering the Wyncote side's season and could lead to a sense of inevitability and resignation as it trundles on. Of their first three fixtures, they did enough to win both this week (easily) and last, and even the game they lost on the opening day was more down to themselves playing poorly rather than Old Xavs being obviously better (it's also a result that looks more annoying after Saturday, when the latter lost to the former, Wood Street, who went top of the league in what looks likely to be one of those aberrations that crop up at the start of every campaign). But you're far less likely to get away with coasting in this division as the opposition will be more unforgiving (even Liobians), and with it being a smaller league to boot, opportunities to put poor results behind you are going to be fewer in number and will therefore run out quicker; it goes without saying that Convo can't afford to be throwing away winnable games.
On Saturday they led 3-2 at the interval while their guests shaded the scoring in the second half, but what that overview doesn't reveal is that Convocation could and most probably should have been out of sight long before any comeback, or that Liobians' goals were netted with their only four shots (of any worth) on target. Convo really were far and away the better team but they were undone by those old dual fallibilities of slack finishing (with a little bit of bad luck) and slacker defending (with a little bit of bad luck), although their cause wasn't helped by far too many of their players drifting in and out of the game or spending periods merely going through the motions.
Give the home side their due though, because many teams would have been tempted to pack it all in and go the pub as soon as they fell behind to the game's opening goal, because of the manner of the goal. It was one dusted with the sort of misfortune that would usually befall The Fast Show's Unlucky Alf (or Tim Jago) and it could easily have presaged an afternoon of woe for anyone getting their excuses in early (and had it not been against Liobians). The visitors won a corner and put in such a terrible low delivery to the nearest post that it seems incredible with hindsight that anything positive could evolve from it, but when the nearest defender (who went unrecorded) attempted an equally abominable clearance it somehow ended up at the feet of Mike Nawrocki in the middle of the six-yard box. He'd not long had the contest's first shot, an unsuccessful attempt up the other end of the pitch that had never looked like troubling the target from the second he'd given it the hoof, but several minutes later when he could have done with putting his laces through the ball and missing everything in front of him he only managed to blast it into the face of a nearby opponent, whereupon the bloody thing rebounded back past him and goalkeeper John Farrell – who, decked out in black top and tights, and red shorts and socks, looked like a cross between a roulette wheel and some Bizarro world Superman – and into the back of the net.
Nawrocki pretty much phoned in the rest of his performance after that amusingly-low point and went missing for the remainder of the game, but thankfully the rest of the five-man midfield that he was part of didn't, and two of them combined a couple of minutes later to equalise for Convocation. For the majority of the afternoon the home side controlled the middle of the park, with Breno Salgado and Anthony Lewis more than making up for the subsequent anonymity of their red-faced associate, and it was the latter of those who slipped a delightful pass through the heart of the Liobians defence for left winger Mike Kent – as alive and alert as his namesake wasn't – to run onto, and from about fifteen yards out he then wellied a shot into the top corner of the net.
Their early set-back apparently forgotten, Convo were by then in the ascendency and with the quarter-hour mark having been passed they went and took the lead when Jay Railton got on the end of an Andy Parsons corner to bullet a header into the visitors' net against minimal resistance. Both players were part of defensive quartet that also included Liam Byatt, in the middle with the scorer, and Andy Welsh at left back, and for the best part of the first period they had little trouble to contend with from their opponents. There were occasional signs that they couldn't afford to get complacent or let their minds wander – the odd misplaced pass or a moment of lax marking – but on the whole there was nothing to suggest that they would end up conceding four, especially as the one to that point had been so bizarre.
And when their colleagues up the other end of the pitch doubled the lead anything other than a Convo victory seemed rather unlikely; although only half-an-hour had been played Liobians looked quite toothless, while their hosts seemed in the mood to fill their boots. Kent side-footed into the visitors' net at the near post to make it three-one after right winger Craig Kaye had put a lovely low cross on a sixpence for him, but by then the home side had already had two further glorious chances to increase their advantage, although only the second of those – a blast wide from just inside the opposition penalty area by lone forward Taha Abussnena, when the only other player within twenty-five yards of him was the rabbit-in-a-trance goalkeeper – was actually their doing. The other was, instead, nearly a lovely own goal, twice: Parsons lumped a free kick into the box from out on the right wing and one of the green-and-red-shirted defenders rose highest to head the ball against the back post, from where it bounced down along the goal line, up against the other upright and then, sadly, out into the arms of the bewildered #1.
All seemed rosy in the Convocation garden, but despite the sun shining hazily across the 3G pitch and regularly forcing their bench to shield their eyes from its glare, there were (hypothetical) storm clouds gathering on the Wyncote horizon. Had the home side got to the interval without conceding again then it's quite likely that they would have gone on and won the fixture, but with a handful of minutes remaining young referee Joel Worrall awarded Liobians a free kick just inside their hosts' half (on the edge of the centre circle) and when it was punted forward into the throng in and around the 'D' the grey-shirted defenders (that's everyone who should have been defending, not just those who were playing in the back four) made an absolute mess of clearing their lines allowing one of the visitors to squirm through and round the advancing, denier-heavy Farrell, before squaring the ball to a team mate who tapped it into the open goal.
Having put in a shift that was the footballing equivalent of one of those magic eye pictures, where if you'd stared long and hard enough at the pitch you might have suddenly noticed him, Abussnena was substituted during the break, his need to go to work saving him from the ignominy of being hooked for having done the best part of bugger all for forty-five minutes; Lawrence Chadwick replaced him, although it was Kent who was actually pushed up front in his place. Salgado though, remained, unsubstituted, despite concerns that he'd actually spent the first period auditioning for Strictly rather than playing the game.
If Liobians' plan for the restart was to make an impression then their right back seemed to have taken it to heart, as within the first sixty seconds he had his particulars taken down by the official after wiping out Welsh – who'd referred to himself in the third person when demanding a throw-in, just before the break – and in increasingly blowy conditions there was briefly a worry that the Convo man, not exactly made of ballast, might get carried away by the wind before he landed. Equally as lightweight were the home side's appeals for a free kick when Kent chased a back pass but, in the name of a shot, ever-so-slightly toe-poked the ball at full stretch to the opposition 'keeper without anyone else in grey noticing the touch.
It's possible that the growing breeze was being intensified by Farrell in the Convo nets, whose flapping would've put an Everest flag to shame; a succession of Liobians corners gave the club secretary ample opportunity to continue demonstrating his captivating hot potato approach to goalkeeping, although when the visitors did actually score again, levelling proceedings in the process, you couldn't fault him. A ball was played out of green-and-red-quartered midfield down the inside-left channel for a player who was miles offside (the referee got pretty much every such call – whether on or off, and against both teams – wrong in the second half), but as the glover came flying off his line to make himself as big as possible he was unable to stop a dink past him that eventually crossed the line at the back post.
Perhaps ten minutes of the second period had elapsed when Convo made a double swap, taking off Kaye and Parsons for Olly Griffiths and Ewan MacDonald respectively, the latter having been camouflaging his grey top up until then with a grey jumper (?). The change was inspired though, as within a few minutes the two incomers combined along the left flank to lay the ball off to Lewis in the middle, and when he played a perfect pass through the Liobians back line – who, yet again, looked as though they were auditioning for the job of sectioning off lanes on the lead up to the new bridge – Kent ran onto it and from just inside the penalty area wafted a lovely little effort over the advancing 'keeper for his third of the afternoon.
Such is the way of things the hat-trick hero was subbed almost immediately, replaced by Chris McNally (or "an old broken gazelle" as he'd been described at half time), and the Captain looked in the mood to continue his colleague's predatory penalty-box prowess when he almost scored moments after his introduction. The Liobians #1 made a fine save at the feet of the Convo man to deny him when he tried to take advantage of a bout of utter mayhem in the box and flick the ball into the net from six yards out, but despite the home side's continued ability to create chances it was quite noticeable whenever their guests made a rare attack of their own, such as when one of their ilk blasted a screamer of a shot across the face of Farrell's goal several minutes later (from a quickly taken throw-in), just how nervy Convocation suddenly looked at the back and how vulnerable their lead was.
And so it came to pass that as the game entered its final twenty minutes Liobians equalised. The move that lead to the goal began when one of their players attacked down his left flank and, despite some great defensive stymieing by MacDonald, eventually managed to fire off an incredibly tame shot that Farrell should have gathered easily, but which instead he fumbled out of play to concede a corner. That led to a second, which in turn led to a third, and when that one was drilled low to the near post one of the quartered shirts either completely cocked-up whatever he'd meant to do or pulled off a lovely dummy, and a team mate behind him was in the perfect position to smash the ball into the net from the edge of the six-yard box leaving the Convo defenders (once again, that's everyone who should have been defending, yadda, yadda, yadda) scratching their heads with confused 'whose fault was that' looks on their faces.
Understandably on such a warm afternoon the game entered a little bit of a lull after that as both teams, while not exactly settling for the draw, weighed up the pros and cons of going for the kill whilst also making the most of the wind's cooling succour. Eventually MacDonald limped off after a blood-letting kick to the shin, giving Parsons an unexpected extra run out, and before long, after indulging with Griffiths and Salgado in what passes for tiki-taka in the Old Boys League, the returnee put a deep cross into the Liobians box that McNally headed just over the crossbar after getting away with pushing his marker halfway across the goalmouth.
The visitors made a number of changes late in the game, with one entrant in particular looking as though he may have just leapt out of the pages of Oliver Twist; he was also another whose lightweight frame gave serious concern that his baggy livery could act as a sail and, even in such a pleasant breeze, he'd be swept off and eventually dumped in some far-flung corner of the North West. Nonetheless they managed to create two final chances to grab an eleventh-hour lead, the first of which was a twenty-five yard drive that disappeared over the top of the target, but the other was an almost carbon copy of their fourth (and perhaps the first): the near-post dummy at a corner. Convo survived that one with their goal unbreached, but talk about 'fool me once…'
Griffiths failed to last the course after he retired with several minutes remaining because he felt ill and was replaced by that trooper, MacDonald, who showed his colleague just what it means to battle through the graze (Parsons was pushed up onto the wing). After that Byatt had the final footballing word when he nearly took advantage of a mix-up at a corner at the Liobians end but blasted a close-range shot straight at the opposition #1, although it was Kaye who had the actual final word, proclaiming at the full-time whistle that the referee (whose performance apparently hadn't been up to the Convo man's scratch) wasn't getting one of his "special handshakes" – and each individual reader can make up their own punchline to that.
Despite Kaye's tongue-in-cheek sanction Convocation can only blame their own shortcomings for not finishing the game with all three points; it was a thoroughly enjoyable affair and Liobians were jolly good eggs (as usual), it was just a shame about the result. In modern times not winning this fixture has often acted as something of a barometer, suggesting that all is not well, and on the evidence of Saturday the side from Mersey Road are going to struggle to not finish bottom, so where does that leave Convo in the grand scheme of things. As always they won't worry too much about that, especially as they're perfectly capable of going out and beating the eventual league champions (whoever that may be) next time out, but that will be as close as they get to the top of the table this season. They need to be more clinical and capitalise on whatever chances come their way as much as possible, although of course, on their day they are capable of turning any promising situation into a lesson in futile endeavour.
Still, at least they're another step nearer the magical eighteen* points safety mark (*based on forty points supposedly guaranteeing safety in a twenty-team league).
Man Of The Match: It's got to be Kent – easily the best Convocation player on a day when too many of his team mates fell short of their usual standards.
Convocation (4-5-1): Farrell; Welsh A, Byatt, Railton, Parsons; Kent, Salgado, Nawrocki, Lewis, Kaye; Abussnena; Subs: Chadwick, MacDonald, Griffiths, McNally
---
[09.09.17]
So our first point of the season duly earned, and only at the second time of asking! Convo are truly moving up in the world this season!
An absolute deluge of rain the days preceding Saturday meant that there would be some rejigging required in order to get both First and Vets on the all-weather astro pitch at our glorious Wyncote home. Friday night was spent by the club secretary on the phone to all manner of league representatives, successfully ending in the Vets having a 3pm KO with younger statesmen of the club welcoming Woodstreet to Mather Avenue for a 1pm KO.
A couple of early morning dropouts, most notably Kent who would spend the next few hours changing a tire (doesn't that take 10 minutes? Taha would mention before the game), meant that we'd have only 11 men for our Division 2 clash. Ah yes, 11 men, and not a trusted goalkeeper in sight. A conversation between the skipper and club secretary would end with the latter in goal. I think the words were 'yeah, lets just see how it goes eh'. At least it would get us out of watching the debacle that was happening at the Etihad ….
So we'd line up as follows: Farrell making what has become a semi regular appearance in between the sticks, protected by a back four of Parsons (facing a player described as 'as quick as Sadio Mane' before the game), Railton (facing his former club), Byatt (facing a team in a league he'd chosen to desert only a week earlier) and Galy (facing …. Well he doesn't know who he was facing, as he nursed the after effects of a hard rum session the previous night). Taha and Craig, also facing a former 'employer' took to the wings either side of a midfield three of Lewis, Salgado and Divin, leaving the skipper McNally to stoically lead the line.
Against a team of proven quality (we knew a couple of their players to be very capable), we went about our business well in the first half. Defending with an air calm that is usually absent all season from the fields of Mather Avenue, Convo were looking solid against the visitors, creating little initially but not really being tested too much either. Railton and Byatt were marshalling the backline excellently, with the full backs doing their duties well against pacy widemen. When the ball did get through on those rare occasions, Farrell was on hand to sweep up the mess. Yes, he actually looked like a keeper, with his feet at least. The handling was still somewhat off, but comfortable anyway. The midfield continued to be dogged and McNally won his aerial duties as we got to half time. 0-0.
The second half was much more open. A couple of Woodstreet free kicks were watched wide by the home keeper during a sluggish start to the second period by ourselves, but we then kicked on into our groove, making a few decent chances, driven forward in particular by the midfield three of Irakiza, Salgado and Lewis, all of whom were performing superbly. The away team would have another gilt edge chance from a corner, the taker who it must be said had an absolute peach of a delivery on him. Railton headed one away from danger before an away central midfielder contrived to head over from a yard out. Convo would soon punish this.
Fine play down the left hand side from Convo, which included all of the midfield, would eventually find itself in the box. With the ball at Kaye's feet, there was little doubt what the end result would be, given his fine recent form. The ball was clipped into the net, causing scenes of joy on the Convo bench. Not that anyone on it was fit to play mind, but Crockett and Welsh celebrated anyhow! Woodstreet nearly fired back within minutes, Farrell forced into a fine save to his left to divert a low drive behind and away for a corner, which was duly dealt with.
The final 10 minutes contained several big moments. You know us, save the best until last. Or should that be worst ….
Taha beat the offside trap to race clear. Rounding the away keeper and with just a centre back to beat, he twisted and turned himself inside out, and end at an acute angle to the goal. Resultantly, a wild hack at the ball saw the shot fly wide. 2 nil could have made the game safe. Instead ….
Woodstreet ramped up the pressure in the final 10 minutes, Convo down to ten and a half men due to an injury to the superb Salgado meaning he could only limp around the pitch, and a series of corners and free kicks were duly conceded. One such delivery was initially well cleared, but was sent back into the box with a wild slice of a forwards boot. The arching trajectory of the ball had the hapless Farrell backtracking quickly, but all he could do was grasp thin air as the ball eluded his, admittedly, short reach and nestled in the back of the net. 1-1.
The final minute saw a contentious penalty decision for Woodstreet waved away by the referee, with the away forward going down under a challenge from … it was one of us, I can't really remember in reality. However, the referees whistle sounded and both teams were left to pick up their first points of the season, with a draw being hard to argue as a fair result from a game both teams had chances in.
MOTM – tough one this week, as the team excelled (no, honestly!). However, this observer will give it to Lewis, as he seemed to win every tackle he went in for, before dribbling past another man to set up home attacks. Top stuff.
---
Saturday, September 2nd 2017
Convocation 1, Old Xaverians 3
Bobby Mimms reports
And so, after all the practice and training, the first Saturday in September rolled around once again and the moment had arrived for a multitude of fine athletes – no, not the start of the Old Boys' League season, but the Braemar Gathering in Scotland. One of the meetings known collectively as the Highland Games, it is often attended by the Queen and includes events known as 'the heavies', such as tug-o-war, hammer throwing, tossing the caber, and putting the stone (an event at which Geoff Capes was rather nifty); for those not so physically substantial there are also pipe and dancing competitions, track events and the notorious hill race, which climbs twelve hundred feet in just three miles. Rather delightfully in this age of aggressive health and safety it is sponsored by Glenfiddich, and it goes without saying that you have to be on the top of your game to participate.
But then again, the same could be said for those teams cast into LOBAL Division Two this year, one of whom happens to be our own dear Convocation after they've benefitted (?) from a double promotion over the summer when they didn't really earn one. Their first lesson in just how tough it's going to be came in the season's opener on Saturday when a rather average-looking Old Xaverians made off from Wyncote's old tennis court pitch with three points despite their hosts' best efforts, leaving everyone wondering whether Convo are up to the task or if they've been over-elevated.
Even when the visitors were reduced to ten men for the final half-hour they proved to be too capable for Convocation, in as much as they never gave in to the wobble they suffered, when teams in Division Four might well have. It was the first time for several years that these old foes had met, but nothing seems to have changed in the case of Old Xavs, who were their usual niggly selves from the off: long before their #10 was given his marching orders for an awful two-footed challenge on Divin De Buffalo Irakiza (to give him his full name) he'd been guilty of several unpleasant tackles on opponents that went unpunished, and while his team mates were only too happy to let him bask in the hatchet-man limelight the majority of them were no shrinking violets either.
Jay Railton was on the receiving end of one particularly nasty clattering midway through the first period (an incident that almost led to the argumentative Alex Hendry being sent for an early bath), Anthony Lewis was forced from the pitch just before the interval following a naughty challenge that again went without official comeuppance, while Jerome Galy was so incensed by the repeated hacking he suffered from one particular opponent towards the end of the game that he momentarily seemed to be under the impression that he was Hulk Hogan and stopped proceedings by trapping the ball before wagging a finger at his assailant and hissing a furious "You!" at him through pursed lips.
The sending off aside, referee Brian Cluskey – who was limping even before the game had started – seemed to have it in for the Convocation players more than their overly-aggressive opponents. He screamed threats at Hendry from almost half-a-pitch away when the 'keeper swapped some not-very-Enid Blyton-esque language with one of the Old Xavs substitutes, minutes before he was given his previously-mentioned final warning (the guy on the sideline got away scot-free), and then flipped on Irakiza after the break when he suggested that the visitors were giving as good as they were getting after yet another free kick was awarded against Convo (the official appeared to have inferred that he was being accused of cheating) – the poor lad was contrition personified long after the ensuing thirty-second bollocking.
You could argue that his ire was misdirected, but the chastisements were definitely over the top as for the best part of ninety minutes Convocation's performance was rather tame, on several levels, so you had to laugh when one of the visitors complained, without any apparent hint of irony, that he was being kicked all over the place; on the whole the grey-shirted home side struggled to get near their opponents, and the general consensus afterwards was that Old Xavs had been much fitter than any team they'd faced last season. They weren't to know that beforehand, but it's still to their credit that they took part in a cliché-ridden warm-up before the game – their 'first in years' as someone pointed out – although it will be interesting to see how long that palaver lasts.
With a thirty-yard effort that was always rising Lewis had Convo's only attempt on goal during an opening forty-five minutes in which, for most of the time, they looked about at threatening as a Hari Krishna on Ecstasy; moments later he received the clump on the ankle that forced him to hobble off, and was replaced by Breno Salgado. At the other end of the carpet-of-a-pitch pickings weren't quite so slim: the visitors were gifted their first opportunity of the afternoon when Mike Kent gave the ball away carelessly inside his own penalty area and within seconds a maroon-shirted opponent fired off a shot from a rather tight angle straight at Hendry. By then the #1 was donning a yellow jersey having started in white (he'd initially been ordered by the referee to wear a red vest as his top was too similar to the outfield players' grey), and moments later, when he was called upon to smother a low drive from the edge of the 'D', the jettisoning of the pacifistic attire looked even more of an smart move as an afternoon for goalkeeping pluck seemed increasingly on the cards.
As the half-hour mark loomed he was called into action again when his two central defenders fluffed their lines at an Old Xavs punt up the pitch: Railton just missed what would have been an intercepting header and his partner, Graham Roberts, turned like a chunky Queen Mary when an opponent took advantage, but after that the home side got lucky as the player who'd gained possession attempted to score from twenty-five yards out yet fired his shot straight at the 'keeper when he'd had plenty of time to get closer in the one-on-one. By then though, the visitors were already leading after their #5 had skinned Convo left back, Andy Parsons, down the flank and played a lovely low cross along the corridor of doom (nee uncertainty) when Hendry'd had to approach, allowing an unmarked colleague in the middle to side-foot the ball into the subsequently vacated net.
The final fifteen minutes of the opening period didn't seem to drag or lull, but there was no penalty-area action or goal-scoring chances either. With Convo around, of course, that doesn't mean nothing happened, although the only memorable episode that actually involved football was when lone forward Craig Kaye gave an opponent a slight push in the back near one of the Old Xavs corner flags but couldn't have been more injurious had he ran him over in a car at high speed; god knows what befell the toppled guy but he was down for what felt like an eternity… which at least gave everyone time for a well-earned breather on what was a rather warm afternoon.
Elsewhere (well, on the sideline) things were less sensible, as the overpowering aromas emanating from some nearby barbeque seemed to drive everyone a little gaga. The perpetually-injured Simon Crockett implored right back John Farrell to get a move on by cheering "Run Faz, Run", before musing that his call had sounded like a kids' book, while late in the half the also-spectating Jon Welsh invoked the spirits of early nineties rap brats Kris Kross by responding to a lofted ball with the advice "Jump, jump". To top things off, as the interval whistle was blown, the still-on-the-bench Galy appeared to be singing Step By Step by New Kids on the Block, which he surely isn't old enough to remember!
Convo got the second half underway playing into the sun and with no changes in personnel, and fashioned its first goal-scoring opportunity when Mike Nawrocki got on the end of a Kaye semi-cross but headed tamely straight at the Old Xavs 'keeper. It had been Kent who'd played the ball inside for the grey shirts' forward to create that chance, but just as with his opposite on the left, Taha Abussnena, the winger was neglecting his duties on the back foot. It put unfair pressure on their full backs, but more of a defensive worry was Railton, who, having spent the first period suffering from Steven Gerrard Syndrome, spraying ridiculous Hollywood passes all over the pitch (and usually to Kaye), was by then showing all the positional awareness of Wayne Rooney driving home from the pub, and regularly stationing himself half-a-dozen yards behind the rest of the back line, a la Andy Willis.
Ten minutes into the half the home side made a double substitution, with Farrell making way for Galy, and Kent for the recently-rebuked Irakiza, and the latter of those was involved in one of the game's big moments, and potential turning points, almost immediately. For it was he who, having received possession on the edge of the centre circle, 'provoked' the Old Xavs #10 to channel his inner Dave MacKay and launch into a dangerous two-footed challenge that had 'leg snapper' written all over it; the referee seemed genuinely angry that such a thing should have happened and issued the miscreant with a straight red card and a flea in his ear, while on the sideline Welsh revealed that he'd known the jerk would do something like that eventually.
It wasn't long after that that Convocation made another swap, bringing (the not-as-crocked-as-at-first-thought) Lewis back on for Lawrence Chadwick, who upon leaving the field of play suddenly went all medieval and asked that "someone stretch me", conjuring up images of the rack in the process. Although he hadn't been involved in any of his side's (few) chances the central midfielder had had an excellent time on the pitch, dictating the tempo of the game around him and covering the area in front of the back four as though he actually owned that patch of Wyncote grass and was determined to defend it at all cost. It's fair to say that the home side would have been in a much sorrier state without his contributions.
It was a little harsh on Chadwick then, that Convo enjoyed their best period of the game either side of his substitution. Abussnena did his bit to drag the home side's shot count up, kicking and screaming, when he tried his luck with a gradually rising effort from somewhere outside the penalty area, but then, with a little under twenty minutes remaining, an equaliser did finally arrive. It had the sort of good, pinging build-up that you could imagine Spain at the start of the decade revelling in, with Galy knocking the ball to Salgado, who in turn slipped it out to Lewis on the right, and when he put a low cross into the Old Xavs goalmouth from down the side of the penalty area Kaye squeaked in (almost literally – at times during the game he sounded like he'd been sucking on a balloon full of helium) between a couple of idling defenders to side-foot the thing into the net.
The visitors were rocking and their rearguard looked rather more vulnerable than it had before the interval; their (already poor) discipline also seemed to be on the wane and the #8 followed his uber-aggressive team mate into the referee's notebook before long for kicking out at an opponent off the ball. On the flip side of the coin Convocation were getting livelier and livelier and created two good chances to take the lead within a minute and a half. Firstly Irakiza inadvertently set up Railton when he attempted a cross that wouldn't have frightened Dracula and it was cleared to the defender, loitering ten yards outside the Old Xavs penalty area, although his shot always had a little too much lift on it and the ball just cleared the crossbar. Moments later Lewis tried his luck from a similar distance, but while he kept his effort low enough it was more-or-less straight at the #1, who stopped and clutched it confidently above his head, on his goal line.
Convo made another double substitution at about the time Paul Owen-Browne turned up to watch, ominously accompanied by Zico, the Firsts' unlucky mascot: Kaye was hooked for Chris McNally (the Captain having previously informed his sideline colleagues that he was "covered in paint and scratches from brambles"), who looked much more physically equal to the Old Xavs back line than the diminutive goal scorer had, while Kent returned in place of Abussnena, who had to go to work (where he spent just as much time on the Wyncote left wing as he had while on the pitch). The changes spelled trouble though, and within sixty seconds the visitors had retaken the lead against the run of play. One of their ilk hurled a throw-in into the Convocation penalty area, whereupon Roberts inexplicably flicked the ball on into the goalmouth instead of clearing it, and another man in maroon leapt higher than Galy and headed past Hendry via the underside of the crossbar.
For all but a couple of seconds of the remaining eight-or-so minutes it only ever looked as though Convo could score, while Old Xavs' rearguard manoeuvres went back to leaving a lot to be desired. There was absolute mayhem in their penalty area at one point, with bodies falling everywhere like the start of Saving Private Ryan, and yet McNally almost netted by simply walking the ball through the chaos and towards the goal, although it was eventually hoofed out for a corner from off the line. From the resultant quadrant kick Roberts nearly equalised when he was given the freedom of Wyncote on the edge of the six-yard box to direct a header on target, but once again it was blocked with mere inches to spare, and though the rebound came back to him, at the second time of asking he could have put more pace into his shot had he blown it through a straw, and finally the visitors were able to clear their lines.
Chadwick returned for the final few minutes when Salgado twisted his ankle and performed his weekly dying swan routine, while elsewhere on the pitch other Convo players were cramping up left, right and centre, leading Crockett to bemoan the lack of water on the sideline. One person who was having no such hydration problems though, was Irakiza, who almost claimed an assist when he put a lovely deep cross from the right onto Railton's noggin at the far post, but from a tight angle the defender's bullet header was just about scrambled around the upright by the Old Xavs #1.
That corner came to nothing, but when Lewis won another in the ninetieth minute the general consensus was that Convo had nothing to lose so everyone poured into the Old Xavs box except Hendry (who was still deep inside the opposition half) – a shiny penny for anyone who can guess what happened next. The visitors cleared the in-swinger with the minimum of fuss and one of their players broke with the ball, ran the full length of the pitch, bypassing the 'keeper well outside his area, and then smacked the thing into the empty net from about fifteen yards out despite Galy, the only outfielder to make an effort to get back, attempting to block his shot as if he were Clint Eastwood in In The Line Of Fire.
There was enough time left to restart, and for the home side to immediately win another corner, and on the sideline it was noted how very typical of Convocation it would be to score a second now that their opponents had netted a third. Rather amusingly they almost pulled off the exact same stunt as moments earlier, with everyone going forward and getting caught by a quick clearance again, although on this occasion the Old Xavs break away was foiled before the player in possession could reach the other penalty area, and the referee's whistle signalled the end of the contest within a pace or two of the interception.
There may not have been a 'Play Up, Convo' to get the season underway – how disappointing – but there was enough spirit in the side (a little too much at times, Mr Hendry) to suggest that whatever the footballing gods throw at them it'll be business as usual for the Firsts; they may have been complicit in their own downfall on Saturday, but since when has that been news. As it's Convocation's first game back in Division Two we won't know for a while whether this was a (relatively) respectable result – common sense says probably not, as despite winning Old Xavs didn't look that good – but if it wasn't then they should kick themselves, for they didn't play well either and as a result have given up a realistic chance of three precious points. Let's hope that like September their opponents will blow soft, till fruit be in loft, and everything will come good as the season wears on; Her Majesty won't be visiting Wyncote if Convo's plight gets as tough as the going at Braemar.
Man Of The Match: Nobody played poorly, but few stood out either. Kaye deserves credit for persevering despite looking like he was lost in land of giants for most of his time on the pitch, and for finally getting his goal, but it was Chadwick who was orchestrating all that was good about Convocation on Saturday, and it's easy to believe that they could have lost more heavily had he not been playing. He's this week's MOTM.
Convocation (4-5-1): Hendry; Parsons, Railton, Roberts G, Farrell; Abussnena, Chadwick, Nawrocki, Lewis, Kent; Kaye; Subs: Salgado, Galy, Irakiza, McNally
---
Tuesday, August 29th 2017
Alumni 7, Convocation 3
Just needed another 8 to win the cup!
Prendergast started CM in his final game, but once we went 2 nil down he was given the hook by McNally. Divin came on a scored a beauty to make it 5-1 (already it had the 'consolation goal' feel to it). 6-1 at half time, 7-3 at full time. At least we won the second half .....
Convocation (4-5-1): Round; Parsons, Railton, Roberts G, Galy; Kaye, Kent, Prendergast, Nawrocki, Abussnena; McNally; Subs: Irakiza, Farrell, McCormack, Byatt, Lewis
---
[22.08.17]
Convocation 4 – 2 Liobians
Finally some success! Pre-season has been a tumultuous one to say the least for Convo, a long injury list and summer unavailability having a detrimental effect on our results, culminating in defeat on the first day of the South Liverpool Cup. A narrow 1 nil defeat to Cardinal Newman left us on the back foot as we attempt to defend the Cup, but this week brought about a newly reformed optimism.
Arriving at Mersey Road for our game against the hosts, Liobians, we found out immediately that we would have to undergo an impromptu kit change, with a colour clash on the other pitch between Cardinal Newman and next week's opponents, Alumni. And so it came to be that we lined up against Liobians in the black and blue of Alumni, with a team sheet that read as follows:
Heider in goal, protected by a back line of Parsons, G. Roberts, Prendergast and Griffiths. Taha, Nawrocki, Divin, Salgado and Kaye were the midfield quintet charged with supporting the lone striker McNally. And fine support they would provide. Subs included Farrell, Kent, McDonald, Liam (continuing his trial with the Convo) and those two lovable, late rogues, Railton and Lewis.
The first half hour or so was a largely scrappy affair, with neither side creating too much. An early injury to Griffiths saw a weary Farrell enter the fray at left back, fresh from a 3 day bender at an Irish wedding. If there has ever been a more amateur league preparation for an amateur league game, then send those suggestions in fan(s). Prendergast, soon to leave these scouse shores for pastures new, kept up his rough and tumble approach to the game, having several words with the opposing striker. Heider made a couple of good stops from range to keep the scores level, before Kaye was taken out by the opposing keeper on the edge of the box. In a league game, this may have warranted a sterner punishment from the referee, but with it being pre-season and a time of goodwill (hey, it's sunny), the ref kept his cards in his pocket. Not that it mattered, as Nawrocki's free kick drifted harmlessly over the bar.
Minutes later though, he'd turn provider. A Rory Delap-esque throw was launched into the box, and there was McNally, on hand to nod the ball into the net. The big man had been causing Liobians problems with his willing running and heavy touch (sorry, passes) out to the wing. He'd soon double his tally, getting on the end of a cross into the box to steer past the home keeper, after fine work from Divin and the selfless Taha. 2 nil up and cruising, Convo were looking good. Good enough for Prendergast to utter the prophetic words to Farrell 'nothing is going past us here lad, it's fine'. Yeah, about that …
A mix up between the big Yorkshireman and his centre back partner Roberts gave a sense of the danger that the home side could still pose, firing wide with their gifted chance. The warning wasn't heeded though, a break down their right side saw Liobians pull one back, their strikers finish giving Heider no chance. He would pull off an outstanding save just before the break though, as Liobians piled on the pressure. A powerful drive from the edge of the box was tipped over by the latest in our long line of keepers. Half time, 2-1.
A raft of changes shortly after the interval saw Lewis, Railton, McDonald and Kent enter the fray. Railton provided some much needed communication across the back line alongside Prendergast, the Yorkshireman determined to make the most of his final few days as an active member of the Convo bandwagon. Kent and McDonald linked up nicely down the left side while Lewis was presenting a different, more mobile problem for the home defence than the man he replaced, the 2 goal McNally. Indeed it was after some great wing play from the sub that our lead was increased, Lewis plundering the Liobians right side, waltzing into the box and firing a pin point cross across the box to a grateful Kaye, who notched yet another goal in pre-season. His has been a pre-season unlike that of the team itself …. Fruitful. Let's hope he's not using up all of his shooting ability in the off season and saves some for the bread and butter of league football in September.
McNally brought himself back on 'for the good of the team' he claimed, although this was surely the thinnest excuse the man had ever uttered, bringing about bemused looks from the on looking Crockett, Welsh and Farrell, an exhausted Nawrocki insisting further changes should be made. Before this happened though, Liobians got one back to make it 3-2. And it's only fair to concede that it was a superb goal. The ball was worked out the home right winger, who glided past McDonald and, see Heider several yards off his line, scooped the ball over Convos keeper. Think Davor Sukur against Schmeichel at Euro 96. Without the grand stage or roar of the crowd. Still, a handshake from the referee indicated the quality of the strike.
There was some sustained pressure on the Convo goal for the final few minutes, as Farrell and Liam entered the fray again. However, with the seconds ticking down, Salgado bulldozed his way into the box like a mid-90s Ronaldo (O Fenômeno, not Christiano) before being scythed down. The referee, who'd had a fine game in fairness, pointed to the spot. Cue cries for the spot kick from Farrell (looking to extend his run of 1 from 1 in penalties) and Railton (je just fancied a goal I think). However, ever the diplomat, McNally shot these appeals down, insisting that he would get the kick. He was on a hat trick I suppose. He then showed Divin exactly how to do it, but blasting his spot kick high into the roof of the net, UNDERNEATH THE BAR, giving the opposing keeper no chance. The full time whistle was immediately blow, giving the Convo a much needed win.
Man of the Match? It's hard to look past the skipper in fairness, a hat trick that may just have been perfect (was it a left foot for his second goal?), though the endeavour of Parsons and Kaye on the right wing, and Nawrocki's diligent defensive work, deserve credit too.
Next week, a potential cup decider, as we take on Alumni. Hopefully in our own kit next time ….
---
Tuesday, August 15th 2017
Cardinal Newman 1, Convocation 0
Divin missed a pen with the last kick off the game.
Convocation (4-5-1): Riley; MacDonald, Railton, Roberts G, Farrell; Parsons, Salgado, Byatt, Kent, Abussnena; McNally; Subs: Prendergast, Irakiza, Griffiths, Lewis
---
[11.08.17]
Convocation 3 – 4 Cardinal Newman
Our final game before the start of the South Liverpool Cup ended the way of our last two friendlies … in defeat. But take heart Convo fan(s), we're slowly getting there!
For the third game in a row, we fielded a patched up team, borrowing a couple of players from our local neighbours, whilst continuing to give trails to prospective new players. And though it ended in defeat, this observer believes they'll have seen enough to keep on turning out for the Uni's finest!
The team started with Farrell (yet again) in goal, protected by back 4 of Ollie, Jay, Graham and Liam. A midfield 5 of Divin, Kent, Houston Griffiths and Nawrocki supported the lone striker Kaye, with a bench comprised of trialists, vets and a welcome return for Prendergast. He'd find himself in the heart of the action, but more of that later ….
Things started well for Convo, winning a penalty which Kaye duly converted. Having taken a similarly early lead against Newman's other team 10 2 weeks earlier, we were hoping the result wouldn't be similar. But some old demons would come back to haunt us. Convo actually dominated the ball in the first half, easily having more possession in the first 45, as we tried Houston's brave rule of 'nobody can launch it, if the opposition score it's not your fault if there's nobody to pass to'. This rule would come back to haunt us though, only after the obligatory game of 'Convo musical statues' allowed Newman to equalise from a corner, a blue shirt waltzing unmarked to the front post and nodding past a hapless Farrell.
So, no launching it then? We took that to heart, and again it must be stressed we passed the ball beautifully at times. However this became our own worst enemy twice in the space of 5 minutes. First, the ball was given away cheaply, allowing the Newman striker to run through one on one before deftly finishing past the onrushing home keeper. Things would get worse though, Railton giving the ball away cheaply, although admittedly there were few passes available. As the blue shirted striker set himself to shoot, so too did Farrell get set to save it. And palm it he did. Well, sort of, his intervention about as useful as a chocolate teapot as the ball nestled in the back of the net. 3-1, and who'd be a keeper?
We coasted in towards the break, dominant with the ball but looking like a late-Rodgers Liverpool team. Possession but ponderous with it. Chances were few and far between, Divin knocking a couple over the bar and Farrell tipping a high ball over the top of his bar (that he could reach that high is the genuinely unbelievable thing). But hey, Rome wasn't built in a day, and as Houston commented, you can't be good at something the first time you do it (cue sniggering from the onlooking Vets gaffer Malaren).
Changes were frantic at half time, with 6 subs coming on, namely Jon, Tom, Neil, Toby, trialist Liam and Prendergast. Ah yes, Prendergast, he's back! With all the new changes it was hard to keep up with what was going on, so much so that this onlooker has forgotten about the order of the goals! However the key talking points are this. With the shackles off, and long balls now permitted without threat of heckling, Railton knocked a lovely long ball over the top which Kaye dispatched for his second of the game. A really lovely goal, and Kaye went onto seal his hat trick with a smart finish following some excellent work in the box from Byatt, who'd been moved to left wing in all of the changes. However, in the midst of all of this, Newman scored a fourth, confusion in the reshuffled Convo ranks led to a breakaway in blue shirts, the striker finishing another one on one past the despairing dive of Farrell.
A late appearance from Lewis nearly gave Convo an equaliser, but he hacked wildly over from the edge of the box. Get them out of your system now young man, we'll need your goals once the season starts! The result was probably just about fair though. Despite Convo dominating possession, it was actually the visitors who created the better chances, hitting the bar at least three times, and Farrell making three smart stops on the break (No, honestly, they were actually decent saves). Newman also had one chalked off when the ball hit the bar, bounced down and back out. Did it actually go in? This observer would say no, but who will truly know until Wyncote installs the fabled 'goal line technology'?
Oh and Prendergast? He made his comeback by scything a Newman player down in the box and claiming he got the ball. His actual words were 'I played the ball back to you Faz'. If by ball he meant the strikers boot, then yeah, he got the ball. All in all the big fella did well though, coping everything that the visitors threw at him. Honourable mentions to the Ollies too, and trialist Liam who did himself no harm in his quest to win a contract with the Convo.
MOTM? Kaye's hat trick elevate him above the rest, but Byatt and Ollie ran him close.
Next up? Well, there's the matter of a cup defence for us!
Convocation (4-5-1): Farrell; Sawle, Railton, Roberts G, Byatt; Kent, Nawrocki, Griffiths, Houston, Irakiza; Kaye; Subs: Prendergast, McCormack, 'Toby', 'Neil', 'Tom', Kearney, Lewis
---
Saturday, August 5th 2017
Convocation 4, Beaumaris Town 5
Even by Convocation's frequently incompetent standards this was a phenomenal example of them shooting themselves in the foot; a truly impressive feat of snatching defeat from the jaws of victory.
They were 4-1 up against opponents described as 'a semi-professional Welsh side', but then conceded four times in the final five minutes, including a last-second penalty, to lose a tie they had done more than enough to win.
No wonder Captain (and referee for all but those final five minutes) Chris McNally made a hasty departure at the full-time whistle.
Convocation (from): Morgan, Prendergast, Railton, Welsh J, Byatt, Roberts G, Kent, Houston, Salgado, Irakiza, Kaye, Abussnena, Chadwick, Griffiths, 'Steve', McNally
---
[29.07.17]
Cardinal Newman 7- 3 Convocation
So pre-season has officially kicked off in earnest, with the (not so) Mighty Convo making the short trip up Rose Lane to Sudley House in a hastily arranged game with Cardinal Newman, who will present themselves as foes to ourselves in the season ahead. Hopefully we'll give a better account of ourselves when the business of league football starts, but I'm getting ahead of myself ….
Turning up at the changing room-less, pitching marking-less pitch atop of th' hill, 11 plucky men masquerading as Convo sought to pit their wits against Cardinal Newman, a team we'll face later on this season following our shock, and let's be honest, outlandish, promotion to LOBAL Division 3. This owes more to a reconstruction of the league, but hey, this is Convo. We'll take it! The patched up XI would line up as follows:
Farrell (GK), Trialist, Railton, J Welsh, Trialist, Trialist, Nawrocki, Kent, Byatt, Abusnina, Kaye.
442, and yes that's right, Farrell in goal, hoping that he wouldn't concede as many as his last foray in between the sticks for us, a bruising 7-4 home defeat against Quarry Bank in 2015. 3 trialists would play as well, Ste, Ollie and Liam, who all acquitted themselves well, and can be content with their contributions.
And for a makeshift team we started well, taking the lead through a composed finished from Kaye within minutes of the start, springing the offside trap well to slot past the home keeper from within the area (I say the area, but I don't actually know, as the pitch was marked out in cones. But hey, a goal's a goal!)
After this promising start though, the pressure started to build. 3 offside calls came to Convo's rescue in the opening 20 minutes, although they were probably just about right. The defensive line was holding well, with the two trialists, Ste and Ollie patrolling the wings well either side of their more established colleagues in the centre, and our other trialist Liam making inroads down the right wing. But then the sucker-punch ….
Possession was gifted away cheaply to the home side and, putting a few decent passes together, they bore down on the Convo goal. Noticing that the away keeper was, well, how to put this kindly, not of typical goalkeeper physique, the quick thinking striker chipped the ball high, lobbing the back tracking Farrell and nestling in the back of the net. The lead that Convo had held was gone, and we wouldn't get it back for the rest of the afternoon. Cardinal Newman then nearly took the lead but for a double act of a save from Farrell, with Welsh clearing up afterwards. The next 20 minutes were goal filled, albeit most of them coming for the home team. Firstly, a decent cross from the Newman right wing was nodded back across goal by the home left winger, before another quick goal followed. Advancing down the left wing, the home player sped away from a tiring Ste before firing a shot towards goal. Now, a proper keeper would have saved this. In fat, a proper keeper wouldn't have stood in the middle of his goal yet thinking he was actually covering his near post. Sadly, Farrell isn't a proper keeper, and watched comfortably as the ball flew past him and into the net, when he actually thought it was going wide. Cue the obligatory hand up in the air and apology to the team.
2 more goals before half time though, and I think this order is correct … Convo got one back through Kaye, making the score 3-2, though it could and really should have been the leveller after Nawrocki skied over the top right of the goal minutes earlier (he would later admit that he was aiming for bottom left … how did he do this? Answers on a postcard please). Yet the game would slip further from the Convo grasp shortly before half time. The pacy left winger managed to elude Ste's clutched again, the trialist really being worked hard on what was a balmy July day. Cutting inside, he fired a shot that Farrell did well to parry across goal, yet the soundtrack to this diving save was a sigh from Railton, as his man got the jump on him to knock in the rebound. 4-2 at half time.
The full backs were swapped around at half time in order to try something different against the pacy home wingers, but ultimately to no avail. Newman would go 5-2 up through a one on one finish, before a 6th was added after the ball was smashed across goal and tucked in by one of the advancing strikers at the far post. The flurry of goals proved too much for this observer, who actually can't remember the 7th goal. There was still time though for Taha to get on the scoresheet though, slotting past the home keeper to bring a tiny bit more respectability to the scoreline. We did in fairness play some decent stuff in the 2nd half, wasting a few chances. A weak effort from Taha in particular that brought about a shout of "you're just chippin' it to 'im" from Farrell sticks in the mind, something that amused the onlooking Houston greatly.
Ultimately, a lack of subs on a hot day and round pegs in square holes (I'm looking at you keeper!) cost the lads, but there were some positives to take. The three trialists performed well in difficult circumstances, and Farrell actually managed to make a few saves. Kaye also looks to have kept his sharpness from last year. Nawrocki however ….
Anyway, these things are just about fitness, and we'll be in a loyt better shape come the season proper. Next week, we play host to a semi-professional Welsh team. What could possible go wrong? Convocation Vs Beaumaris Town, 5th August, Wyncote, KO 14:00. We'll see you all there!
---