First XI Match Reports: 2018-19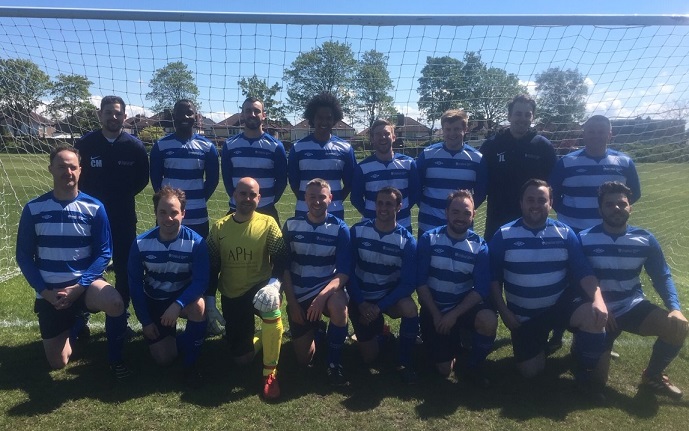 Convocation (v Business School, Emrys Hughes Invitational Trophy Final, 11/05/19)
Back Row: Williams, Irakiza, Welsh J (First Team Vice-captain), Lewis, Kaye, Shore, Roberts, Long J
Front Row: McNally (First Team captain), Farrell (club chairman), Hendry, Nawrocki, Welsh A (club secretary), Kent, Long M, Salgado
Not Pictured: Byatt
Saturday, May 11th 2019
Emrys Hughes Invitational Trophy Final
Convocation 2, Business School 1
(at The University of Liverpool Playing Fields, Mather Avenue)
Convocation (4-5-1): Hendry; Byatt, Welsh J, Welsh A, Farrell; Kent, Nawrocki, Shore, Long M, Long J; Lewis; Subs: Irakiza, McNally, Salgado, Kaye
---
Saturday, May 4th 2019
Woodstreet Academy 1, Convocation 2
Hubris, you hound,
You tracked them down.
And the Old Boys League rejoices.
Convocation (4-5-1): Round; Byatt, Welsh J, Welsh A, Sawle; Parsons, Irakiza, Long M, Nawrocki, Long J; Lewis; Subs: Abussnena, Kaye, Huws, McNally (unused)
---
Tuesday, April 30th 2019
Convocation 4, Rhein 1
Convocation (4-5-1): Hendry; Byatt, Prendergast, Welsh A, Farrell; Shore, Long M, Nawrocki, Kent, Long J; Kaye; Subs: Sawle, McNally, Irakiza, Abussnena
---
Saturday, April 27th 2019
Business School 1, Convocation 2
Convocation (4-5-1): McNally; Byatt, Welsh J, Prendergast, Farrell; Kent, Long M, Welsh A, Irakiza, Long J; Nawrocki; Subs: Railton, Shore, Sawle, Kaye, Lewis
---
Tuesday, April 23rd 2019
Convocation 3, Liobians 1
Bobby Mimms reports
Zac Efron may have been at the Tottenham game on Tuesday evening but there'd been a much more important presence at Convocation's match a couple of hours earlier: amelioration. Ten days ago they'd played Liobians in the league and put in a performance that was as flat as Ronnie O'Sullivan's when losing to that amateur at the Crucible, but in this Emrys Hughes Invitational Trophy fixture against the same opponents they were much improved – although in fairness they'd have been bloody well hard pushed not to be. Seemingly rehabilitated, and with Rhein and Business School also in their group – hardly a group of death, more a group of minor abrasion – they should be perfectly capable of finishing on top and reaching the final, and after that… well, maybe the club should be thinking about investing in some silver polish.
Decked out once again in blue-and-white hoops Convo lined-up in their preferred 4-5-1 formation, with Alex Hendry in goal and a back four of, left to right, Welshes Andy and Jon, Sam Prendergast and Jamie Long. Ahead of them Simon Williams was the lone forward, while Mike Kent and Andy Parsons patrolled the flanks, and Mike Nawrocki, Matt Shore and Divin De Buffalo Irakiza were in between them. Not so much chomping on the bit as chewing idly on a piece of straw, yokel-like, Matty Long and Liam Byatt waited on the sideline for their turn to play.
As so often the start of the game was quiet, which gave everyone plenty of time to come to terms with the slightly unsettling spectacle of a Chris McNally doppelganger playing left back for Liobians; later on in the half he went trundling forward up to the edge of the Convo penalty area whereupon he tried his luck, although his shot skewed way off target and out for a throw-in: "It's uncanny isn't it?" mused Long (M). By then though, the visitors had taken the lead after they'd played a pass forward at the exact moment that Welsh (A) was doing his best Claude Rains impersonation, and the recipient was able to run on unhindered and slot past Hendry.
That was as good as it got for Liobians and for the rest of the game it was their hosts who were the dominant force (well, at least when there was one), especially down the right. Long (J) and Parsons overlapped almost effortlessly along that flank and when the former was unfairly body-checked not far from the corner of his opponents' penalty area, midway through the first period, it was left to Shore to knock the resultant free kick into the mixer, although he got the ball much closer to the goal than he probably intended and the visitors' #1 had to paw it away from the back post at the last second to prevent Convo from scoring.
By then though, they had already equalised, although the build-up came from down the left flank. They won a throw-in that eventually found its way to Williams, and when he put a low cross through the Liobians six-yard box from down the side of the area he found Parsons running in unmarked from the opposite direction, and he had no problem side-footing home underneath the 'keeper.
Convocation continued to boss the game from thereon, and regularly played some lovely one-two football around their opponents. Then, just before the half-hour mark they made their domination pay when Parsons put in some good moves down the right and knocked a great low cross through the Liobians box from down the side of the penalty area (it was almost a mirror image of when he'd scored ten minutes earlier), and Shore, running in at the back post, couldn't miss – he didn't score though, because before he could a green-and-red shirted defender got to the ball first and, presumably in trying to put it out for a corner, walloped the thing into the back of his own net with Jago-esque aplomb.
Despite leading and outplaying their guests all was not well in Convo's world – or rather, all was not well in the house of Hendry. He got a fair old radge on at one point when he slid out to collect a long ball forward just inside his area and then alleged that a challenging opponent had stamped on him, when all that had happened was they'd brushed against each other; the watching Simon Crockett was quick to acknowledge the over-exaggeration of the 'keeper: "He's just got back from Amsterdam – you'd think he'd be more chilled." He was far less vexed by the handful of tame shots Liobians attempted from distance during the first half as they continued to flatter to deceive, especially when compared to how free-flowing they'd looked ten days ago; although they sported a very similar line-up to that previous encounter – the big difference being the guy who looked more like McNally than McNally did – they played as if they were a totally different team.
Strangely, considering that the home side were bossing the game, there was regularly a huge void in midfield that you felt needed one of Sky's big fancy highlighting circles drawn around, although the one time that Liobians could have done with not being in the area was when Convocation launched a long ball forward out of defence, one of the green-and-red shirted players attempted to head it back from whence it came but only flicked it on instead, and Williams was sent clear of the (in theory) covering opposition rearguard. His chances of scoring weren't great though, as he was headed towards the right-hand corner flag (as he would have looked at it) and the #1 was advancing at pace to close him down, but with Parsons on the inside-overlap the forward played a clever back-heel into his path and he had an open goal to aim at – unfortunately, he mistook the situation for the Crossbar Challenge and the chance for a third went begging.
That was Williams' last main contribution to the game as he limped off due to a bad knee several minutes later and was replaced by Byatt (who went onto the wing while Kent moved up top); Long (M) 'sympathised' with the fallen forward: "To be honest you peaked at the back heel." On the pitch the other Long continued to put in an excellent shift and in the dying seconds of the half he again combined with Parsons on a series of Liobians-bamboozling passes (after the latter had gegenpressed a couple of opponents to within an inch of their lives) that ended with him firing off a shot just over the opposition crossbar, albeit via a slight deflection on the way. From the resultant quadrant kick Convo won a second, at which Irakiza and Kent conspired the old 'one player taking it but pretending they haven't' trick, leading to the former forcing the Liobians 'keeper into a scrambled save at his near post, and then from a third corner Prendergast somehow managed to put the ball over the crossbar with a diving header inside the six-yard box – using the back of his noggin probably had something to do with the miss. Half time was called immediately after that.
Long (M) made his entrance at the restart (in a straight swap with Nawrocki), but in fairness the second half was much ado about nothing – minus quite a bit of ado. It didn't begin too badly for the hosts when Welsh (J) played a pin-point forty-plus-yard diagonal pass out to Parsons, who in turn put a lovely cross into the Liobians box that Kent challenged for, and when the ball then fell to Shore he flicked it up and blasted a volley just over the frame of the goal. But that chance was an exception to the general rule of inertia.
The half continued to Rip van Winkle its way towards a dreary conclusion until well into the final ten minutes. Before then Shore headed a clearance off the Convo line at an in-swinging corner, and an unmarked Liobians player nutted just over the bar at another, but there was little else of note to report. It was left to Long (J) to entertain the masses with his fancy flicks and moves, while the visiting keeper's huge Big Bertha kicks – hoofs and then some – would probably have made a second-half highlights reel; Irakiza amazed with his ability to look slower when running than when he walked.
Proceedings were veering towards catatonia when Nawrocki returned in place of Kent, and in the eighty-second minute he scored Convo's third to guarantee the points. With the outside of his foot Irakiza knocked a lovely pass out to Byatt on the left and when he ran on and turned inside along the edge of the Liobians penalty area he was able to slip the ball through to recently returned midfielder, who, after taking what felt like an eternity to get the thing under control, fired into the back of the net with the help of a slight deflection.
The remainder of the game was mainly taken up by a succession of free kicks conceded as a result of a bit of a battle royal that had broken out in the home side's half of the pitch between Welsh (J) and the Liobians #9. The visitors went close to pulling a goal back when one of the dead balls was curled into the Convo area, Hendry punched clear and a second man in red-and-green blasted a shot just over from inside the 'D'; not long after that the Vice-captain hauled his adversary to the ground in the vicinity of the corner flag (the foul had begun accidentally "…but he wasn't getting past me.") and only avoided a yellow card because the referee – an ex-Haroldians player – admitted, "I can't be arsed with the paperwork." The last word though, went to Nawrocki, who in the dying seconds volleyed just wide after having been slipped through the opposition back line, although his effort wouldn't have counted had it been on target as he was offside.
So back to winning ways, and a much improved performance from Convo compared to the last time these sides met – your correspondent wasn't at the South Liverpool friendly at Posh Jericho on Saturday, so can't vouch for how they played then – but it was still only par for the course rather than anything special; they didn't have to play that well to get the win. Quite why the second half was so dull is anyone's guess, although Liobians were more the equals of their hosts after the break than they had been before it, so maybe they just cancelled each other out. (Non-) Spectacle aside, it's three points on the board, and in such a mediocre group a win and a draw from their other two games should be attainable, and enough to see Wyncote's finest through to the final. Next up though, it's Business School – there's a rumour that Rachael Weisz is planning on going to that.
Man Of The Match: Shore and Parsons were pretty decent in the first half, as was Long, but he stood out in the second when everyone else got their heads down for a nap, so once again he's MOTM.
Convocation (4-5-1): Hendry; Welsh A, Welsh J, Prendergast, Long J; Kent, Nawrocki, Shore, Irakiza, Parsons; Williams; Subs: Byatt, Long M
---
Saturday, April 20th 2019
South Liverpool Vets 2, Convocation 0
Convocation (4-2-3-1): Morgan; Prince, Railton, Prendergast, Farrell; Welsh J, Nawrocki; Sawle, Kent, 'Janko'; Williams; Sub: Long J
---
Saturday, April 13th 2019
Convocation 3, Liobians 5
Bobby Mimms reports
Success, it was once joked, is the ability to go from one failure to another with no loss of enthusiasm, so after this dainty-lady performance, following on from last week's implosion in the Senior Shield, Convocation must be feeling pretty damned successful right now. From the 'glass has got some beer in it' perspective though, this game against Liobians was one of their flattest shifts of the season, in which they were uncharacteristically tatty at the back to boot, and as a result they were deservedly beaten.
Their lacklustre showing was all the more galling for the fact that their opponents from Mersey Road are quite clearly a poor team, albeit one made to look rather proficient on Saturday, and this had been a great chance for the hosts to garner three more points with the end of the season in sight. You could see why Liobians are second bottom (they did nothing but lose until after Christmas), and they've clearly got a habit of dragging Convocation down to their level as following on from another defensively anarchic match several weeks back the aggregate score between the two is 9-9 – nothing to be proud of. Once upon a time this fixture had been known as the Storrsdale Derby, a fiercely contested if frequently one-sided affair, but this incarnation was little more than a struggle to be the tallest dwarf, and Convo came up short.
Having said all that though, for most of the first period they weren't too bad and created the better chances (albeit, not many). Indeed, after an opening ten-or-so minutes in which neither side's ramparts were even remotely threatened it was the blue-and-white-hooped hosts that grabbed the bull by the horns: they won a corner that was drilled into the Liobians six-yard box where Jamie Long arrived like the late Tommy Smith in the '77 European Cup final and bulleted a header down and then through the 'keeper and into the net. Interestingly, Chris McNally insisted that on its way the ball had clipped his hip, while before the game he'd opined that, "this is one of those teams I feel I can score against" – by trying to claim the goal it would seem that the Wyncote Nostradamus has no shame.
Convo had several chances to extend their lead before things started to go wrong just before the break, with varying degrees of accuracy. Undoubtedly the best one came from Mike Nawrocki, midway through the half, who forced the Liobians #1 to tip a crack from twenty-five yards over his crossbar, seconds after he'd been set up by Mike Kent when he'd inadvertently played a one-two with himself by slicing an attempted shot straight up into the air; from the corner Liam Byatt tried his luck from just outside the opposition 'D', but his luck was duff and his effort was too high. Inside the final ten minutes (of the first period) Matty Long also went close when he got on the end of a long ball forward, controlling it with his forehead on the edge of the visitors' penalty area before then half-volleying across the face of their goal from a rapidly-narrowing angle.
At the other end of the pitch the home side were, initially, not too bad and on a couple of occasions passed their way out of (mild) trouble as though they were the second coming of Guardiola's Barcelona. Andy Welsh partnered Sam Prendergast in the heart of the defence, with Byatt and Long (J) in the full back berths (left and right respectively), while behind them, and with more experienced goalkeepers unable to 'come in from the wilderness', John Farrell once again donned the gloves. The Chairman began his stint in the nets quite well, punching clear an in-swinging Liobians corner that came out of the sun (shining across the pitch) and which would probably have crept in at the back post had he left it, but that, just after Convo had taken the lead, was a high and from then on he made more fumbles than you'd see at a teenagers' disco.
As so often McNally – described by one spectator as "the most delusional man at Convocation" – was the lone forward in his beloved 4-5-1 formation, and as so often one of the tallest men on the pitch, which obviously goes some way towards explaining his advice to a colleague at a throw-in: "Don't play it to my head." The five-man midfield consisted of Simon Williams (left) and Grant Firkin (right) on the flanks, the latter putting in a late contender for the Worst Corner of the Season Award midway through the half when he practically passed the ball along the ground to an opponent standing equidistance between the flag and the near post; in between them were Kent, Long (M) and Nawrocki, who, like the defence, more-or-less held their own for most of the first period.
That, however, was mainly down to the visitors' clear lack of ambition for the majority of the opening forty minutes, and it was during that time that you could see just what calibre of team they actually were; that Convo managed to create so few chances against such limited opponents spoke volumes about their performance. It was quite an unfamiliar Liobians line-up, and considering that up until a couple of weeks ago they hadn't received a single booking, yet they picked up two in the first half of this game alone, you had to wonder whether all of their players were legit (that's not an excuse for Convocation losing): one of their centre halves was carded for a spot of back chat just before the midpoint of the half, while the well-fed fellow playing up front for them was also cautioned not long before the interval for persistent criticism of the young official, Greg McLean, who admittedly was a little bit precious and who didn't help himself when he whined as he took the malcontent's name, "I'm doin' me best."
It took the visitors half an hour to fire off their first shot, but once they got the hang of it there was almost no stopping them. They won a free kick inside their own half that one of their defenders launched into the Convo box and when everyone left it (or couldn't get near it) Farrell had to push the thing over his horizontal at the last second, somewhat clumsily and to gasps and woos from the Liobians sideline. When the resulting corner was pumped into the goalmouth Long (M) half-cleared the ball to the edge of the area but another man in green-and-red fired it straight back, only to have his effort blocked by a team mate, and then an immediate second attempt was sent flying high over the crossbar.
By the time the first period entered its closing five minutes it had clouded over and a breeze had got up, blowing towards the Convocation goal, but that had little to do with why they were beginning to have trouble getting out of their final third – and just at the time when they really could have done with making shapes up front they found chaos knocking at their back door. Possibly buoyed by Farrell's increasing jitteriness the visitors started shooting from mid-range whenever the chance arose, but it was when they launched a route one punt from their own half that they finally caught their hosts napping: Welsh misjudged a clearing header on the edge of the penalty area and a nearby Liobians player was able to trap the ball instead, and when he then wriggled beyond the Convo man there was no one covering (Prendergast had gotten embroiled in some sort of running feud with the hefty Liobians forward who'd earlier been booked) and he was able to fire past the 'keeper from about fifteen yards out.
Convocation had been a little over two minutes away from getting to the interval with a lead, but things were about to get worse. Their guests won a throw-in near the halfway line and quickly moved the ball diagonally across the park to their left flank, and with Long (J) conspicuous by his absence one of their players ran on into the area and from just outside the corner of the six-yard box blasted a shot on target that Farrell got a hand to but was unable to keep out. After that Liobians still had enough time to fire off two more efforts from range, one only inches wide; Convo had gone, and the half-time whistle came as a blessed relief.
The general consensus during the interval was that Convo had been too quiet and Farrell implored his colleagues to play the remainder of the game without fingers on lips. Also making sure his views were heard was the referee – who'd been part of the St Margaret's team that had put in a complaint after they'd been beaten by Convocation last season – as he made Liobians retake the restart because one of their players had strayed several furlongs into the opposition half. If that particular youngster's over-enthusiasm was a sign that the visitors meant business then a bigger one was them scoring again within sixty seconds: they won a throw-in down the side of their hosts' penalty area and launched the ball goalward, whereupon Prendergast, unburdened by common sense, climbed all over an opponent and a spot kick was awarded. The taker sent it one way, the #1 went the other, and the green-and-reds led 3-1.
The first ten minutes of the second period were probably Convocation's worst of the match; they were phoning in their performance and deserved to be punished for it, yet Liobians didn't seem capable of capitalising. But then, without warning, the home side snapped into something resembling action and had a number of chances to get back into the game. Kent went on a feinting, dribbling run down the right flank that was mesmerising to watch, before flicking the ball over an opponent and into the area and then blasting a shot across the face of the opposition goal that went inches wide of the furthest post. Not long after that Long (J), who'd set that previous move in motion, tried his luck with a thirty-five yard free kick (awarded rather harshly for hand ball) although his effort was tame and wide and a waste.
His brother went much closer around about the hour mark when he curled a corner into the six-yard box that cleared everybody in there and only just went wide of the back post, but it wasn't until the game entered its final quarter that Convo got the goal that they deserved, if only for the greater quantity of chances they'd created overall. Long (J) picked up possession on the edge of his own penalty area and went on a mazy Beckenbauer-esque dribble through the half, not so much evading challenges as ignoring them, before playing a lovely pass through the high Liobians back line for Williams, and he ran on into the visitors' box and fired off a shot that the 'keeper got a hand to but couldn't keep out.
By then Craig Kaye was playing on the right flank, having replaced the ineffectual Firkin there a little earlier (at about the same time as an epidemic of phlegm hacking broke out all over the pitch – lovely), but with twenty minutes remaining he was shunted up into his preferred forward role when McNally was finally persuaded to come off (and rewarded with a few sugar lumps), Jay Railton went on in his stead at right back and Long (J) pushed up onto the wing. That second substitution seemed to unsettle Convo again as almost immediately they conceded a fourth when Liobians pushed through midfield far too easily and one of their ilk fired off a shot from just inside the penalty area that Farrell attempted to block with his knees, only for the rebound to return to the same player who then slotted back into the net from six yards out.
It was a poor mistake from the Convo 'keeper but one it seemed he was intent on repeating as soon as possible, as several minutes later he made exactly the same block with his knees when it would have been easier to scoop the ball up and once more an opponent was on hand to knock in the rebound; the referee was unimpressed with 'the scorer' however, and (correctly) deemed him to have been offside (and without the need for someone pointing it out to him – he was quite easily influenced). Liobians went close again inside the final quarter-of-an-hour, although unintentionally, as when one of their men put a cross into the hoops' box he got it much closer to the target than he'd intended and struck the front of the crossbar, as Farrell flapped away underneath.
Long (M) was replaced by Ollie Sawle not long after that, the incomer going onto the wing while Long (J) moved inside, moments after he'd smashed a shot just over the Liobians crossbar from the edge of their penalty area. But then, in the eighty-third minute, any hope of a late Convocation comeback was scotched when the visitors attacked down their left, put a low cross through their opponents' box, and a man in quarters at the back post slammed the ball into the net, the home side's bad day at the office being summed up perfectly by the shocking marking throughout the move.
Nawrocki had a chance to pull one back for Convo with five minutes remaining, but his confidence in his long-shooting abilities did not appear to be matched by his long-shooting ability and he fired well over from thirty yards out. Shortly after that Sawle fed Kent down the right and upon entering the Liobians penalty area he was only thwarted by the outstretched leg of the 'keeper, although first to the loose ball was Sawle again and he would have scored had a green-and-red shirt not deflected his shot just wide of the target. Well into injury time though, the home side did get the third goal they probably didn't deserve when Nawrocki lost his man at a corner and headed in at the front post.
Despite that occurring in the third added minute there was still enough time left for Long (J) to charge forward straight from the restart and put a shot/cross onto the roof of the Liobians net, and then for the visitors themselves to send one of their men through immediately after that – Farrell was quickly off his line to tackle the attacker (inside the area – he could have used his hands) but the ball ricocheted towards the byline, and when it was kept in and squared to another green-and-red shirted player in the middle of the open goal he somehow put his effort over the crossbar from about a yard-or-two out with what can only be described as his ten bob 'ead. The full time whistle was then blown within seconds.
"You need a goalie in these games" mused McNally towards the end, apparently without any sense of irony, but you can't blame Farrell for this result: it was a collective performance flatter than roadkill and the best that can be said about Convo on Saturday was that they fulfilled their fixture obligation. Quite why they played so poorly is anybody's guess, but they better improve before their final league fixture in three weeks' time because it's against the runaway leaders Woodstreet and if they put in a similar shift things could get very ugly.
They've got a trio of Emrys Hughes Trophy games before then, one a rematch against Liobians, and with Rhein and Business School also in their group, well – whisper it quietly – they may be favourites to win it. If they can't muster up a bit of enthusiasm for that prospect then the season may as well end on this bum note.
Man Of The Match: Tricky, as no one played particularly badly, they just didn't particularly play at all. Williams seemed keener than most so he gets the nod as the best of an apathetic bunch.
Convocation (4-5-1): Farrell; Byatt, Welsh A, Prendergast, Long J; Williams, Kent, Long M, Nawrocki, Firkin; McNally; Subs: Kaye, Railton, Sawle
---
Saturday, April 6th 2019
Convocation 2, Oakes Institute O.B. 4 (a.e.t.)
Convo were 2-0 up at half time in this Senior Shield quarter-final tie, but it was 2-2 after ninety minutes and then Division Two's Oakes scored again in both periods of extra time.
Both teams finished with only ten men, Matt Shore being sent off for Convo at the start of the second half for an alleged head butt.
Convocation (4-5-1): Round; Galy, Welsh A, Welsh J, Long J; Huws, Kent, Shore, Nawrocki, Finch; Nabil; Subs: Feeney, McNally
---
Tuesday, April 2nd 2019
Kingsford 3, Convocation 3
Convocation (4-5-1): Round; Byatt, Prendergast, Welsh J, Long J; Kent, Shore, Irakiza, Nawrocki, Parsons; Nabil; Subs: McNally, Firkin (not used)
---
Saturday, March 23rd 2019
Old Instonians 1, Convocation 2
Convocation (4-5-1): Round; Byatt, Prendergast, Welsh A, Farrell; Galy, Salgado, Long J, Shore, Lewis; Firkins; Subs: Nabil, McNally
---
Saturday, February 23rd 2019
Liobians 4, Convocation 6
Convo were 3-0 ahead then 4-3 down, before going on to win.
Convocation (4-5-1): Farrell; Byatt, Welsh A, Irakiza, Long J; Kent, Long M, Lewis, Nawrocki, Parsons; Salgado; Subs: McNally, Nabil, Crockett
---
Saturday, February 16th 2019
Old Instonians 3, Convocation 1
Convocation (4-5-1): McNally; Byatt, Welsh A, Prendergast, Long J; Kent, Long M, Shore, Salgado, Irakiza; Williams; Sub: Firkin
---
Saturday, January 26th 2019
Convocation 6, Jaguar Rovers 6
Bobby Mimms reports (without notes – it was too cold to write)
Well, what to make of this crazy spectacle? Footballing-wise it was very enjoyable: a madcap affair that had twelve goals and two more disallowed, lobs, howitzers and a couple of extraordinary finishes into players' own nets. But the game also had a very impressive fightback after a dreadful Convo start, almost a glorious climax to end on a high, several peculiar injuries that were not life threatening, and a second-half downpour that added a disruptive gloss to the madness. For anyone wanting to take a crash course in 'Convocation' they couldn't have picked a better game to come and study.
The only fly in the ointment was that it involved Jaguar Rovers as well, a team of players who would seriously test the old one-bullet dilemma (and probably a ten-bullet dilemma), and while admittedly they contributed to the craziness of the game they were also seemingly incapable of not morphing into Uruguay '86 every couple of minutes and committing borderline assaults in the name of recreation. They've only been in the Old Boys League since the summer, having joined from the I Zingari Combination – one can only imagine why they left – but they're already testing the patience of the powers that be, and have already had a run-in with Convocation, the game between the two sides at the Simpson Ground in November having been abandoned by the exasperated referee Luke Davies.
The architect of that fiasco – a loon who attacked Jerome Galy (watching from the sidelines on Saturday) after having been sent off for violent conduct – played three-quarters of this match at left back and on the whole kept his head down, but the same couldn't be said for quite a few of his extremely angry team mates. Quite early on one of them wiped out a colleague in what appeared to be an accident (you couldn't be completely sure), but for some reason seemed to think that the home side were to blame: "If that happens to one of them," he snarled to those around him, "just kick them while they're down"; with about ten minutes gone Convo's Matty Long was forced to limp off due to shin splints and the same Jaguar player seemed ecstatic: "That's karma, that is." And you could hardly rely on their captain to keep them in check considering that he was just as rabid, spitting torrents of abuse at his Convocation opposite, Chris McNally, in the dying embers of the game for not flagging for the throw-in he wanted – it's difficult to recall seeing such bile and hatred over such an insignificant matter, but he wasn't done there and immediately launched himself into a ridiculous challenge on Mohammed Nabil, for which he received a yellow card. By then he and his charges were under the cosh, but that's no excuse for behaving as though willing to use one.
Unfortunately, for a while in the first period Jaguar, like Glenn Miller, were definitely in the mood, and were 4-0 up with little more than a quarter of the game gone. They'd got proceedings underway decked out in yellow and blue – a yellow loon kit: what a surprise – grotty grey clouds in the distance giving warning of the deluge that would arrive in time for the second half, and at first there wasn't much to suggest that their bite was anything compared with their snarling bark. But then they came up with the not-so-novel idea of putting their hosts under pressure and seeing what happened: they won a corner and pumped it into the goalmouth, and when centre-back Divin De Buffalo Irakiza attempted to clear the danger he smashed the ball into the top corner of his own net with sumptuous accuracy.
Within minutes it was 2-0 and once again the visitors barely had to do a thing. Andy Welsh (the other Convo centre back) gained possession about fifteen yards outside the Convocation penalty area and when he was put under a bit of pressure by an opponent he quite naturally decided to pass the ball back to his 'keeper, John Farrell – the power behind this one was quite the opposite to Irakiza's opener, but nonetheless when the club chairman took his eye off the return at the crucial moment it rolled under his foot and beyond him into the net for another own goal.
The double calamity must have knocked the stuffing out of Convo somewhat because only a couple more minutes elapsed before they suffered another goal-conceding blow, although on that occasion they could take a modicum of satisfaction from the fact that they didn't plunge the knife in themselves. Jaguar's delightful left winger attacked along his flank and from down the side of the hosts' eighteen-yard box put a low cross in towards the near post that Welsh cleared, but only to the edge of the box, and from there a second man in yellow passed the ball back past Farrell and into the far side of the net.
Even while they were on a roll the Jaguar players had to be continually told to pipe down by Mr Higgins, the match official, but as the score started to tally up in their favour they also turned their hands to being that worst kind of winner, the gloater. There was maybe twenty-five minutes gone when one of their ilk got hold of the ball out on their left flank and feet away from the halfway line and opted to try his luck from such a distance seeing as how Farrell was a fair way out of his goal. Immediately the Convo #1 knew he was in trouble and started back-pedalling whilst windmilling his arms around in unconvincing fashion, and, unfortunately, to high-pitched, forced, lad laughter, the attempt dropped successfully into the net just under the crossbar.
There was more than two-thirds of the tie still to go and no one connected with the home side could have been in any doubt that it was quite possible things could turn really ugly (even when factoring out the visitors), but then Convo found the key to get out of the changing room and with no warning whatsoever the game turned completely on its head. In fairness they hadn't been totally overwhelmed in falling four behind, and had actually had the ball in their guests' net whilst it was still goalless: the Jaguar 'keeper had made a good save to stop a shot from distance and Anthony Lewis was first to the rebound, but then deemed (correctly) to have been offside.
For twenty-or-so minutes Convocation had shown that they were "still capable of little spells of [being] Convo", as one spectator had put it whilst the Jaguar goals flew in, but then their first reply was a thing of crafty beauty and quite possibly designed to wind up their opponents another couple of notches closer to total fulmination. Decked out as usual in blue-and-white hoops they won a corner that lone forward Taha Abussnena went to take, but with the referee's blessing he merely rolled the ball out of the quadrant and then jogged back into the penalty area – with those in yellow oblivious to the fact that the set piece had already been taken Andy Parsons ran across to it as if he was about to do so, but instead he streaked off in possession and then smashed a low shot into the bottom far corner of the visitors' net from down the side of the eighteen-yard box.
No prizes for guessing what happened next.
There was an explosion of fury of almost atom bomb magnitude from the Jaguar players, directed at the official, each other, and then finally their 'cheating' hosts, but in their self-absolving hearts they must have known that they'd dropped a bollock. They were actually a little lucky to still have eleven men on the field as shortly before that goal one of their players had launched into an appalling two-footed challenge on Lewis near the soon-to-be-notorious corner flag, and the Convo man was fortunate that he managed to jump out of the way of its brutality a split second before he would have been decapitated. But while, inexplicably, that went unpunished, several minutes later Mr Higgins finally lost his rag with another git in yellow and booked him for what we shall euphemistically call 'making observations'.
There was a strange period of play, with around a quarter-of-an-hour of the half remaining, when balls kept getting emptied over the caging surrounding the pitch and into the dim and distant hinterlands of Wyncote, whilst at the same time right-flanker Adel Ahmed was also too high with a shot, but only by millimetres, as he smashed an effort against the Jaguar crossbar after a Convo free kick. His endeavours proved to be more fruitful not long after that when he attempted to put a cross into the opposition box and, it having been half cleared by a defender, Matt Shore then found the back of the net with a thunderbolt from the edge of the 'D'.
Within a couple of minutes Breno Salgado – a substitute who'd gone on for Long in midfield – pulled it back to 4-3 with a goal that no one could later remember, and suddenly it was the visitors who appeared to be in freefall. Nonetheless, the sages on the Convo sideline agreed that their heroes in hoops must get to the interval without conceding again if they were to have any chance of going on and winning the game after it – not necessarily through any sense of foreboding, although it might as well have been. With pretty much the last kick of the half one of the Jaguar players attempted to put a high cross into the home side's box from down the left-hand side of the penalty area but got it much closer to the target than he'd intended, and the ball looped over the flailing #1 and into the net, once more accompanied by that damned annoying lad laughter.
Poor Farrell hadn't really done much wrong during the opening forty-five minutes, but being a victim of genetics combined with his colleagues' love of an own goal meant he'd still conceded five; McNally considered taking him out of the firing line, worried that his misfortunes could worsen and he might accidentally reveal himself to be the Zodiac killer, or something. It also started raining during the interval and got gradually heavier as the second half went on – the increasingly zippy conditions and slippery ball were hardly going to be welcome additions for someone suffering from the yips. The Chairman though, was determined to play on.
For no other reason than, well, the obvious, at the start of the second period one of the Jaguar players began arguing the toss with a number of his opponents when it was pointed out to him that it wasn't his side's kick-off, and throughout the half he and his colleagues continued with their attempt to cram a thousand years' worth of snarling into one match – at times the worsening weather conditions were a blessed distraction from all the aggro. More understandably, the visitors were also determined to shoot from anywhere whenever they could.
A little over ten minutes into the second period Convo made their first unenforced substitution, with Felipe Tricate going on for Mike Kent; Parsons moved up onto the vacated right flank to allow the incomer to slot in behind him. Having seemingly banished their earlier collywobbles the defence was standing firm against the best intentions of their opponents (obviously there was nothing they could do about flukes), with Irakiza and Welsh showing no ill side effects from their earlier net bothering, and Liam Byatt at left back faultless against an admittedly unadventurous yellow-shirted winger. It was up the other end of the pitch that the home side next made a statement though, when Ahmed chased an ambitious pass into the Jaguar area and under pressure from a challenging adversary squared the ball across the box for Salgado, who, with enough time and space to erect a marquee, smashed a shot first time across the opposition 'keeper and into the net.
Once again the home side were only a goal adrift and the promise of not losing to such odious opponents was almost palpable. Jaguar went close to re-extending their lead not long after that though, when one of their players had a curling shot from the corner of the penalty area that Farrell, being either incredibly assured or incredibly dumb, assumed was wide and left, although when he was proved correct it was by mere millimetres. Nabil made his entrance a couple of minutes later (for Abussnena) and his impact was almost immediate: Convo won a corner that was punted into the proverbial mixer engendering the mother of all melees, with multiple stabbed efforts and blocks inside the six-yard box, before eventually, with the yellow shirts once again renouncing defending, the ball fell to the unmarked newcomer at what had been the back post and he tapped it in from a couple of yards out.
For the Convocation players it was as if all of their Christmases had come at once, while, naturally, their guests opted to blame anyone and everyone else for their self-inflicted woes, victimhood being the natural default stance of the thwarted scoundrel. But having done all of the hard work in reeling in Jaguar's lead the home side suddenly seemed to think that that was enough, despite there still being a little under ten minutes remaining, and carelessness began to creep in to their performance. Having played to his limited strengths for most of the game Farrell, for god only knows what reason, chose that moment to start playing to his flaws and on several occasions before the final whistle he came flying out of his goal for high crosses like a wino chasing a balloon on the breeze. There was nothing he could do though, when the visitors retook the lead through an absolute howitzer of a shot from about thirty yards out that smashed into the net just under the Convo crossbar; you shouldn't need to be told in what manner the Ronnie Radford de nos jours and his chums celebrated.
By this time the rain was absolutely dancing down (although it wasn't as torrential as at the recent Collegiate game), but despite the gloom the floodlights remained unlit – it looked like someone at Wyncote had forgotten to pay the leccy bill. Equally as dim were the Jaguar players: they had about five minutes to hold out for the victory that had seemed so much of a certainty an hour earlier and they just needed calm heads, although obviously no such creature existed, and yet again they imploded. One of the hooped midfielders humped a pass over the top of the visitors' back line that Nabil chased into the penalty area, whereupon he became embroiled in a tussle for possession with the goalkeeper that quickly became a molestation Bill Cosby would have been proud of. A million other referees would have penalised the Convocation forward but Mr Higgins didn't, and when the ball broke loose from the nearby bout of Greco-Roman wrestling Lewis was in the perfect position to fire a diagonal shot into the empty net.
Unsurprisingly the visitors were apoplectic with rage (again) although in the spirit of impartiality it has to be said that they had every right to feel aggrieved, but they'd niggled away at the official's patience all afternoon and he wasn't budging on this one. Things got worse for them moments after the restart when one of their defenders, faced with Ahmed dribbling at him, and backtracking like Donald Trump against Congress, overbalanced and fell onto his tailbone and was clearly in some pain, but despite being unable to continue there was little sympathy from any of the Convo players: as the Jago-ism goes, 'it couldn't have happened to a nicer cunt'.
Jaguar didn't have a monopoly on strange injuries though, and seconds after that proceedings were halted again when the pink-booted Salgado collapsed with nobody near him and rolled around howling in agony as everyone just stood and watched; again, there was little sympathy from any of the Convo players. Kent – who'd had a quiet game before being subbed – went back on for the final couple of minutes, but the injured Brazilian is a player who defies formations and after sixty seconds-or-so the perplexed returnee had to ask for help from the sideline: "Where was Breno playing?"
It seemed that that was that, and Convocation could take satisfaction at having rescued a point, not once but twice. But then deep into injury time they launched a ball into the Jaguar goalmouth and an almighty stramash broke out as everyone tried to win it, and after what felt like an eternity Nabil was on hand to smash the thing into the back of the net. There was jubilation within the hooped ranks, while on the sideline hats were thrown into the air and headlines were being rewritten – the referee though, had other ideas. Although one of the visitors had been covering the goal line the 'keeper had been on walkabout, so just as with Lewis in the first half the scorer was (correctly) deemed to be offside. The game restarted with a free kick and after about five more passes the man in the middle called it a day.
It's one of those tricks of perspective that the Convo players actually felt a little deflated at the final whistle despite the fact that they'd done so well to battle back from being so far behind; this was a creditable draw against, footballing-wise, a decent team, as they didn't play too badly. They only really conceded one goal they could've done better at defending, and had they not had Ronnie Corbett in the nets they would probably have won (although as a fully signed-up member of the Short-Arsed Goalkeeper's Union your correspondent isn't blaming Farrell for them not doing so), while at the same time Jaguar's thuggery and rowdyism counter-productively turned the game and the official against them, and played into Convocation's hands. Although they conceded six the side from Wyncote should have no regrets about how they played in this game, and more of the same for the remainder of the season should see them climb into the upper reaches of the table, which is all anyone can really ask for.
Well that, and a pox on the house of Jaguar.
Man Of The Match: He may only have played the final quarter of the game but Nabil was an out-and-out nuisance to the visitors in the short time he was on the pitch, so he gets the nod.
Convocation (4-5-1): Farrell; Byatt, Welsh A, Irakiza, Parsons; Kent, Lewis, Shore, Long M, Ahmed; Abussnena; Subs: Salgado, Tricate, Nabil, McNally (unused)
---
Saturday, January 12th 2019
Convocation 1, Wavertree W.D.O.B. 2
[AW] Tight game. Lots of mistakes by both sides in possession. Very windy.
Last weeks game - Business School couldn't get a team together so forfeited the fixture the night before the game.
Convocation (4-5-1): Scalabrin; Byatt, Irakiza, Welsh A, Farrell; Abussnena, Galy, Nawrocki, Shore, Long M; Lewis; Subs: McNally, Nabil
---
Saturday, December 22nd 2018
Old Instonians 5, Convocation 1
Convocation (4-5-1): Scalabrin; Welsh A, Prendergast, Welsh J, Prince; Smythe, Kent, Shore, Long M, Kaye; McNally; Sub: Round
---
Saturday, December 15th 2018
Convocation 1, Collegiate O.B. 1
Bobby Mimms reports
Ever been strapped to the mast in a storm? Ever taken a long cold shower in a wind tunnel? Well if you weren't at Wyncote on Saturday you missed the chance to experience something comparable to those exemplars of sensory deprivation because, to paraphrase the meteorologists, it was effin' wild. On a very murky and overcast afternoon, when it rained almost constantly and gales battered the region, when the floodlights were on at kick-off to combat the crepuscular effects of the filthy grey sky, Convocation ground out a creditable result against their bogey team, nemesis, and Lucifer's representatives on Earth, Collegiate; the visitors had won the reciprocal fixture 4-1 at the start of the campaign, and had also beaten their hosts four times last season, on one occasion quite heavily, so this draw goes someway to showing that Convo are heading in the right direction.
For eighty minutes it had felt like nothing but a draw was on the cards, albeit a goalless one, as chances weren't exactly regular and the game was predominantly scrappy – perfectly understandable considering that the conditions made it akin to playing on an oil rig. Matters weren't helped by the fact that, going forward, Convocation were plagued by bad touches at vital moments, derailing many a promising opportunity, or that their opponents' wingers were playing some sort of variation of the offside law that no one else had heard of and would regularly stymie their attacks in the process. Midway through the first half the watching Simon Crockett rehashed Maria Carey's All I Want For Christmas with words longing for a win over the old enemy, and after the break it looked for a moment as if his pleas could be answered when Andy Parsons was first to a rebound after the Collegiate 'keeper had blocked a low Matt Shore shot, but his header into the net (which had a huge, unintended, hole in it) was correctly deemed to be offside and the tie seemed destined to end in barren stalemate.
Despite playing into the squall Convocation created the most chances of the opening half, although not its best, with Parsons firing off the first shot of the afternoon about five minutes in when he had a crack from about thirty yards out that was never really going to trouble the Collegiate 'keeper once the wind had done its thing. He went close again before the interval when he received the ball from Mike Kent and then curled an effort a foot-or-so wide of the furthest post from just outside of the visitors' penalty area, and on the sideline his dad pointed out that he was "desperate to score in front of his family" (his cousin, Liam Murray, was Convo's lone substitute).
Shore also made the Collegiate #1 earn his corn when, following a spell of good Convocation pressure just after the quarter-hour mark, he had a shot smothered on the goal line after Anthony Lewis had slipped him through down the left-hand side of the opposition penalty area; provider nearly turned poacher later on in the half when the lone forward glanced a header just wide of the target at a corner. The hosts should have created more opportunities to score but, even when keeping the ball on the ground, they frequently made poor decisions at the last moment just as their guests seemed at their most vulnerable.
Decked out once again in blue-and-white hoops – an aptly icy-looking kit for a very wet and chilly day – Convocation had lined-up in their familiar 4-5-1 formation with Captain Chris McNally in goal, a hoody under his 'keeper's top pulled up tight against the elements and making him look like a cross between Mother Teresa and a medieval executioner. The back four comprised of Jon Welsh and Sam Prendergast flanked by Liam Byatt (left) and Jerome Galy (right), while in midfield Parsons and Kent sandwiched Shore, Andy Welsh and Divin De Buffalo Irakiza, and as previously mentioned Lewis was up front. He didn't know it at the time but poor Murray on the bench was fated never to get on, just to suffer the worst that the elements could throw at him and the other spectators.
Collegiate, good old Collegiate, well their first notable involvement in the game was when one of their players chastised a colleague for losing out on a header to Irakiza, snarling, "next time it comes down, snap 'im" – that's the (nearly Christmas) spirit! For some reason they were donning the red-and-white striped shirts, blue shorts and red stockings of Atletico Madrid (and one impressionable putz had gloves to go with his short sleeves), and also around about the quarter-hour mark they should have taken the lead when one of their ilk was played through on goal (with Byatt in tow) by a lovely pass from midfield, and with McNally coming off his line with all the urgency of a man on horse tranquilisers the striker had plenty of time to pick his spot but instead fired well wide from twenty yards out – it was a very poor miss.
The visitors twice went close again shortly before the break, although the first of those was somewhat unintentional. Shore conceded a free kick out on the flank near the halfway line and a Collegiate player launched it into the Convo box, presumably thinking that one of his colleagues would attack it, but everyone left the thing and ultimately it passed inches wide of the motionless McNally's right-hand upright. Not long after that the hosts' Captain nearly shot his team in the foot when he passed a terrible goal kick straight to a lurking opponent, but when he then ran back one-on-one he couldn't get the better of his assistor, who made a fine redeeming save with his legs. On the sideline the frozen Murray enquired whether the teams returned to the changing rooms during the interval, but he was to have no such luck when the half-time whistle was blown several minutes later.
Having rained fairly consistently up to that point it started to pour down during the break, turning the already-greasy 4G surface into an aquaplaning, maglev surface for the start of the second period. Irakiza tried to take advantage of this in the first few minutes after the resumption when he sent a potentially tricky shot skidding goalward from a little over twenty-five yards out, but it was straight at the Collegiate 'keeper and he did what was required of him; later on in the half Parsons also had a crack from an almost identical position, and the outcome was identical as well. What most would have thought would be Convo's best chance of scoring during that phase of the game though, came about when they were awarded a free kick several paces outside the opposition 'D' and the usually reliable Shore stepped up to take it but sent his effort so far wide of the target that it almost went out for a throw-in – it received an F- for attainment from those watching on the sideline, and he had the decency to look suitably sheepish, especially as, for once, it's unlikely that the wind was to blame.
Of course, the day after Armageddon there'll be Collegiate players picking fights on football pitches so a little bit of bad weather wasn't going to throw them out of their gittish stride. One of their midfielders (the one who'd earlier wanted to 'snap' Irakiza) was on a definite short fuse and his temperament wasn't being helped by team mate (and forward?) "Welshy" constantly doing what wasn't expected of him; rather amusingly the hothead kept on calling out his name as he was about to pass yet always had his intentions read and intercepted by Convo's own Jon Welsh.
There was a rather naughty challenge on Parsons midway through the half that led to a bit of handbags once the Convo man had dished out an equally naughty retaliatory kick from the floor, and while he can be grateful that referee and friend of the club, Jack Moore, didn't see fit to issue him with what would have been an incontrovertible red card for his petulance, the same couldn't be said for the Collegiate spectator who ran onto the field of play and threw his hands in the ersatz Beckham's face, as he was sent to the stands (well he spent the remainder of the game watching from behind the 4G pitch's railings). From the visitors there was also the inevitable persistent complaining that they bring to every occasion, which culminated later on in the half with one of their non-players nearly blowing a gasket because a Convocation corner was, "not in the circle, not in the square!" Sadly the quadrant kick was taken before he could exhaust the gamut of polygons he knew.
The driving rain had abated slightly as the game entered its final quarter but it was still hip-flask weather, and on such a wild, blustery afternoon it was clearly beneficial keeping the ball on the ground; on a number of occasions Welsh (A) could be spotted giving it the full Bolshoi in the middle of the pitch, pirouetting past opponents and playing delicate little back heels so as to do so. Behind him the rearguard continued to cope as well as could be expected in the unpredictable conditions, although a Byatt back pass nearly proved costly when McNally made a right McNally of controlling it, inexplicably shinning the thing out for a corner which was then met by a Collegiate bullet header that was only a couple of inches too high. On the other side of the defence Galy was enjoying a quiet afternoon, which wasn't to be sniffed at under the circumstances, while in the middle both Welsh (J) and Prendergast coped with the opposition sans fuss, and had been integral to calming everyone down when it had kicked off; on the sideline Crockett, for reasons only known to himself, invoked the spirit of Delia Smith, demanding to know, "Where are you? Let's be 'avin' you!"
By the time Parsons scored-but-didn't McNally had made the decision that, while there was a chance Convo could win the game, he wasn't going to upset the apple cart and use Murray. But while the home side would remain unchanged Collegiate had had to replace their 'keeper after the disallowed goal due to injury, and the new man's first job was nearly having to pick one out of the back of his net: Lewis and Kent played some great one-touch football down the right flank before eventually the former put a low cross into the visitors' six-yard box from near the byline, and Welsh (A) got on the end of it with a Houchen-esque diving header at the near post but couldn't quite redirect the ball on target.
Still Convocation kept the pressure up on their unimpressive guests, and Irakiza went close with a twenty-five yard blast that was only just wide. Then, with fifteen minutes remaining, Lewis slipped a delicious pass through to Kent from the edge of the centre circle but the little man took one touch too many as he entered the Collegiate penalty area and was pushed wide by the advancing #1, although that had the unintended effect of leaving him with little option but to square a low cross along the six-yard line, and Shore, who was running in at the far post, looked like he must score – alas, like Gazza at Euro 96, the ball was agonisingly out of his reach and the chance went begging. There was little doubt though, that Convo looked the most likely to snatch victory.
But then they put a foot wrong – well, more than one actually. There were about eight minutes remaining when one of Collegiate's bulkier players picked up possession just outside the Convocation eighteen-yard box, ran on into it, and several blue-and-white shirts combined to upend him. Young Mr Moore – only a balaclava short of doubling for the Milk Tray Man – had no hesitation in pointing to the spot and, despite the wind, the taker found the top right-hand corner of the goal (as he would have looked at it) to give his side the lead; it was an almost unsavable penalty, although as Crockett pointed out McNally would have had a sliver of a chance of doing so had he raised his bloody arms.
Heads didn't drop within the home ranks but there must have been an appreciation of the possibility that the curse of Collegiate was about to strike again; there was enough time to prevent that from happening but no one was in any doubt that Convo mustn't concede another. Mopping up amongst the back line Shore launched a huge clearance up the pitch from near the corner of his own penalty area and got a lot closer to the visitors' goal than they would have liked (although it would have taken a monumental blunder from the #1 for the ball to have found the back of the net), while Lewis tried his luck from about ten yards outside their box but his effort drifted wide.
It was clear that Collegiate had decided to protect what they had and the home side began laying siege to their goal, but it wasn't until there was about ninety seconds remaining that the visitors betrayed their frustration at Convocation refusing to roll over and accept defeat. Not far from his own penalty area one of their ilk put the ball out for a throw-in when he had ample time to find a colleague, and from it Lewis gained control and put a lovely cross into the opposition box that Shore met with a powered header at the back post, and though the 'keeper got his hand to the effort he couldn't keep it out of his net.
It was a goal to warm the cockles and thaw even the most frozen of faces – some on the sideline were slurring liked they'd had strokes – and Convocation resumed their attacks straight from the restart, refusing to settle for the draw. Collegiate had had to change their 'keeper again in the aftermath of the concession (another injury), but this third one wasn't tested in the little time that was left, and ultimately the game finished with honours even.
It was a first draw of the season for Convocation, ending the all-or-nothing dichotomy of their campaign to date, and while it may not have been victory at least, for a change, it wasn't defeat at the hands (feet?) of the old enemy. In general it was a very scrappy affair, quite understandable considering the conditions – conditions that made certain correspondents' fingers so cold they were barely capable of making notes – but that probably played into Convo's hands: they were the better of the two teams and had they, with a little bit of luck, managed to find a goal from one of their other chances, nobody could have claimed they didn't deserve the win.
The weather was in almost complete contrast to when the two sides met in the cup final at the end of May, and it does make you wonder what might have happened back then if there'd been a little bit more murk and not so much of a heatwave.
Man Of The Match: Everybody did well in such testing conditions, but Lewis seemed to be involved in most of what Convocation did best on Saturday, so he gets the award.
Convocation (4-5-1): McNally; Byatt, Welsh J, Prendergast, Galy; Parsons, Shore, Welsh A, Irakiza, Kent; Lewis; Sub (not used): Murray
---
Saturday, December 1st 2018
Convocation 3, Kingsford 6
Convocation (4-5-1): Borde; Byatt, Welsh A, Irakiza, Farrell; Parsons, Nabil, Shore, Prendergast, Kent; Lewis; Sub: Williams
---
Saturday, November 24th 2018
Jaguar Rovers 1, Convocation 2
(match abandoned after 60 minutes)
Convocation (4-5-1): Welsh J; Galy, Irakiza, Railton, Byatt; Parsons, Nabil, Prendergast, Long M,Lewis; McNally; Sub: Fenton
---
Saturday, November 17th 2018
Convocation 0, Old Instonians 1
Convocation (4-5-1): Scalabrin; Galy, Irakiza, Welsh J, Byatt; Parsons, Nabil, Long M, Shore, Kaye; Lewis; Subs: Kent, McNally, Welsh A
---
Saturday, November 10th 2018
Rhein 0, Convocation 2
An excellent weekend for Convo!
All three sides were in action, and what a weekend of results it turned out to be.
The Firsts were back in league action after last weeks Senior Shield outing, which ended with Convo thrashing Waterloo 5-0. Hopes were high heading into this weeks fixture, an away game at the newly refurbished Heron Eccles to face Rhein, a team who had thumped the Uni's finest 5-2 when the sides met in mid-September. That result however appears to have been a turning point in the season, with Convo winning 3 of their next 4 league games heading into this fixture, along with a loss and a win in two cup competitions. Before we'd even got to the changing rooms however, farce ensued. With his being a new facility, modern technology has been implemented so that the public has to register to 'scan' into the site. Ever prepared, the club ensured that all players signed in the week prior to ensure no hiccups would be encountered. Enter, Jerome Galy, who not only hadn't registered, but decided to leave his phone at home. Greeted by a mischievous employee on the front desk, the Frenchmans face dropped as he was told he wouldn't be allowed to play as he had not registered, his mood improving when the good natured employee informed him that he was joking … Sacre bleu!
The return of a recognised goalkeeper also served to enthuse the ranks, despite the skippers clean sheet in the Waterloo rout. The team to line up against Rhein was then, as follows: Hendry making his return between the sticks after last weeks trip to Edinburgh for a charity game with former First team skipper and Vet regular, Houston. The back line consisted of Andy Welsh and Divin, their selection made easy by the dominance of their CB partnership last week. Either side of them, the effervescent Byatt took up his role on the left flank, with Farrell starting at right back. A midfield 3 of Kent, Shore and Lewis would have wing support in the shape of Parsons (more on him later) and Galy, with the skipper taking his place at the other end of the field, looking to give his best Niall Quinn impression. Kaye and Prendergast would make up the bench. Joining them in an actual dugout (hey, these new facilities ARE great!) would be the currently injured vice-captain Welsh, the perennially injured former vice-captain Crockett, and the sister of one Mr Parsons.
Prior to the match, it was revealed that one of the kits hadn't turned up. With Rhein playing in their blue strip, Convo were forced into playing in a myriad of colours, silver tops of the old home strip partnered with the red shorts of our third strip, and an array of colours in the sock department. Best looking club strip is not a prize we look like troubling any time soon. The game started at a good pace from the away side, the full backs and wingers combining well to send some inviting crosses into the box early on in the game. But the real chances appeared to be coming from the combination of Shore sending inviting balls over the top for Parsons to run onto beyond the home left back. Time and time again he was found, and as it was, was the origin of the first goal. The ball found itself again with Shore, who had a fine game, and he looked up to send a ball into our right hand channel for what felt like the 10th time in only 20 minutes or so. The bamboozled left back evidently hadn't wised up to this move as Parsons strolled onto the pass before finishing well past the onrushing home keeper.
Convo kept the pressure up, McNally hitting the crossbar with the most audacious of volleys from all of 35 yards as Convo grew in confidence. Yet for all of the incisiveness of their play, it would be another familiar rout to goal that would provide daylight. Shore, who was dominant in the middle of the park, once again looked up to find Parsons scurrying down the right wing, the home left back left trailing in his wake and surely wondering what he'd done to be targeted so much by a rampant Convo. Parsons took the ball in his stride and as he approached the keeper, took the decision to round the keeper. Such a call was met with derision by the on looking bench, especially as the angle tightened. But then, the West Derby man hammered the ball into the net for a 2 nil lead. Convo kept control of the game until half time was reached.
For the second week in a row, the half time team talk was a jubilant affair, but with the warning coming from Welsh, who had marshalled the back line impeccably, not to go 'full Convo' and drop off after the break. And in fairness, the side in silver and red didn't. Though Rhein came back into the game, as would be expected after such a wretched first half, Convo kept calm and continued to play their football. Well, I say kept calm. Parsons would blemish his copybook with some ill thought of words towards the official. This reporter won't mention the words, but needless to say it merited the goal scorer's sister to remark "I'll tell mum hat he said, she won't be happy!" Ahh, the perils of the on looking relative. On the pitch, Farrell and McNally were withdrawn for Kaye and Prendergast respectively, as Convo continued to press forward. Byatt had the ball in the net but for it to be chalked off for offside (I think). In truth, the visitors could have scored a few more in the final half an hour. Sub Kaye had a couple of chances to bag, as did Lewis. The sides usually dependable goalscorer had a fine game in the middle of the park, but was profligate in front of goal, spurning three chances that on another day would have rippled the crisp, new nets of Heron Eccles 3G. Hendry had a couple of saves to make late on, but nothing too stretching for our resident Forest fan.
As it was, the game ended 2-0, and Convo move up to 6th in the league.
MOTM: Really hard to decide this week, Parsons' 2 goals were excellently taken, and he had a really good game on his comeback. Lewis was superb as were the two CBs, especially as the game wore on. But this week, we'll go for Shore. Not just for the two assists, but for the absolute dominance of his play!
Elsewhere …
This reporter wasn't able to get down to see the Vets, but what agme it was. 3 nil down to Woolton Vets before Schofield bagged two, and goal apiece for the Poole brothers, ensured that the Vets walked away with a creditable 4-4 draw. A massive leap forward following the 7-2 drubbing the same opponents handed out to our elder statesmen earlier in the season.
And finally …
The campus team were back in league action after their midseason break to host our friends from Cologne last week. Lining up against Life Sciences, this was a battle between the only two games without a point in the league. Though Convo had only played two games so far, and had been unlucky not to win, let alone draw, in their last defeat, they nevertheless headed into this game looking to kickstart their season.
It got off to a good start, 1 nil from a corner early on, before the symptom of the club enveloped them. Life Sciences took control of the game and went 2-1 up, only for Convo to draw level on the stroke of half time. Lucky to be level at half time, some 'wise' words of encouragement were offered to the lads. Despite going 3-2 down on the hour mark, the second half was a vastly improved performance, with a 5 minute hat trick from our solitary striker giving Convo a 5-3 lead and knocking the stuffing out of the opponents. 3 points, and up the league we go!
3 games. 2 wins and a draw. Not a bad weekend. Not a bad weekend at all!
#uptheConvo
---
Saturday, November 3rd 2018
Convocation 5, Waterloo G.S.O.B. 0
Well what a weekend it was!
We welcomed our German friends back to Wyncote for the 10th year for our annual match up, and what a game it was. With Cologne bringing 7 players along with them, and shored up with a plethora of Convocation 'greats' who have pulled on the shirt over the years, they were up against the youthful exuberance of the Campus team, owing to the Firsts and Vets having games that needed fulfilling.
Coming up against young legs was always going to be a tall order, and so it was that the younger statesmen of Convo ran out 8-2 victors in what was a typically fun and lively encounter, refereed in good spirits by the irrepressible John Topping. Cologne scored and missed a penalty each, but netting the rebound for their second goal, and had chances to add to their two strikes but for some fine goalkeeping from Borde in the home net. As for Convo, 3 veterans of the campus team (can veteran be used to describe 21 year olds nowadays?) helped themselves to goals. Napper bagged himself one, Vice Captain Chivers got himself 2 and returning graduate O'Sullivan netted 4 on his sojourn from his new home in Edinburgh. He tried to claim a fifth, but we're definitely having that as an own goal.
Then, 2pm rolled around, and the chance for the First team to continue their recent fine form that had seen them climb the Liverpool Old Boys Division 3 to the heady heights of midtable! 3 wins in their last 4 league games had them flying high(ish) and hopes were high, despite being drawn against a Waterloo side that are plying their trade in the division above.
The team lined up as follows: McNally donning the gloves for his annual game in between the sticks, protected by a back 4 of Byatt, A Welsh, Divinand Jé Rhum. The midfield 5 of Nabil, Lewis, Shore, Long and Kent looked to give lone striker Kaye all the support he would need. Farrell, fresh from playing in the Cologne game, would single-handedly make up a rather lonely bench, with Vice Captain J Welsh making himself heard as a linesman. He would also deliver the request of Divin to take some 'action shots' of the stand in CB on his phone. There duly followed hundreds of images of Divin pointing and standing hands on hips. Not the all-action performance that our resident student had wanted to capture surely!
And all in all, what a performance it was from those in blue and white. Convo started well against 10 men (it took Waterloo until the 8th minute to finally gain numerical parity when a couple of their lads arrived at the astro). But a few minutes later, this would prove to be no hurdle, as Lewis lashed home a simply superb volley that two keepers wouldn't have stopped. A truly tremendous goal that even a couple of the opposition applauded. Convo grew further into the game, the away keeper forced into a couple of fine saves as the half drew on. Just past the half hour mark, the lead doubled when Shore scored a looping header under pressure from the opposition defence, totally bamboozling the keeper and giving the home side some breathing space. A third was added just before the interval, Lewis, who was doing well to stride around the pitch as he did in the face of several hacks from the away midfield, forcing another fine save from the keeper. However, Kaye was Johnny on the Spot again, reacting quickest and converting the rebound for a 3 nil half time lead.
Credit to Waterloo, who came out of the blocks in the second half and created a few chances, before one of their lads was sent off for persistent dissent (or so this observer is led to believe). They'd also hit the post in the first half form a free kick, an overly confident McNally playing musical statues as the ball hit the post, the skipper apparently thinking the ball was flying well wide. A rare heart in the mouth moment in the game! But, after regaining a numerical advantage, Convo proceeded to turn the screw. With Farrell introduced for a strangely subdued Long, who himself admitted he was struggling to get into the game, the 4th goal would swiftly follow. After another foul was conceded 30 yards out from goal, Kent stepped up to bend in another superb free kick to make it 4, high into the keepers top right.
Nabil would later make it 5, stooping to meet a cross (from Kaye maybe? Answers on a postcard) to complete the rout. Home bystanders were even treated to Farrell staking his claim to be a dead ball specialist, knocking in some great corners and free kicks. Silly season had truly started!
The final whistle went with Convo able to savour a truly excellent performance. 5 goals, 5 different scorers, and a clean sheet for the skipper in goal. Why cant every week be like this?
MOTM: A tough one this week (no, really!). Lewis gave an exceptional performance and capped it with a strike of real quality, and Shore was superb too. In fairness, everyone gave a good account of themselves. But this week, we'll give it to Van Wilder himself, Divin. Not often does he have to play CB, but with only 12 player available he stepped in and was excellent at the back, marshalling the team well together with A Welsh.
---
Saturday, October 27th 2018
Alumni 1, Convocation 2
(Played at Wyncote – Jericho Lane still closed.)
Convocation (4-5-1): Hendry; Byatt, Prendergast, Railton, Farrell; Lewis, Welsh A, Long M, Roberts, Kaye; Williams; Subs: McNally, Nabil, Scalabrin
---
Saturday, October 20th 2018
Convocation 0, Alumni 1
Convo hit the frame of the Alumni goal numerous times in the first half before conceding just before the interval.
Chris McNally appeared to have equalised in the final couple of minutes only for the referee to disallow his 'goal' claiming that the ball had gone out of play just before it was crossed into the box. The referee was nearly forty yards away from the alleged incident.
Convocation (4-5-1): Scalabrin; Byatt, Prendergast, Welsh J, Galy; Nabil, Roberts, Shore, Lewis, Kent; Kaye; Subs: Welsh A, McNally
---
Saturday, October 13th 2018
Farnworth Griffin 3, Convocation 1
2-0 @ HT. Scorer Matty Shore
A typical convo performance, goals conceded from possession and errors, a late rally but not enough people were at the races - or perhaps a few too many had their minds on the go kart racing afterwards
Convocation (4-5-1): McNally; Parsons, Welsh J, Prendergast, Byatt; Lewis, Long M, Shore, Williams, Kent; Kaye; Subs: Salgado, Irakiza, Welsh A
---
Saturday, October 6th 2018
Convocation 7, Business School 2
Bobby Mimms reports (be warned: it's a long one)
Now here's an accusation that can't have been levelled at Convocation too often over the years, but during this rout they really were, quite noticeably, much fitter than the other team. That may be something of a back-handed compliment seeing as how that other team, Business School, were awful and looked in very poor condition, but credit where credit's due, especially as it helped them to victory. Convo's tails were already up after last week's 5-0 thumping of Wavertree, and on Saturday they carried on where they'd left off, absolutely overwhelming their guests throughout the ninety-plus minutes and leaving them feeling as pummelled as a Supreme Court judge nominee by the end. The visitors had somehow beaten Collegiate in their previous game, but in this one they had no answer to their hosts' frenetic attacks and intelligent moves, and were lucky only to concede seven.
The game was played on the less conventional side of Mather Avenue, behind the army barracks, and with the soldiers on some sort of light manoeuvres but occasionally stopping to watch the football their presence almost made you feel like you were at the FA cup final… Almost. It was a bright autumnal afternoon, with the leaves on the trees by All Hallows Church all manner of hues between yellow and scarlet; the sun shone perpendicularly across the pitch for most of the time, warming the throng on the Convo bench (although it would go a little chilly during occasional bouts of cloud cover), which as well as four substitutes included the spectating Craig Kaye, Mike Nawrocki, Simon Crockett and Divin De Buffalo (and of course your correspondent). As Convocation kicked off facing into a light breeze spirits amongst their camp were high – four goals without reply in forty minutes would only send them higher.
Business School's two goals were scored during their best spell of the game, which spanned half time, although 'spell' is probably too strong a word as it was about fifteen seconds across half time. In fairness, they were tactically hamstrung from the off due to being, well, crap, especially at the rear, but you couldn't even advocate that their best form of defence was attack as they didn't really have one of those either: when they finally got one back, with the penultimate kick of the opening period, it was their first effort of any description. They won a free kick about ten yards inside their hosts' half and out on the right wing, and curled it into the area where one of their men rose highest on the penalty spot and glanced a header into the net via the back post. Convo restarted and the referee – Mr A. Owen – blew for the break before anyone else touched the ball.
Having completely dominated the game up until that point there was a sense of 'what the hell just happened there?' within the Convocation ranks during the interval, but even so it was still a little surprising to hear a number of players agreeing that "the next goal's vital" – surely they'd earned the right to have a tad more belief in themselves than that. It turned out though, that there was a basis for their wariness, as once Business School got things going again they knocked a few passes about until someone played a well weighted one from out on the left that split the Convo centre backs, Liam Byatt and Jon Welsh, and another man in red-and-black stripes ran through, fired off a shot that goalkeeper Alex Hendry could only parry at very close range, and then rolled the resulting loose ball into the unguarded net.
There can only have been fifteen seconds playing time between the two Business School goals. They manufactured another chance to score several minutes after that when a free kick from inside their own half was punted long into the Convocation penalty area and the ball skimmed off the top of Welsh's head forcing Hendry to make a fairly comfortable claim inside his six-yard box – had it evaded the #1 and found the net it would have rounded off the most anomalous three goal, three minute spell in the history of football. As it was the visitors didn't go close to threatening their hosts again until the dying embers of the game, when it had been long since decided.
They'd never looked like going close before they scored either. Decked out once again in blue-and-white hoops Convocation had completely dominated proceedings right up until they were hit by that (sort of) sucker punch just before half time, although the early stages of the game were blighted by the most atrocious baby elephant touches all over the pitch, with players on both sides giving off the impression that they couldn't have trapped a bag of cement.
This footballing equivalent of pass the parcel continued until about the eighth minute, whereupon Andy Parsons made some shapes along the right flank before slipping the ball inside to Matt Long as he ran into the Business School penalty area, and as the opposition #1 advanced the Convo man placed a shot past him and into the net. Obviously you can never know how games are going to pan out so early on but, with the benefit of hindsight, there were already signs in the build-up to that goal that the visitors were there for the taking.
Both the scorer and his assistor were part of a five-man midfield that also saw Simon Williams out on the left and Mike Kent and Matt Shore in the middle, and when the latter of those was fouled out on the left flank not long after the ten-minute mark he got up, dusted himself down and took the free kick himself: it was drilled towards the far side of the Business School goalmouth where lone forward Chris McNally fell into a trademark slumping header – Timber! – and even though his effort appeared to be straight at the visitors' 'keeper it somehow found a way past him and into the net.
Business School had no reply to Convo's unremitting pressure (although they showed no sign of resorting to damage limitation – mind you, it's possible that they were incapable of even that) and things almost got worse for them on the quarter-hour mark when Williams played a lovely defence-splitting pass for Kent to run onto, but with only the 'keeper to beat the ball rolled over the midfielder's foot and out for a goal kick. The visitors inability to put in a decent challenge on their hosts was then epitomised when Jamie Long picked up possession at right back (Jerome Galy was on the other side of the rearguard) and ran on and on up the field without molestation, almost to the edge of their penalty area, although by the time he got there he was clearly shagged out and his subsequent effort was tame and wide of the target. His brother saved the family honour moments later though, when he received a throw-in from Parsons just outside the opposition eighteen-yard box, played a one-two with the same player and then ran on and drilled a shot across the #1 and into the back of the net.
With only a quarter of the game gone it was already three-nil, but for a nice change it wasn't Convocation for whom the game threatened to turn ugly. Frustrations were growing in the Business School camp and possibly as a reaction to just how poorly they were competing in midfield their challenges started getting a little bit late and niggly, especially on Kent who endured a bit of a bruising stint midway through the half. Nonetheless the pressure on the visitors showed no sign of abating and at one point, having been set up by Parsons, Shore tried his luck from a little over twenty-five yards out but curled his effort straight at the opposition #1.
Not long after that the two Longs nearly combined to score when Jamie hurled a throw-in towards his brother on the corner of the Business School six-yard box, but Matt's hat trick application was rejected when his flicked header was clawed away from under the crossbar by the #1, a little over-dramatically. From there the ball was only half cleared to the flank where Kent retrieved it and ran back diagonally into the area, but his subsequent shot was a shoddy waste of everyone's time and appeared to be going well wide until Parsons managed to keep it in on the goal line, from where he played a pass back for McNally, who then scuffed an effort just beyond the foot of the far post.
With half time on the horizon the visitors actually got the ball into the Convocation penalty area, a lovely slipped pass momentarily giving them hope of some reward until Hendry slid out and claimed it fairly comfortably at an opponent's feet. But then the home side went and netted a fourth after Shore had paid tribute to the 1980s by going route one from just outside his own penalty area, with McNally chasing the hoof towards one of the Business School corner flags; down the side of the box the Mancunian turned inside towards a defender and stumbled slightly (it looked like a shimmy), but then from a tight angle he put in a high cross-cum-shot that the opposition #1 parried – no Karius he – unfortunately, straight into the path of Long (M), who did get his hat trick this time when he stabbed home at the back post.
The Business School 'keeper would have cheered himself up slightly almost immediately from the restart when, receiving a back pass, he sent the Convo captain off to buy the Echo with an impetuous Cruyff turn inside his penalty area, but otherwise things looked bleak for him and his colleagues. For the home side, well, at 4-0 up and with half time approaching, everything seemed to be going perfectly to plan…
Of course, as previously mentioned Convo then had a little wobble, but in the greater scheme of things those two goals (and even the whiff of a third) were small beer compared with what blighted them next. The second half was barely three or four minutes old when they attacked down their right and Long (J) took up possession not far from the Business School penalty area, but then with no one within a yard-or-so of him he collapsed to the ground in quite obvious distress. The watching Crockett was called for and suggested that he'd turned his knee and damaged ligaments, so the magic sponge wasn't going to sort out this one; John Farrell replaced his fallen comrade at right back.
There was more fun and games in that region of the pitch several minutes later when Parsons attempted to Georgie Best his way round the back of the Business School left back and would have succeeded if he hadn't been rugby tackled to the ground near the corner flag as he slipped past; for his lack of subtlety the miscreant had his collar felt by the referee and to no one's surprise was shown a flash of yellow. At about the same time the Convo winger found himself in a great position to see just how close Williams was to scoring when the latter bent a shot just past the far post from on the byline – the far post that the unmarked Parsons was running in at.
Still Convocation kept creating chances while their guests showed little capacity for fighting back. Long (M) picked up possession in the middle of the Business School half and went barging into the area with the ball, opposition defenders flying everywhere until he tried his luck from about fifteen yards, forcing the #1 into making a decent save to his right. Shortly after that Byatt hit the crossbar when he attacked a free kick taken from out on the flank, although by the time the metal clanked the young official had already blown for a foul on the 'keeper by the Convo man (which he later admitted was a fair cop).
But then, just before the hour mark, Convocation ended their (relative) barren spell by scoring a fifth. It was a great one-end-to-the-other goal, started with a clearance from the edge of their own penalty area to Parsons in the centre circle, whereupon he played a lovely pass through the high Business School back line for Williams who was streaking down the inside-left channel as though the hounds of hell were after him. He was clear through without a defender in sight, and yet (sort of) keeping up with him to his right was McNally, who amazingly stayed behind the ball, and thus onside (although its likely he just didn't have the pace to catch up), so when the youngster squared to his captain as the #1 advanced to narrow the angle all that was required to make it 5-2 was the easiest of tap ins. The immediate fallout from that was a number of the Business School players revealing that they could do with going back to school to learn the laws of the game, as they held up the restart for over a minute arguing adamantly that the notch should be ruled out for offside.
Convo made a pair of substitutions just after that, with Sam Prendergast going on in a straight swap for Byatt, and Anthony Lewis replacing hat-trick hero Long, but despite coming across like a man who had just finished a marathon there was no way that McNally was hooking himself, not while he was after a third of his own. But, in minor acts of violence news, the Captain then received an opponent's elbow to the face just outside the Business School penalty area and his nose blew up; despite staying down and giving himself several minutes to recover – during which time Crockett was summoned from the sideline again, once more leaving his kid unattended in its pram – he eventually had to accept defeat and staggered groggily off, with Mohammed Nabil taking his place. The offender didn't appear to receive a booking for his assault but the visitors were penalised nonetheless, as from the resultant free kick Shore drilled a low shot through the opposition wall and into the bottom corner of the net (via a slight deflection). It was no more than the lad deserved because he was having a fantastic game in the middle of the park.
Proceedings were held up for another couple of minutes after that as the Business School 'keeper had managed to hurt himself during his futile attempt to stop the shot (it was suggested that he may have dived into the post) and he couldn't continue. You couldn't blame him for jacking it in though, as there was still just under half-an-hour to go, even before taking into account what was going to be a sizable amount of injury time, so a hiding looked on the cards. But while Convo certainly didn't declare at six or take their collective foot off the pedal most of the chances they created from then on failed to be despatched.
The irritable Business School #9 was cautioned by the referee for some back chat regarding the award of another free kick to Convocation, but even he was surely pacified and left open-mouthed in astonishment a moment-or-two later by the surreality of Farrell playing a sumptuous defence-splitting pass from his own half for Nabil to run onto, although in one of his very few mistakes during the game the official deemed the forward to have gone too soon and blew up for offside, thus slightly spoiling the magnificence of the overall spectacle. After that, with a throw-in, the Convo Chairman set up Lewis to flick an effort on goal, but when the ball was then half cleared Shore volleyed inches wide of the target from the edge of the 'D'.
Understandably, considering that their defending had been about as convincing as Theresa May's dancing, some of the visitors were behaving quite erratically, and when one of them was put under pressure by both Williams and Parsons with about ten minutes to go, for some reason he simply hoofed the ball just wide of his own goal from about thirty yards out. From the resulting corner Prendergast glanced a header across the face of the target, while Shore was at the back post and blasted a shot back again, his effort zipping just over the angle of upright and crossbar.
Lewis tried his luck from a little outside the penalty area not long after that, although the less said about his effort the better, but then the home side took advantage of some more horrendous defending from their guests and finally made it 7-2 when Hendry launched a long ball up the pitch, a defender missed a clearing header inside the centre circle – their back line was still camped out near the halfway line – and Williams slipped past, ran on and slotted past the new 'keeper (who looked about twelve) from just inside the eighteen-yard box.
In the five minutes of normal time remaining Convo had four more attempts to further their lead, while possibly bored out of his skull and fancying a piece of the action Welsh came over a tad Franz Beckenbauer and went streaking up the middle of the pitch with the ball, nearly making it all the way through before he was tackled within scoring distance. A Parsons cross into the box from near one of the corner flags twanged off the crossbar and then dropped for Nabil running in at the back, but his stabbed effort towards the foot of (what to him was) the near post was blocked by the 'keeper and, after a scramble, eventually cleared.
After that Kent had a couple of chances: the first was an effort from the edge of the area that just cleared the bar, while the second originated from a Convocation free kick in their own half that was played towards one of the corner flags, where Parsons kept the ball in on the byline and pulled a pass back for his diminutive colleague to hit a first-time rasper that curled just wide of the furthest upright. In the dying seconds of regulation time, with the referee announcing that there would be eight more minutes due to all of the injuries, Parsons was at it again, picking up possession in the centre circle and dabbing a delicate chip over the (high) Business School defensive line for Lewis to run onto, but having travelled all the way to the perimeter of the eighteen-yard box he dinked a shot over the advancing 'keeper towards the back post, and unfortunately just wide of it.
There was a temporary let-up in Convocation pressure during added time when the visitors won a free kick that Hendry was forced to tip over his crossbar, but otherwise both Lewis and Williams were sent clear through on goal again – the former following another lovely pass from Farrell, the latter with a delightful dink-to-himself past the last defender – although on each occasions the Business School 'keeper was quickly off his line to smother the ball at Convo feet. The final word though, went to one of the red-and-black striped forwards (who during the game had been more isolated than the indigenous Australians before Captain Cook turned up) who could contain himself no longer, and at the end of a long afternoon of frustration had to vent his despair at the baffling decisions of his team mates.
It can't be confirmed whether their captain had cabbages thrown at him at full time – Crackerjack! – but his opposite number ended the game with make-up remover pads wedged up his nostrils as an aid to clotting. Despite his suffering McNally seemed in a decent enough mood, and it was little wonder considering how his charges had played; it would have been no surprise if Convo had hit double figures on Saturday, or even double their seven, and it's difficult to emphasise just how poor Business School were. Take nothing away from Convocation though – as the old saying goes you can only beat what's put in front of you – because they were well worth their victory and their season looks like it's starting to click.
And years from now the people who were there will still be talking about the day an opponent made Convo look like the Brownlees.
Man Of The Match: [Redaction: Those who don't contribute a jot to the website yet find fault with the work of those that do don't get to be MOTM.]
Convocation (4-5-1): Hendry; Galy, Byatt, Welsh J, Long J; Williams, Shore, Long M, Kent, Parsons; McNally; Subs: Farrell, Prendergast, Lewis, Nabil
---
Saturday, September 29th 2018
Wavertree W.D.O.B. 0, Convocation 5
Convocation (4-5-1): Scalabrin; Galy, Welsh J, Byatt, Long J; Lewis, Williams, Ahmed, Shore, Kent; Abussnena; Subs: McNally, Smythe
---
Convocation 2-5 Rhein
Well, we may have been away for a few months, but Convo truly have returned! Though not particularly impressively …
Following two 4-1 reverses to start the season, losing to Wood Street and Collegiate respectively, we then were able to overcome Old Istonians 6-4. Hurrah I hear you yell, they're off the mark for the season! Well, no, the no-show of the referee leading to the game being reduced an exhibition. Which brings us onto this weekend …
We lined up against Rhein for the first time in two years, having spent last season in separate divisions. The last two encounters we did have with the opposition ended in a 10-2 away win for Convo, followed two weeks later by a 2-0 home capitulation. The most Convo of things. Since then, we had been informed that Rhein had strengthened well, and that was certainly in evidence this weekend. Helping themselves to 4 goals in the first half, they attacked well and certainly seemed to be a more formidable side than previous years. Yet, as well as the away side played, Convo were poor. To paraphrase an old saying, you can't win a game in the first half hour, but you can certainly lose it!
After going a goal down early in the game, Byatt rose like a salmon at the back post to nod in an equaliser for the home side. But then this happened:
22 mins: 1-2
24 mins: 1-3
28 mins: 1-4
Conceding 3 goals in little over 5 minutes was particularly galling, the manner of them even worse, as we contributed to our downfall each time. Taha pulled one back on the stroke of half time to make the score 2-4 and give us a fighting chance, and the last 15 mins saw us play with more aggression, but all in all it was always going to be a stern HT team talk.
Team talk delivered by Welsh, Convo entered the fray, and battled well. Taha and Parsons had a couple of chances apiece, the away keeper making a couple of fine saves, before Rhein hit us on the counter after possession was cheaply lost. 5-2, and the game all but gone. We battled hard, and there was no lack of desire, but the error strewn first half always meant that we were playing catch up. Still though, it's early in the season, and we've got more than enough quality in the squad to start climbing the table sooner rather than later!
Anyway, onwards and upwards. Wavertree West Derby Old Boys up next on Saturday. Lets get this season started! Captain McNally should be back to lead his troops for this one!
MOTM: Nawrocki, who had the good grace to enter the fray for two minutes, become aghast with the performance he'd walked into, and get himself injured so he no longer had to partake in it all!
Convocation (4-4-2): Scalabrin; Long J, Roberts, Welsh J, Byatt; Parsons, Long M, Shore, Ahmed; Lewis, Abussnena; Subs: Kaye, Nawrocki, Tricate
---
Saturday, September 15th 2018
Convocation 6, Old Instonians 4
[We] played a friendly on place of official league fixture because of a lack of a referee. In true convo style we therefore won 6-4.
Convocation (4-5-1): Scalabrin; Long J, Byatt, Roberts, Welsh J; Parsons, Shore, Long M, Ahmed, Lewis; Abussnena; Subs: McNally, Williams, Irakiza, Tricate
---
Saturday, September 8th 2018
Collegiate O.B. 4, Convocation 1
Convocation (from): Scalabrin, Galy, Byatt, Railton, Farrell, Round, Shore, Salgado, Nawrocki, Lewis, Kent; Subs: McNally, Long M
---
Wednesday, September 5th 2018
Alumni 3, Convocation 0
Convocation (from): Hendry, Round, Roberts, Byatt, Railton, Long M, Kent, Lewis, Galy, Kaye, Williams, McNally, Irakiza, Long J
---
Saturday, September 1st 2018
Convocation 1, Woodstreet Academy 4
With Convo already trailing two-nil Craig Kaye scored by poking the ball through the opposition #1's legs when he refused to pick the ball up in his own area. Woodstreet complaints of foul play inevitably ensued, but the referee waved them all away on the basis that it was the 'keeper's own fault if his cat-and-mouse ploy had backfired.
Convocation (4-5-1): Scalabrin; Long J, Byatt, Prendergast, Galy; Ross, Salgado, Long M, Lewis, Kent; Kaye; Subs: McNally, Williams, Shaw
---
Tuesday, August 28th 2018
Liobians 3, Convocation 3
1-0 to Liobians at half time.
Convocation (from): Hendry, Welsh J, Prendergast, Byatt, Long J, Parsons, Long M, Irakiza, Ahmed, Kaye, Williams; Subs: McNally, Ross
---
Saturday, August 25th 2018
Convocation 4, Woodstreet Academy 3
Started with only ten men. Played on 4G pitch. 3-2 to the visitors at the interval.
Convocation (from): Welsh J, Ross, Prendergast, Welsh A, Long J, Kent, Long M, Salgado, Ahmed, Kaye; Subs: Sawyer, Byatt
---
Tuesday, August 21st 2018
Mossley Hill 0, Convocation 5
Bobby Mimms reports
The Amazon may be disappearing at an alarming rate, and the jungle destruction of South-east Asia isn't far behind, but rest assured that deforestation hasn't yet reached Mersey Road, or its so-called sward. Tuesday evening's opening fixtures in this year's South Liverpool Cup were played on pitches that would have caused disquiet to grazing cattle, with Convocation's game in particular blighted by ridiculously long grass and all manner of exotic fungi in and around the centre circle.
It's probably a little bit ungrateful to moan about such things though, considering that the boys from Wyncote eventually ran out comfortable winners, even if it is difficult to know exactly how much of that was down to them playing well, or their opponents – apparently a breakaway Cardinal Newman side that have reinvented themselves as Mossley Hill – being poor. As is so often the case it was probably somewhere in the middle, and yet by the end it was incontrovertible that the losers had also been desperately unlucky: they must have all received the black spot in the post on Tuesday morning as, almost from kick off, they proceeded to hit the woodwork like Ipswich in the '78 cup final.
Convocation Captain Chris McNally sent his charges out in an experimental 3-5-2 formation, explaining that he'd decided it was necessary to have a plan B for when plan A wasn't working – having been at the helm for five years now it's surely only a matter of time until he becomes enthusiastic about this new-fangled 'substitutions' malarkey. He began the game himself, up front alongside the rediscovered Breno Salgado, while the midfield five that must have considered taking machetes out with them once they saw the state of the pitch consisted of (from left to right) Andy 'Pub in the' Parsons, Adel Ahmed, Divin De Buffalo Irakiza, Mike Nawrocki, and Mike Kent, the latter being described before kick-off as "knee-high to nettles" and for whom the game must have seemed like being on the set of Honey I Shrunk the Kids. Behind them the rearguard trio comprised of new Vice-captain Jon Welsh (whose comment on hearing the tactics was "it's a bit random this"), Jay Railton and Graham Roberts, and donning the gloves for the first time this season was Alex Hendry.
The sun, shining diagonally across the pitch from out of a cloudless sky, was more-or-less in the Convo goalie's eye-line during the first half, but instances when it might have had an effect on his performance were few and far between. For the opening ten minutes there was little to suggest that either team had the upper hand, but then from seemingly nothing Ahmed received a throw-in from Parsons and ran on along the inside-left channel and into the opposition penalty area whereupon he fired off a low shot that snuck in at the foot of the near post past the #1, who could probably have made a better attempt at keeping it out.
For the majority of the first period the Mossley Hill players – decked out in all red, apart from white sleeves – took it in turns to give the referee a hard time, which surprisingly continued long after he'd booked a pair of them in quick succession, shortly after Convo had taken the lead, for what we shall call 'making observations': the first of those, a young scally called 'Jack', was lucky not to get his marching orders for refusing to supply the official with his surname, repeatedly insisting that it was 'The Lad' until his captain ordered him to stop acting the goat. Around about that time the game also went through a phase where balls kept getting lost in the thicket of brambles at the allotments end of the pitch, although that didn't prevent Convocation from doubling their lead when Irakiza spotted the opposition 'keeper off his line and lobbed him from about thirty yards out on the wing; the alternative viewpoint – and let's just say that it might be the correct one – was that the midfielder attempted to put a cross into the box but got the ball much closer to the goal than he'd intended and it dropped in at the back post, a total fluke.
It was not long after that that Mossley Hill's rotten luck with regards to the Convocation goal frame began: firstly one of their players attacked down the right and, despite the best efforts of Railton, put a low cross into the six-yard box that evaded everyone but struck the back post; five-or-so minutes later they won a free kick on the edge of their opponents' penalty area from which, again, they hit the foot of one of the uprights. Such near misses weren't the reserve of theirs though, and shortly before the break Ahmed crashed a shot against the (not so wooden) woodwork from a dead ball of his own, but Salgado'd had no such luckless excuse for not scoring just prior to that when he'd been sent clear of the red-shirted back line, rounded their 'keeper and then inexplicably fired wide of the resultant open goal. That, however, wasn't the most bizarre sight of that closing period of the half, as it did look for all the world as though McNally was managing to stay onside whenever he and his troops attacked – mind you, the sun had been shining into the eyes of everyone on the Convo bench since the start, so…
The second half began with a raft of Convocation substitutions as Jamie and Matt Long, Sam Prendergast and Andy Welsh all entered the fray in place of Railton, McNally, Nawrocki and Kent, but the changes had little impact on the overall flow of the game, in that the red shirts continued to go close – in the first few minutes after the restart they had yet another shot that failed to beat the frame of their opponents' goal – but it was their hooped adversaries who kept on finding the back of the net. Convo scored number three when one of their (unrecorded) ilk advanced into the Mossley Hill penalty area and almost rounded the #1, but in the end squared the ball to Parsons, and from about eighteen yards out he blasted past a couple of partially-covering defenders to notch his third from the last two matches.
There should have been another not long after that when Ahmed – who'd been getting megged at a startling rate throughout the game – was scythed down inside the opposition penalty area (well the tool obviously wasn't being used to keep the grass short) but Long (M) put his spot kick far too close to the #1, who saved to his right. With the smell of a late-summer barbeque drifting on the air there was a lovely tribute at one point to Convocation legends the Chuckle Brothers when one of the Mossley Hill players implored a colleague for a pass with the call "to me" and the nearby Convo bench responded in the only way possible, but then it did become four-nil when Welsh (A) was hacked down from behind (the new club secretary did not take at all kindly to the foul) and Ahmed's curling free kick hit the red-shirted defensive wall and looped up over the 'keeper and into the net – Mossley Hill's appalling bad luck was becoming painful to watch.
The sun finally dipped behind the nearby trees with about twenty minutes remaining and the local gnats showed up to chomp on the legs of anyone who wasn't moving fast enough (those on the bench, for example); at about the same time Welsh (A), having calmed down from his earlier loss of composure, performed a lovely evasive pirouette in the centre circle that the watching Kent suggested had a hint of Billy Elliot about it. And then it all got really surreal when McNally, within seconds of returning to the action, got on the end of a drilled cross into the Mossley Hill area to make it 5-0 with one of those slumping headers that he specialises in, but which so often don't prevail.
He should have made it six several minutes after that when a low cross from out on the Convo right reached him at the back post and on the edge of the six-yard box, but in front of what was a veritable open goal he skewed his shot wide of the target. In fairness to the Captain he may have been put off by Railton's comical air kick when he had attempted to score a split second earlier.
It was Mossley Hill who had the last two chances to net but on both occasions they only confirmed what everyone watching already knew, namely that they were bewitched: with about five minutes remaining one of their players had a shot from the edge of the Convocation penalty area that was deflected by an attempted block, looped up over Hendry and then… well, a shiny penny for anyone who can guess what happened next. After the ball had hit the back post and rebounded out again – as if you hadn't worked it out – the players in red seemed quite visibly shocked at just how wretched their luck was getting, but they still had one further chance to prove that they couldn't score in a knocking shop when Welsh (J) upended one of their men inside the Convo eighteen yard box and another send the subsequent spot kick miles over the crossbar and halfway to the Wirral.
That was the final kick of what was beginning to feel like a never ending affair – both halves seemed to go on as long as that feel good hit of the summer, the Convo AGM – and at the full-time whistle the side from Wyncote will have been pleased with how they'd played. Although it never felt as though they were in any danger of losing control of proceedings the game didn't have the feel of a 5-0 about it either, and it would have been nigh-on impossible for Mossley Hill's luck to have been worse; they are clearly a side still in transition – breakaway clubs are seldom a good idea and are frequently filled with shifty characters – so Convocation should take this result with a pinch of salt. However, coupled with Saturday's victory over the historically difficult F. C. Salle, it bodes well for the season to come, particularly if nobody mows a pitch across Liverpool from now until next May.
Man Of The Match: There was one outstanding defensive performance on Tuesday so it's only fair then that it gets the recognition it deserves – the frame of Convo's goal made four or five vital interventions to thwart their opponents, and it wouldn't be a surprise to see it get a call up to St George's Park for the upcoming internationals.
Convocation (3-5-2): Hendry; Welsh J, Railton, Roberts; Parsons, Ahmed, Irakiza, Nawrocki, Kent; McNally, Salgado; Subs: Long M, Long J, Prendergast, Welsh A
---
Saturday, August 18th 2018
Convocation 3, F.C. Salle 2
Convocation (4-5-1): McNally; Long J, Prendergast, Railton, Welsh J; Ahmed, Kent, Salgado, Nawrocki, Parsons; Williams; Subs: Long M, Unknown, 'Chris'
---
Wednesday, August 8th 2018
Marshalls Vets 6, Convocation 5
Convocation (4-5-1): Farrell; Byatt, Roberts, Railton, Unknown; Prendergast, Welsh J, Schofield R, Long M, Kent; Williams
---