Second XI Match Reports: 2018-19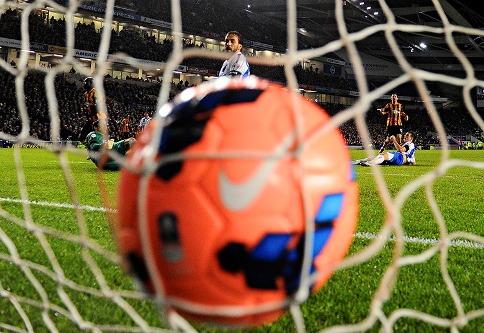 Saturday, January 19th 2019
Avenue F.C. 5, Convocation 0
Convocation (4-4-2): Morgan; Ross, Willis, Prince, Farrell; Carnacina, Poole I, Long M, Poole G; Kaye, Holder; Sub: McLaren
---
Saturday, January 12th 2019
Connahs Quay Nomads 7, Convocation 4
Convocation (4-4-2): Morgan; Willis, Southern, Prince, Ross; Poole G, Houston, Poole I, Holder; Round, Kaye; Subs: McLaren, Carnacina, Knox
---
Saturday, January 5th 2019
Convocation 1, Ramblers Vets 5
Richy Houston was sent off for foul and abusive language.
At the end of the match the Ramblers players (jokingly?) offered the referee a protective escort.
Convocation (from): Morgan, McLaren, Prince, Edwards, Shanahan, Willis, Fairclough, Carnacina, Poole I, Houston, Schofield R, Holder, Kaye
Referee: Mr P. Dickson (L8)
---
Saturday, December 29th 2018
Rockville 3, Convocation 2
Mild but windy.
The geriatric referee needed to borrow (captain for the day) Mike Edwards' watch, and used to play cricket with Terry Caslin.
Convocation (4-4-2): Morgan; Byatt, 'Callum', Kay, Kearney; Ross, Holder, Houston, Kaye; Schofield R, Round; Subs: Edwards, 'Matt'
---
Saturday, December 8th 2018
Convocation 2, Holborn Vets 5
[BP] Played pretty well in parts, but they were a bit sharper and definitely more clinical!
Convocation (4-4-2): Morgan; McLaren, Southern, Prince, Poole G; Holder, Poole I, Houston, Carnacina; Kaye, Schofield R; Subs: McNally, Farrell, Welsh J, Knox
---
Saturday, December 1st 2018
Essemmay O.B. 5, Convocation 7
Convocation (4-4-2): Morgan; Willis, Prince, Shanahan, Ross; Schofield R, Poole I, Houston, Carnacina; Round, Kaye; Subs: Fairclough, Holder, McLaren
---
Saturday, November 24th 2018
Sandbach United 4, Convocation 5
We were 3-0 down, then winning 4-3. They brought it back to 4-4 and we got the winner with 5 minutes to go. Played with the bare 11 as well!!
Convocation (4-4-2): Morgan; Willis, McLaren, Prince, Ross; Poole G, Schofield R, Poole I, Carnacina; Kaye, Round
---
Saturday, November 10th 2018
Woolton Vets 4, Convocation 4
Bobby Mimms reports
Convocation made their first visit to the newly rebuilt Simpson Ground on Saturday, to face Woolton Vets who'd returned home from their temporary residence at the Riversdale Police Club, and considering the millions spent on the place it was an impressive nod to irony that the fixture was beset by cheap problems. For a start everyone (including spectators and exasperated match reporters) needed to have registered for a code off the Internet to get in and many turned up unaware of this; on top of that the changing rooms were far too small for even Convo's (initial) paltry twelve. First prize in the fiasco stakes though, had to be the double booking of the 4G pitch on which the game was supposed to be played, so it had to be banished to one of the grass surfaces – which was humped and not far off the dictionary definition of a hillock – for a three o'clock kick-off, and it being November that meant it was pretty much dark by the end.
The dark was also what Convocation had been floundering in for the opening quarter of the game, when they really were a quite shocking mess – lovely. Decked out in orange and white – but with no poppies – they were three-nil down before they knew what was going on, the first concession being deflected into the net by Andy McLaren when a fairly tame Woolton shot appeared to have been destined straight for goalkeeper Jack Morgan.
Several minutes later, and still less than ten into the game, the home side's ex-pro, Michael Jeffrey, easily slipped through a Convocation back line that resembled mannequins in a shop window display and outsmarted Morgan at the resultant one-on-one to double the lead. And things got even worse for the visitors not long after that when Woolton attacked down their left flank and put a low cross into the box, and with centre backs Billy Lamb and McLaren presumably off exploring the new complex a light-blue shirt in the middle had no problem side-footing the ball into the net from the edge of the six-yard box.
Things looked like they could turn ugly for the away side at that point, but having possibly been ordered to start playing with a song in their hearts and a smile on their faces they slowly got their act together and got back in the game. Richy Houston fired off their first decent shot in anger at about the twenty-minute mark but the Woolton #1 was more than a match for the effort and pushed it wide at stretch, while at the other end of the pitch First Team vice-captain Jon Welsh shored up the rearguard when he replaced McLaren at the midpoint of the half and almost immediately nearly split his jibber when trying to intercept an opposition pass that was inches out of his reach. Moments after that Richy Schofield had his weekly shot-from-distance-when-a-better-pass-is-on, but for once he actually scored: 3-1.
As well as getting the visitors back into the game that goal had the added effect of reminding Woolton that they weren't going to have things all their own way, and possibly a little startled by the realisation they took their foot off the pedal and reassessed their situation for a while; the game slipped into a lull for several minutes. It reignited with a bang just after the half-hour mark when the hosts launched a huge throw-in into the Convocation penalty area and after a couple of pings around the ball should really have been put into the back of the net from a handful of yards out but Morgan pulled off a fantastic save at close range and pushed the thing onto his left-hand post, after which it was cleared. Almost immediately it was played out to and up the right flank, and then inside to Geoff Poole, and as he and a defender chased it towards the home side's goal they both kicked out at the same time and with a little help from that famous footballing Irishman, Rick O'Shea, the orb deflected up and over the 'keeper: 3-2!
The #1 wasn't the only one to be unintentionally lobbed during the course of the game as, as is customary when playing at the Simpson Ground, clearances were regularly put out over the railings and into the traffic passing on Hillfoot Avenue, while players on both sides were guilty of shots that took off high over their opponents' crossbars. Ian Poole's problem was quite the opposite as he couldn't help but keep hitting the deck, including at one point when, in possession with no one near him, he fell foul of one particular grassy knoll in the middle of the pitch and went tumbling to the ground – the village of Woolton's own Simon O'Brien later suggested that it looked like he'd decided on an impromptu spot of breakdancing.
Convocation's last chance of the first period was initiated when Mike Edwards played a great dummy (or rather, didn't) on the edge of his own penalty area that may not have been intentional but which allowed his side to break; eventually possession was given to Poole (G) who flummoxed a close-by defender with a Bergkamp turn before firing off a shot that the opposition #1 saved well, and although Convo right winger Steve Ross was quickest to react he blasted his follow-up effort far too high from about fifteen yards out. Down the other end of the pitch a spot off fannying around in the visitors' back line allowed the home side to follow suit, with one of their players volleying miles over from inside the 'D' – and as your correspondent writes this sentence the ball from that attempt has just landed on the keyboard. Half time followed moments later.
Convocation had begun the game with a back four of (from left to right) O'Brien – who's now had more comebacks than Sinatra – McLaren, Lamb, and Edwards, although the two full backs were substituted at the break, never to return, Matt Round and Craig Kaye going on in their stead. In midfield Iacopo Carnacina had started on the opposite flank to Rossy the Rat Catcher, with Houston and the b-boying Poole in between them, while up front Schofield and Poole (G) had tirelessly led the line. As the second period got underway Professional Yorkshireman Sam Prendergast was still on the bench, and like Welsh and Kaye he'd already played in the First Team's early kick off at Heron Eccles.
By the time the new half was ten minutes old Carnacina had begun to really get under the skin of some of the home players with a collection of 'agricultural' interventions that are just part and parcel of his style of play. He performed a quite blatant body check on a light-blue shirt right in front of the Convocation bench, one of whom applauded his "Italian cynicism", while another couple of fouls in quick succession provoked one of the Woolton men to exclaim a shrill and perfectly clear "get your fuckin' card out" to the referee, who, to go off on a tangent, looked like he was blessing everyone at mass every time he explained an offside decision using his hands.
Prendergast was sent on for the final quarter, goal hero Poole (G) being hooked to fit him in (Lamb made way for the incomer by moving across to left back, while Carnacina – who'd been there since half time – pushed forward again onto the wing), but it was the two interval substitutes who had Convo's biggest impacts over the ensuing ten minutes. Right winger Kaye forced the Woolton #1 into making two fine saves in moderately quick succession but then lost all of the kudos he'd won for his efforts when he forgot that this was a game of football and not Jackass! and booted an attempted clearance at a corner into his own face; Round also went close to equalising when he was sent through on the home side's goal but the 'keeper again thwarted the visitors by stopping the eventual low shot with an outstretched leg.
The game began flitting from end to end after that, understandably considering that, as time ebbed away, the next goal seemed more and more likely to be crucial. Lamb, looking windswept, went close after he'd gone on a lovely rococo dribble down the left flank, played a one-two (with someone who went unrecorded), and then curled an effort inches over the bar from about ten yards outside the corner of the Woolton penalty area. Not long after that the home side nearly got through when one of their players was sent streaking beyond the Convo back line with only one of the younger defenders for company, but his scuffed attempt from just inside the box was stopped by Morgan's outstretched arm despite the 'keeper already lying prone on the ground having anticipated the shot seconds earlier. And then ten minutes from the end Schofield slotted home to complete the visitors' comeback.
No sooner had they drawn level then the orange shirts were behind again. It was getting quite gloomy as the night drew in, and with O'Brien shouting from the sideline that "Mum said you had to be in before it went dark" the referee felt quite within his rights to award a penalty when one of the Woolton players with a suspicious lack of balance got himself into the Convo box and just fell over. It was an awful decision from the man in black – who was becoming harder and harder to see as time passed – but a spot kick none the less, and one that Morgan was unable to keep out.
In amongst the murkiness of the hour a crescent moon hung over the home side's goal and the low clouds were tinged red by the faraway setting sun, but it wasn't all doom and gloom as there was still one last plot twist. Convo won a corner whose delivery was nothing to write home about, but once it was easily cleared the loose ball was picked up by Houston out on the wing and, taking time out from pointing (which always makes you look important), he floated a long high punt back into the penalty area – the Woolton #1 then made the cardinal mistake of coming to catch despite never looking likely to claim, and Poole (I) got there first and headed the thing into the unguarded net.
As it rippled there were hearty celebrations on the Convocation bench at having saved the game, but they could even have won it at the crepuscular death when Round made a penetrating diagonal run to the edge of the Woolton box and then a shot was curled over the angle of the goal. Ultimately though, things finished all square, and that was probably the fairest result.
It was an enjoyable match, especially compared with last week's unpleasantness, but undoubtedly one of two parts. Convo were awful for the first quarter, and it wasn't hard to see how they'd lost 7-2 when the two sides met at Wyncote at the start of the season, but then much the better team for the other three-quarters, which made you wonder how Woolton could possibly have won the same game by five. It just goes to show that nothing's ever simple when Convocation are concerned – not even getting through a barrier in a brand new sports hub…
Man Of The Match: Welsh undoubtedly helped to stop the rot when he went on in the first half, and that was the springboard for Convo's comeback, so he gets this week's congratulatory jibber spoon.
Convocation (4-4-2): Morgan; O'Brien S, McLaren, Lamb B, Edwards; Carnacina, Poole I, Houston, Ross; Poole G, Schofield R; Subs: Welsh J, Round, Kaye, Prendergast
---
Saturday, November 3rd 2018
Ramblers Vets 5, Convocation 2
Convocation (4-4-2): Morgan; Lamb B, McLaren, Madeloso, Fairclough; Willis, Poole I, Kay, Carnacina; Holder, Schofield R; Subs: Prince, Round, Dickson (unused)
---
Saturday, October 27th 2018
Convocation 1, Flint Town Vets 5
Convocation (4-4-2): Morgan; O'Brien S, Willis, Lamb B, Ross; Carnacina, Houston, Poole I, Poole G; Schofield R, Houston; Sub: McLaren
---
Saturday, October 20th 2018
Convocation 3, Alsop O.B. 2
Convo were 1-0 down then 2-1 up, before Mr Webster deemed a very dubious winner to have crossed the goal line (via the crossbar) from about forty yards away – Alsop were not impressed.
Convocation (4-4-2): Morgan; Ross, Lamb B, Prince, McLaren; Carnacina, Schofield R, Poole I, Holder; Knox, Round; Subs: Southern, Dickson (not used)
---
Saturday, October 13th 2018
Ramblers IV 0, Convocation 6
Charlie scored 2 (and missed a penalty - weakly hit straight at the keeper...), Ian got 2 (both headers from set pieces), Geoff scored after Matt missed his umpteenth sitter, and then Matt finally got on the scoresheet at the end. Obviously we played pretty well to win 6-0, but it was 2-0 for a large part of the game and Ramblers certainly weren't out of it. Jack made some good saves and Jordan (as ever for them against us) was appalling in front of goal. It would have been nice to have made it 3-0 with the penalty a bit sooner, but once we got the third, they pretty much gave up.
Convocation (4-4-2): Morgan; Poole G, Lamb B, Prince, Edwards; Carnacina, Houston, Poole I, Holder; Round, Schofield R; Sub: McLaren
---
Saturday, September 29th 2018
Ramblers Vets 2, Convocation 5
Convocation (from): Morgan, Dickson, Lamb B, McLaren, Hoban, Poole I, Carnacina, Schofield R, Holder, and Ramblers players Joe, Phil, Chris and Olly
---
Saturday, September 22nd 2018
Royal Standard 5, Convocation 9
Convocation (4-4-2): Morgan; Lamb, Southern, McLaren, Moss; Willis, Barrett, Schofield, Scregg; Knox I, Knox C; Subs: Poole G, Cola
---
Saturday, September 15th 2018
Convocation 6, Avenue F.C. 1
Convocation (4-4-2): Morgan, Poole G, Madeloso, Lamb B, Ross; Holder, Poole I, Schofield R, Carnacina; Knox, Kaye; Subs: Round, McLaren
---
Saturday, September 8th 2018
Convocation 2, Woolton Vets 7
Turns out Woolton's No. 24, the one we had such trouble containing, is an ex-pro. He has played a couple of games for Newcastle in the Premier League as well as spells at Bolton and various other clubs.
Convocation (4-4-2): Morgan; Lamb B, Madeloso, Prince, Edwards; Carnacina, Houston, Holder, Poole G; Knox, Kaye; Subs: Dickson, Cosgrove, Kearney
---
17/08/2018
Rossett Vets V Convocation Seconds
Finally the first game of the season the wait was over, big Convocation away day to Rossett a team we have never beaten for the first game of the season. We turn up needing a big squad due to firstly Rossett being a very good quick team and with it being the first game of the season fitness (Which is never our strong point!) being low as some players had not played since the final game of last season. We get to the changing rooms and Andy lets us know due to a few last minuet drop outs we had a bare eleven, great start to the new season! The team was
Jack Morgan
Paul Dickson..................... Mclaren ......................... Prince ......................... Ross
Billy Lamb ......................... Poole ......................... Edwards ......................... Carnacina
Kaye ......................... Knoxy
With a bare 11 we knew this would be a very tough game Andy stressed to keep it tight and most of all to enjoy the game as it is the first game and that the opposition are very good. We left the changing rooms to go onto the 4G pitch which firstly was more rubber than 4G and secondly was by far the biggest pitch you can ever play on. It must the largest that parameters that is allowed as it was absolutely huge.
The game kicked off the first 10 – 15 mins were cagy as both teams were struggling with the size of the pitch. Rossetts number 10 (Dale I think) was a threat as his pace with this big pitch was obviously a danger. Ben and Andy marshalled him expertly in the first 15 mins which would carry on throughout the game an excellent display from Andy and Ben at CB. Rossett had two clear cut chances which Jack saved and Craig got in behind and in hind sight should have squared it but as all strikers do he shot and the keeper saved. Rossett got a corner and broke the deadlock looping a header over Dickson on the line. Then the Rossett number 10 Dale in the only moment all game in which he broke the line, flicked the ball over ben and slotted it into the near post 2-0 Rossett. Then Kaye won a corner, whipped it in Knoxy doing what he does best rose like a salmon back the net 2-1. Half time
Andy gave a good half time team talk explaining that the offside is working that we should keep it up, don't get on each other's back keep encouraging each other and the chanced will come. As we had no sub we knew we had to manage the second half well due to the size of the pitch and also the humidity was very high.
Second half kicked off and again it was very cagey. Then all of a sudden Knoxy shown an unknown ability of his a burst of pace! He ran literally down the byline going past two Rossett players he fizzed it hard and low across the box, Craig hit it, rossett keeper with a good save then the rebound fell to poole who made it 2-2 with a great finish!. Then can the controversy, Rossett had the ball it looked like it went over the line for a throw in, they carried on passed it in field to a player who looked offside he played it back to Rossetts number 5 who's shot was going wide Ross blocked it with his chest and was deemed to have handballed it. Never a penalty the striker scored 3-2. With this injustice we banded together, Kaye as he always has done equalized (I personally do not remember this goal or I could not see as the pitch was that big!) Then last 10 min the ball breaks to Kaye the keeper commits then retreats Kaye takes a touch and we were all screaming chip him! Chip him! Chip back of the net 4-3.
Match finished 4-3 and what a performance it was! Bare 11 against a good team we have never won before was fantastic. The key things to take from the game was that never through any point of the match did anyone argue or turn on each other. The attitude was fantastic and to top it off the whole team went to the pub after for a pint all round great win and great day all round
Man of the match Knoxy – Fantastic all day got his goal and two assists great day
Special mention – Andy and Ben fantastic at the back to neutralised a very quick and dangerous attacker in Rossetts number 10 Dale fantastic from them two
---